23 Jan. 2023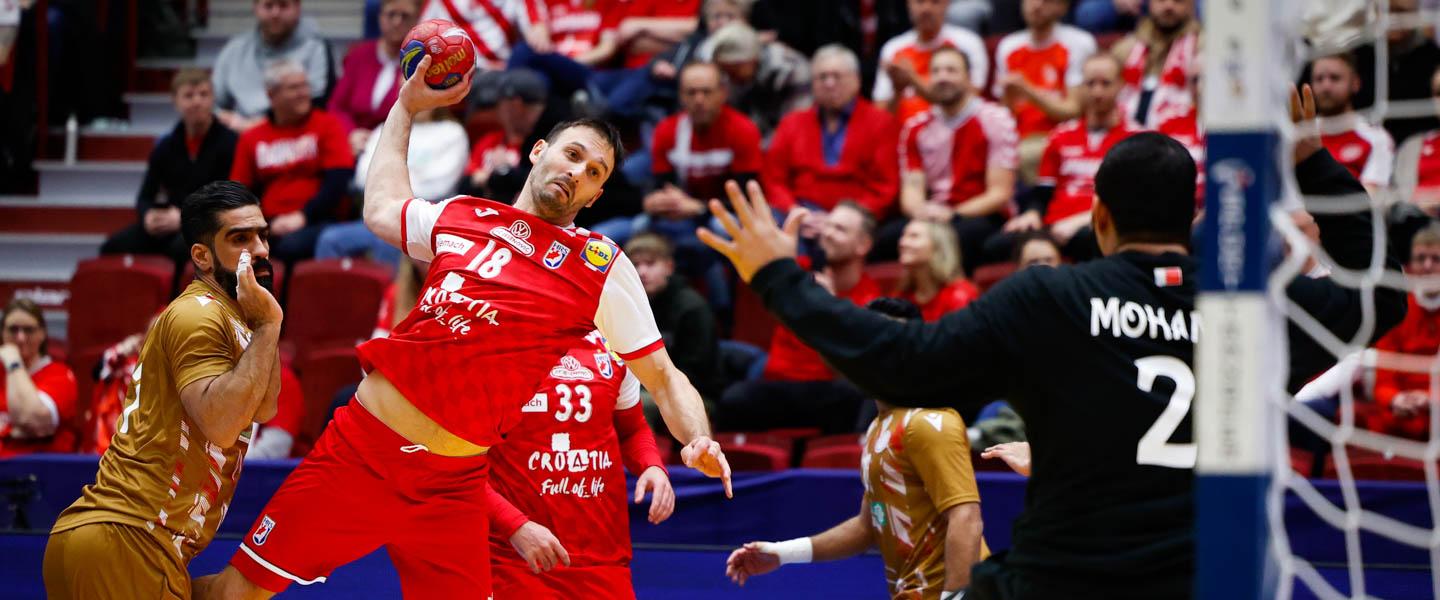 Hrvoje Horvat's Croatia side could only manage one half of dominant handball against Bahrain as they seek to record a pair of results needed to qualify for the last eight of the 2023 IHF Men's World Championship.
Their 11-goal win over Bahrain means that the Europeans will now hope Egypt beat Denmark by 12 in the final main round group clash of Group IV to ensure they qualify directly. If Denmark lose by 10 or less, the Danes proceed.
An 11-goal loss by the Danes but scoring 28 goals or more will also see them progress, but scoring less than 26 will see them out. If the score is exactly 38:27 for Egypt, then lots will be drawn to decide whether Croatia or Denmark will progress. A draw or Denmark win will see them through and Croatia out.
Main Round Group IV
Croatia vs Bahrain 43:32 (17:16)
Ahead of this clash, the talk had been about Croatia winning by 22 goals. If they did, it would mean a Danish loss by any score would be enough to see Horvat's side through to the quarter-finals in place of the Danes.
Now it looks almost impossible. Denmark have not lost a World Championship game since 2017, winning their last 24 and grabbing two titles along the way.
Stranger things have happened in handball, but this would be one of the biggest were if it happened, and the Croatians knew it.
Maybe it was the mountain of statistics needed on their backs, but they played sluggishly in the first half, acting like a team which had nothing to play for, and towards the end of the opening 30 minutes, there were flare-ups around the court, most notably between the Croatian and Bahraini line players Željko Musa and Mohamed Ali.
The Norwegian referees had to step in and give them a talking-to, while the captains of both sides – Domagoj Duvnjak and Husain al-Sayyad – discussed the events after the half-time whistle.
Croatia were flat and uninspired, going into the pause just one goal ahead (17:16), nowhere near enough of what they needed. Coach Horvat rubbed his neck and stared into the distance – what must he have been thinking to inspire his troops?
Whatever he said, it worked. First, though, Musa and Ali decided to go head-to-head again, but once that distraction was out of the way, Croatia focused, and boy did they deliver.
They outscored their opponents by 10 in the second half (26:16), and it could have been more as Bahrain's defence disappeared and attack provided ample turnovers (17) to give the pacy Croatia attack – at least in the second half – the opportunity to go on the fast-break, of which they scored 12 of their 13 opportunities.
Right back Ivan Martinović was like a man possessed in the second half, scoring eight goals and assisting seven, finishing with 11 and 10 respectively and the best player award.
"Of course, we cannot be happy because we need a little bit more goal difference in that match, so as the results say for themselves, we need a good attacking game, but we got 7 vs 6 goals first half what we didn't have to get, and also in the second half we didn't manage to bring our best defence in the last 10 minutes, and that's why the difference is not higher. So I just can say congrats to my team. They fought to the end. They give everything, they invest everything in this competition. With one loss, we obviously go home.
"It was not a problem of our attacking game. We had a problem in the defence, so we play very well, we create chances, clear chances and then it's very hard for the goalkeeper to do something. We had a problem in defence. That was the problem that we had in the match today," said Hrvoje Horvat, the head coach of Croatia.
Centre back Igor Karačić added: "We knew before the championship that if we won the match against Egypt, we could reach the quarter-final. We lost the first match against Egypt by nine. It was too much for us, and we were running for the whole competition to finish this in second place, but it wasn't possible in the end. We were under pressure. Six matches in a row, we were under pressure because we knew that we needed a lot of luck in the end, but it didn't happen and now we are just here. We will now watch this next match and we will see it in the end. Who knows? Just God knows."
Now he and his team wait.
hummel Player of the Match: Ivan Martinović (Croatia)