16 Dec. 2019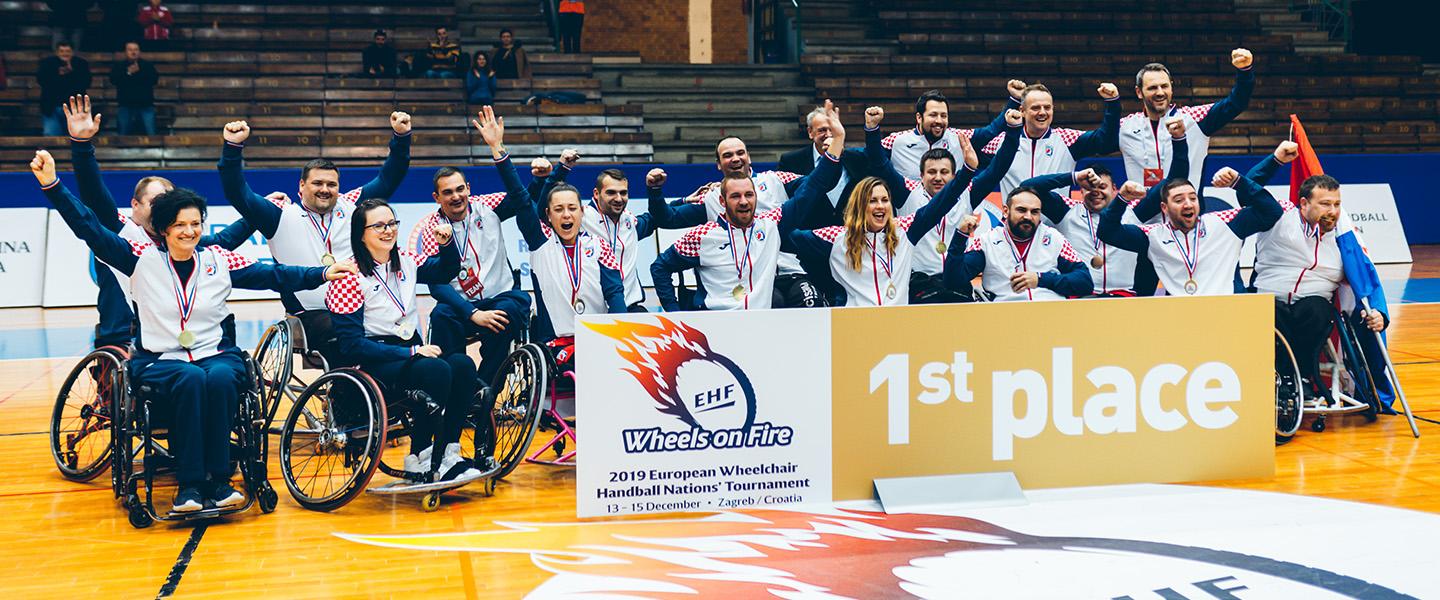 Croatia emerged the winners after two days of competition at the 2019 European Wheelchair Nations' Tournament in Zagreb, celebrating their first title in the event. The hosts of the championship defeated 2018 winners Portugal by one goal in an exciting final, 9:8 (3:4). 
Hungary claimed their first medal when they beat the Netherlands 6:3 (3:1) in the bronze clash, after they missed a piece of silverware in 2018 with a defeat in the play-off for third. 
Croatia were unbeaten on their path to the trophy, topping their preliminary round group thanks to wins over Hungary and Romania. Hungary defeated Romania to place second in Group A behind Croatia. 
Portugal also had a perfect preliminary round, winning Group B after beating the Netherlands and Slovenia. The Netherlands won their game versus Slovenia to rank second in the group. 
In the semi-final stage, Croatia beat the Netherlands 11:7 after a level 4:4 score at half-time. Portugal enjoyed a more decisive win in the penultimate stage, defeating Hungary 13:2 following a 9:1 advantage at the break. 
In the two matches that decided fifth place, both Romania and Slovenia recorded their first wins of the championship, but Romania were the victors on aggregate and thereby ranked fifth. Slovenia won the first encounter 18:15, while Romania recorded a 10:0 victory in the second, for an aggregate result of 25:18 in Romania's favour. 
The top scorer of the event was Croatia's Ante Stimac, with 25 goals. Second on this list was Portugal's Ricardo Queiros, with 20, and the Netherlands William van den Ende with 14. 
More information on the European Wheelchair Handball Nations' Tournament can be found on the official website of the European Handball Federation. 
Photo: EHF/Marcio Menino