13 Aug. 2023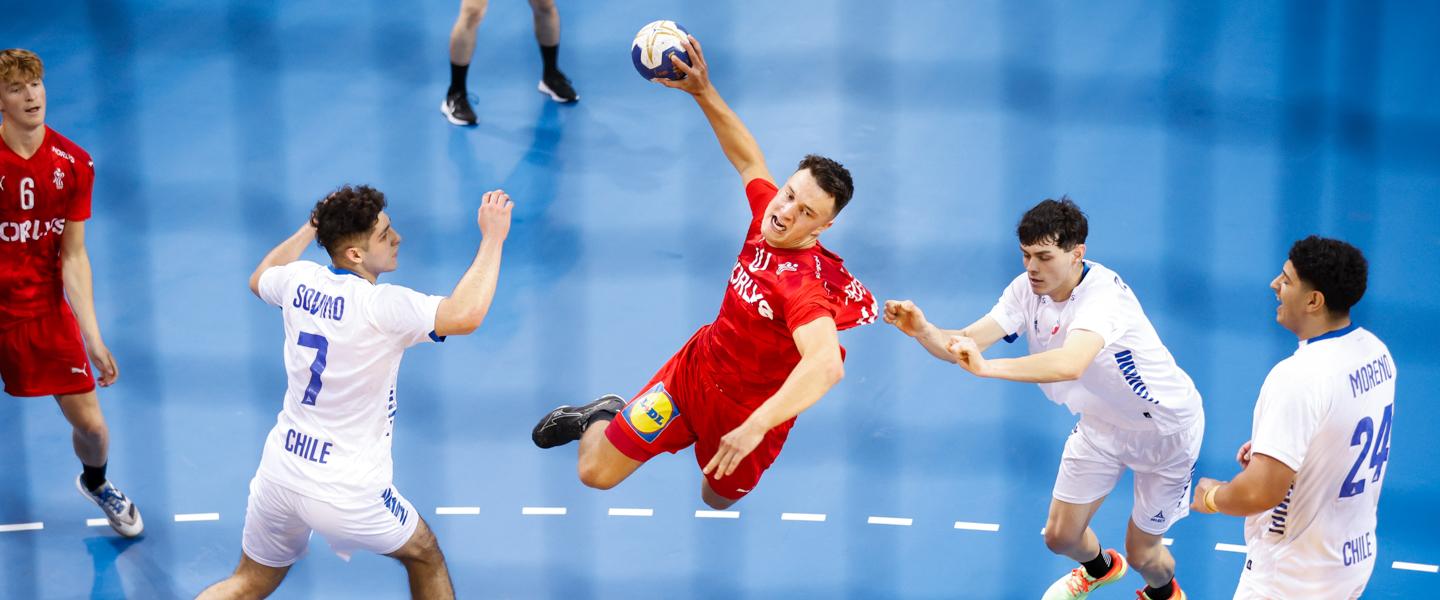 116 games have elapsed at the 2023 IHF Men's Youth World Championship, with Spain clinching their first-ever trophy in the competition's history with an eight-game winning streak, culminating with a superb 28:23 win in the final against Denmark.
Following the end of the competition, the International Handball Federation can reveal the All-Star team for Croatia 2023, with five nations and two continents represented.
While losing the final against Spain, Denmark had the MVP of the competition in their ranks, with centre back Frederik Emil Pedersen taking the plaudits, after finishing second in the top goal scorer standings, with 56 goals, while also delivering 22 assists throughout the two weeks of the competition. 
Winners Spain have three players in the All-Star team, starting with goalkeeper Alvaro Perez Mendez, who had a superb competition, saving 76 shots – the second highest number – for a 35.3% saving efficiency. Right wing Xavier González Unciti, who had 34 goals, also made it into the All-Star team, as well as line player Victor Romero Holguin, who was Spain's top scorer in the competition, with 43 goals.
Bronze medallists Croatia also had a player in the All-Star team, their top scorer, left back Aleksandar Čaprić, with 42 goals, while Egypt's left wing Belal Masoud was also selected after scoring 34 goals.
Last but not least, the top goal scorer and the top assists provider at Croatia 2023, Oli Mittun, also made the All-Star team as the best centre back. Mittun became the player with the highest number of goals scored in a single edition of the IHF Men's Youth World Championship, set by Slovenia's Blaž Janc, with 69 goals, at Russia 2015.
Mittun scored 87 goals at Croatia 2023, 31 more than any other player, dishing 70 assists, 27 more than any other player, in a superb show of domination by the promising Faroese centre back.
The Faroe Islands sent their second player in the All-Star team this summer to the World Championship after Elias Ellefsen á Skipagøtu was also selected at the 2023 IHF Men's Junior World Championship while also being the top scorer. 
2023 IHF Men's Youth World Championship All-Star Team
Goalkeeper: Alvaro Perez Mendez (Spain)
Right wing: Xavier González Unciti (Spain)
Right back: Lasse Sunesen Vilhelmsen (Denmark)
Centre back: Oli Mittun (Faroe Islands)
Left back: Aleksandar Čaprić (Croatia)
Left wing: Belal Masoud (Egypt)
Line player: Victor Romero Holguin (Spain)
Top Scorer: Oli Mittun (Faroe Islands) – 87 goals
MVP: Frederik Emil Pedersen (Denmark)
Photo: Croatia 2023/Kolektiff images