23 Jan. 2021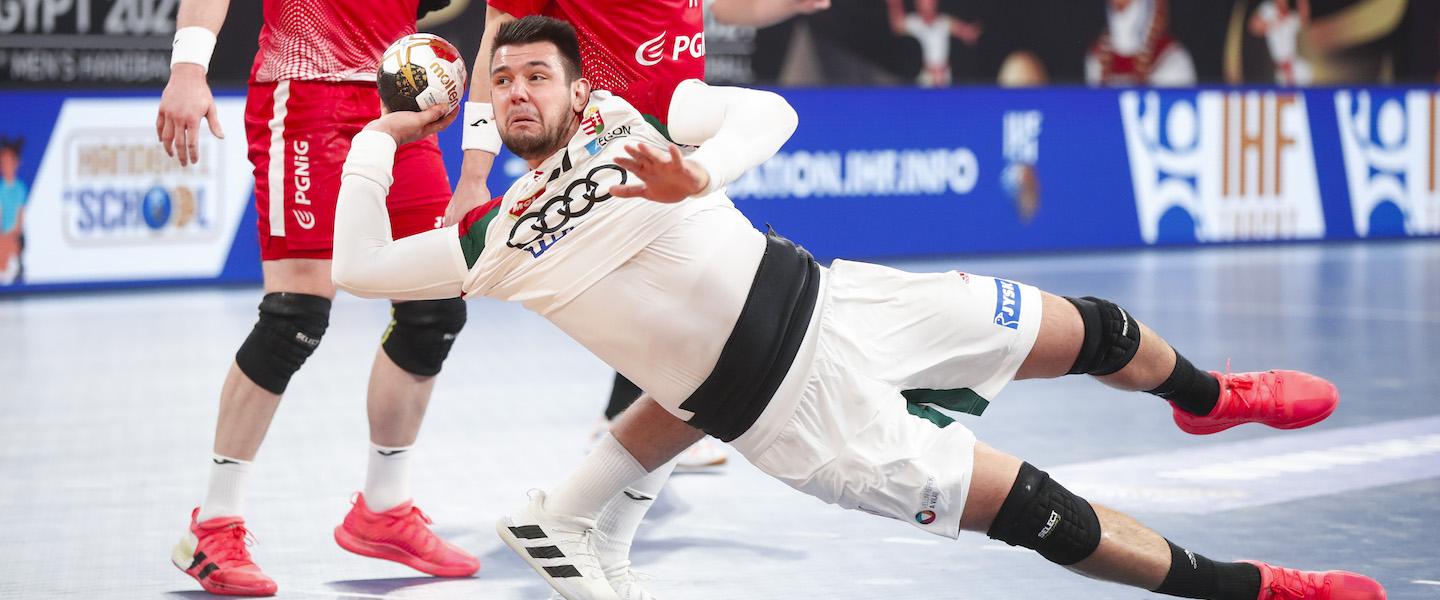 Hungary secured their third quarter-finals berth in the last five IHF Men's World Championships after a superb 30:26 win against Poland.
The result also means Spain are through to the quarter-finals as they boast a three-point advantage over Poland with only one game left in Group I.
MAIN ROUND GROUP I
Poland vs Hungary 26:30 (10:16)
With a quarter-finals spot on the line, Poland started the game better, with three goals from left back Tomasz Gebala, but the first miss in 18 penalty shots from right wing Arkadiusz Moryto was a sign of things to come.
In fact, Poland had their worst half at Egypt 2021, failing to adapt to a pacey and creative Hungarian attack that constantly found ways to exploit the Polish defence.
Led by an outstanding Mate Lekai, who scored seven goals and dished two assists in the first half, Hungary looked comfortable in the lead, taking advantage of the Polish turnovers with punishing fast breaks.
With 10 Polish turnovers, Hungary used a 6:1 run between the 20th and the 27th minutes to jump to a convincing 16:9 lead, despite two timeouts taken by Poland coach Patryk Rombel, who tried to stop the rut.
But Poland just had an off night in the most important game of the tournament for them.
Easy misses from centre back Michal Olejniczak and left wing Przemyslaw Krajewski in one-on-one situations with the ever-reliable Hungarian goalkeeper Roland Mikler hampered Poland's chances to mount a comeback.
Stopping the turnovers was not enough for Rombel's side, as Hungary continued to succeed in attack, cruising to a 24:16 lead after 43 minutes.
A last-gasp gamble from Rombel, who substituted the goalkeeper with an outfield player on attack initially looked to be paying dividends, as the difference shrank to only five goals, 25:20, with 11 minutes to go.
But it was too little, too late for Poland, with Hungary closing the game perfectly with back Dominik Mathe scoring five of his six goals in the second half to help Hungary clinch a 30:26 win.
Up to this point, Egypt 2021 has been nothing but a success for Hungary, who have won only one game less than they did at the previous two editions of the IHF Men's World Championship combined.
Hungary are in the quarter-finals but face a gruelling test against Spain on Monday, with the winner taking first place in Group I.
Meanwhile, Poland join Germany, Brazil and Uruguay as the eliminated teams from the group, but their progression has been steadfast, becoming one of the most improved teams in the competition with a young side eager to grow in the future.
hummel Player of the Match: Mate Lekai, Hungary