18 Dec. 2021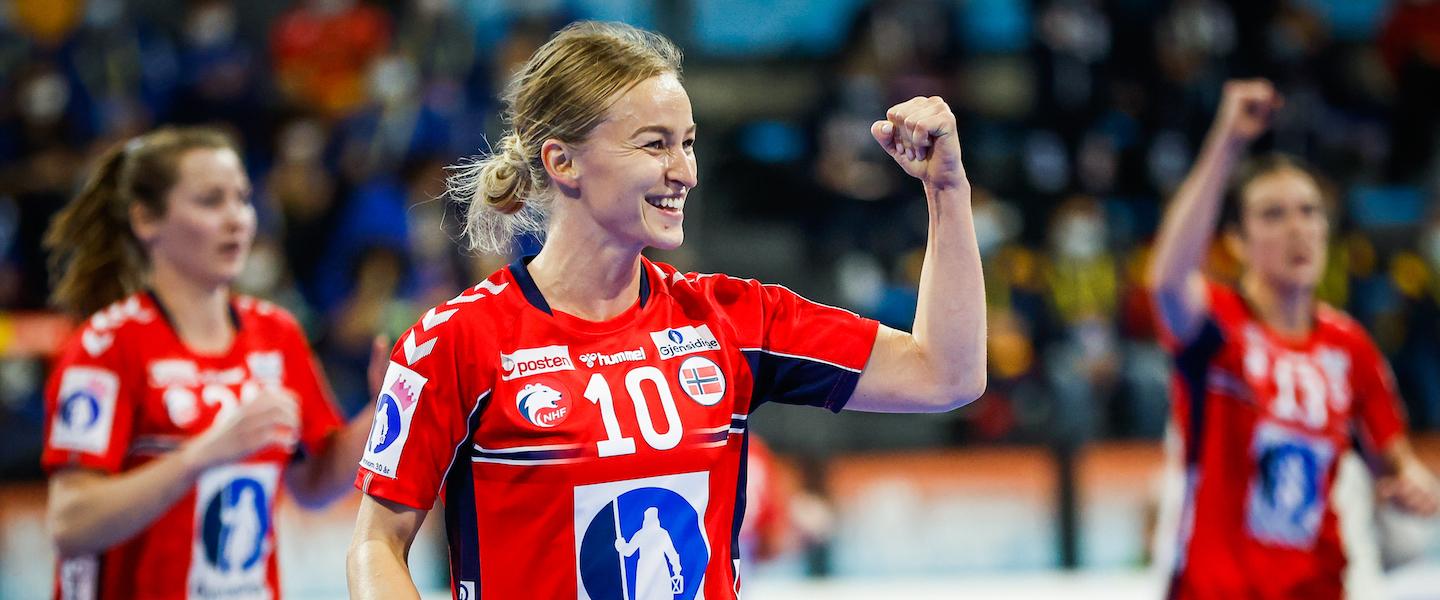 Sifting through Norway's roster for the 25th IHF Women's World Championship, a pattern becomes clear.
Fifteen of the 18 players selected by coach Thorir Hergeirsson for Spain 2021 have won at least one gold medal in a major tournament, with back Moa Hogdahl, right wing Emilie Hovden and line player and defensive specialist Maren Nyland Aardahl the odd ones out.
Hogdahl has played a little under 90 minutes, the same as Hovden, while only Aardahl has been a mainstay in the Scandinavian side, who have just qualified for the eighth final at the IHF Women's World Championship in the past 13 editions.
Therefore, a question beckons: are Norway not tired of winning? 
"What? Of course not. It is so much fun being here and competing with these players for winning a tournament," is Nora Mork's answer when presented with the question.
The right back has become somewhat of a poster child for Norway's immense ambition, coming after nine surgeries to repair her injured knees. Mork, who has been close to calling it quits to her career, after the flurry of injuries, is now back at top level and is hungry for more, after winning eight medals at the major international tournaments, the IHF Women's World Championship, the EHF EURO and the Olympic Games.
The Norwegian back has played multiple positions during Spain 2021, slotted as the primary right back for the reigning European champions, but also featuring as a right wing at times or shooting from the left back position, when presented the chance.
She has one of the best average goals per game amounts in the history of the Norway women's handball team, 4.91, just short of record holder Kjersti Grini, who is just below the five goals per game average, at 4.99.
Mork has also been Norway's top scorer in the competition, with 38 goals, but hit a rough patch in the first games, especially in the 30:30 draw against Sweden in the main round.
"I told everyone, it was my fault we did not win against Sweden. It was a difficult match, but I just needed to bounce back. The motivation was there and that game is now firmly in the past," added Mork.
The 30-year-old right back did indeed bounce back and has been in superlative form in the knockout phase, scoring nine times against RHF and eight times against Spain, nearly doubling her output from the first six games at Spain 2021.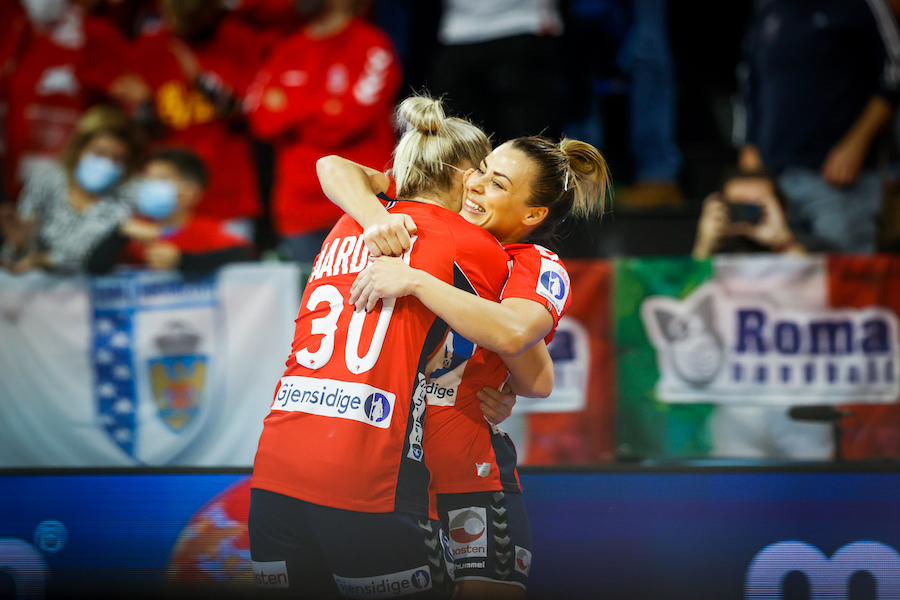 It just shows how motivated Mork is to leave all the woes that plagued her behind. Yet she did not set the tone in Norway's team. Taking it full-gas in all matches is a prerequisite in the Scandinavian team. Captain Stine Bredal Oftedal, who can become only the 19th player in history to win the IHF Women's World Championship three times, says it all boils down to confidence.
"Collective confidence," is the term used by Oftedal, the IHF Female Player of the Year in 2019 and the MVP at Germany 2017.
"We have been working on this winning culture for a long time and the thing is that when you get this taste of gold, winning important competitions, it feels so good. And it brings so much inner motivation. I think that when you manage, as a team, to pull together towards something great, the feeling is amazing," added Oftedal.
Despite all their success at the IHF Women's World Championship, Norway have never won the competition without dropping a game on the way, something that could happen at Spain 2021. The Scandinavian side have won seven games out of their eight played until this moment, with the other one being the 30:30 draw against Sweden in the main round.
They could also jump joint-top in the all-time standings in numbers of gold medals won at the IHF Women's World Championship, four, tying Russia, but leapfrogging them in the number of total medals, 11. Currently, Norway have won the title three times, finished second four times and clinch three bronze medals.
"Really? I did not know that. Had no idea," said Oftedal, when asked about the possibility to add another record to Norway's already impressive resume. 
"Honestly, for me, the biggest motivation is just to win a gold medal. And that is it. Every competition has its own life and when you get into the final, like we did now, you just really want to push through and go all the way," added Norway's centre back, who has dished the most assists for her team at Spain 2021, 38, joint-top in that category with Mork.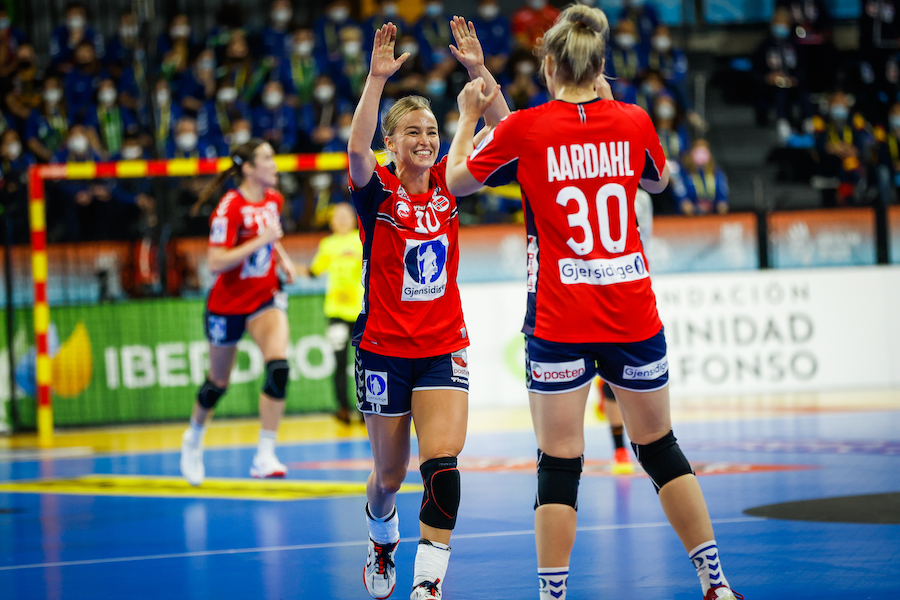 While Camilla Herrem and Oftedal can become the only players in history to win the competition three times and secure at least one other medal, there is another Norwegian player whose consistency has been nothing short of superb.
Katrine Lunde has played the most international matches ever in women's handball, with the final at Spain 2021 being her 326th cap for Norway. She made her debut in 2002, won 15 medals at the IHF Women's World Championship, the EHF EURO and at the Olympic Games and is still going strong, despite playing in three different decades for the Scandinavian powerhouse.
Lunde has made 48 saves throughout the tournament, an outstanding 38% saving efficiency, which places her 10th in the top goalkeeper standings, but her ability to deliver in crunch moments, when Norway needs just that extra push, has been a thing to marvel time and time again.
"I do not like to lose. Not now, not ever. I always believed we can embark on this trip to win another title, so, for me, it has been amazing. But the game against France will be very difficult, therefore we need to be at our top level," said Lunde.
The top level also means top confidence, which could be easy to get from Norway's previous results against France. The Scandinavian side have conceded only three losses in 18 games against their opponents in the final, but lost the gold medal against them at Germany 2017.
The debate is still open whether that game will serve as a proper motivation for Norway. Surely, the 11 players that also featured in that final will remember it. With a core so tight and so experienced, the collective confidence should be enough for Norway to at least deliver another great game. What's one more to an already impressive collection?