18 Jun. 2022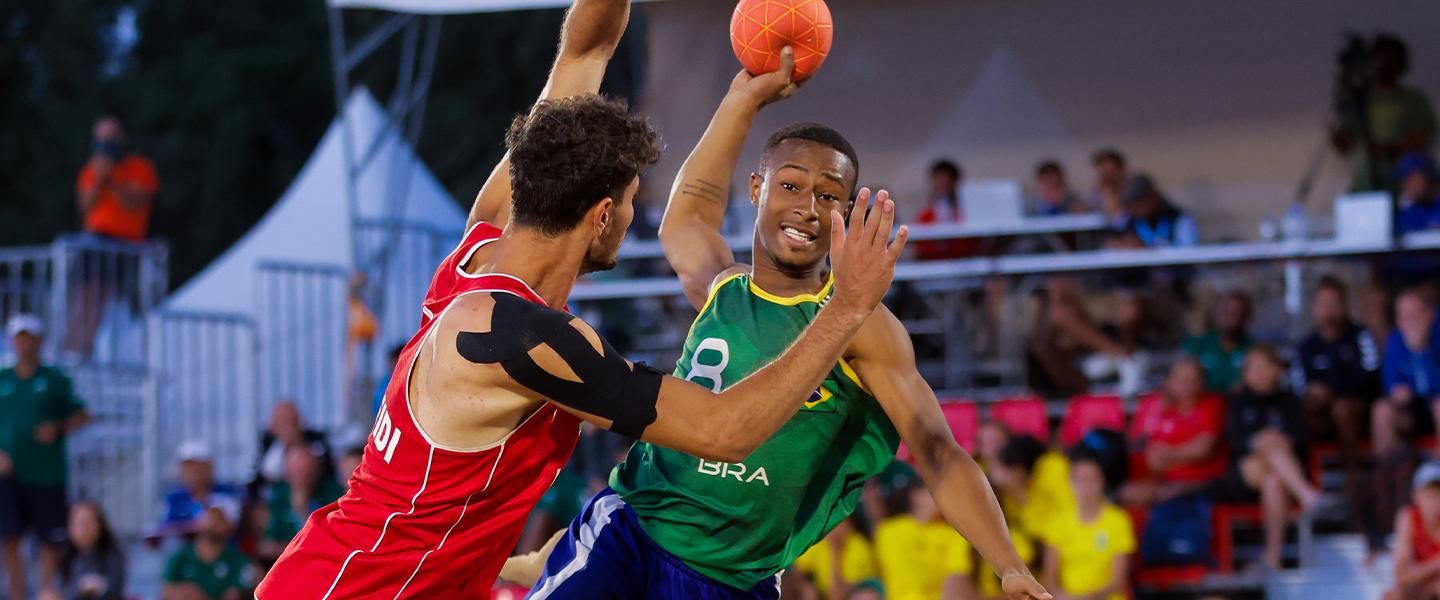 The final day of the 2022 IHF Men's Youth Beach Handball World Championship is here: just eight games remain of the 72, with all three medals to be confirmed this evening.
Croatia versus Brazil is the men's beach handball classic – four times, the two teams have played the gold-medal match in the senior event and now it comes to the youth event.
Neither Croatia or Brazil were at the debut edition of the IHF Men's Youth Beach Handball World Championship – Mauritius 2017 – so, whomever wins will add another gold to the long list of achievements on the sand.
"It's a motivation to us," said Brazil defender Pedro Santana Raposo to ihf.info about playing for a nation with such a proud history in the sport. "We have idols in our country that have a lot of World Championships and we want to keep going with this legacy."
Captain of Croatia, Vigo Konforta, along with his teammates, saw off France in the semi-finals, thanks to a shoot-out and that could prove to be the way the final goes later, such is the closeness between the two teams.
"We practise shoot-outs in every training and they're very stressful, especially in the games," he said. "But it's just about having concentration and strong heads, that's it."
Simple really? France and Islamic Republic of Iran will not think so, they both lost out on the chance of a title by losing their semi-final shoot-outs against Croatia and Brazil respectively.
The day starts with a morning session featuring six 5-16 games in the placement round. Togo are the only team without a win at Greece 2022 so far and they take on the USA for 15/16 place. The North American side already have one win to their name – against Togo, in the consolation round.
The host nation Greece play Uruguay for 13/14 place and Czech Republic will be hoping to make it a double over Jordan for 11/12 place, with the Europeans beating the Asian side in their preliminary round game earlier in the week.
Another European side looking for a double over Asia is Sweden, as they face Qatar for 9/10 place, having beaten them 2-0 in Greece already, while Germany take on Spain for 7/8 place looking for some revenge after losing via shoot-out in the main round.
A top five finish is up for grabs between Argentina and Ukraine, with the South Americans winning via shoot-out against the Europeans earlier this week.
2022 IHF Men's Youth Beach Handball World Championship
Sunday 19 June – Final Day Schedule
09:30 7-8. place Germany vs Spain
09:30 11-12. place Czech Republic vs Jordan
09:30 15-16. place Togo vs United States of America
11:10 5-6. place Ukraine vs Argentina
11:10 9-10. place Sweden vs Qatar
11:10 13-14. place Greece vs Uruguay
17:00 3-4. place France vs Islamic Republic of Iran
19:00 Final Croatia vs Brazil