19 May. 2020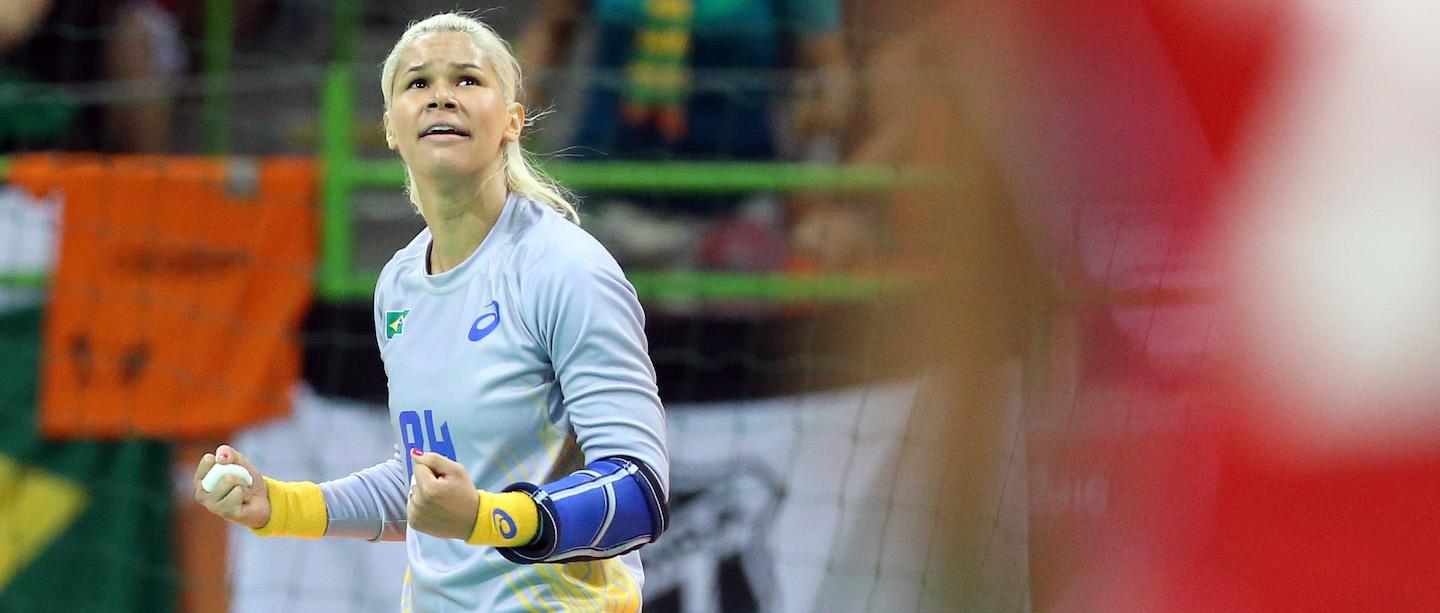 With seven medals – three gold, one silver and three bronze – in the eight editions of the IHF Women's Beach Handball World Championship, it is hard to believe Brazil's women's side finished sixth in El Gouna, Egypt, at the very first World Championships in 2004, as they have now become one of the most dominant teams in the sport. However, the nation was learning back then, just like their young goalkeeper was. Rostov-Don and Brazil International Mayssa Pessoa, winner of the 2013 IHF Women's World Championship (indoor handball), talked to IHF.info about her sandy beginnings.
While Brazil may not have invented the sport – that is widely accepted as Italy – the country is the spiritual home for it in many ways, with their men's team also dominating, winning seven World Championship medals themselves. And within the South American nation, the centre of beach handball is the north-eastern port city of João Pessoa.
So, was it any surprise that a handball player named Pessoa from a city called Pessoa took up the sandy sport?
"In Brazil I was already playing indoor handball in my city and then my first handball coach, Rossana Marques, showed me beach handball when I was 15," said Pessoa to IHF.info from her Russian home. "I started playing beach and a few years later she picked me to play for a João Pessoa selection team in a regional tournament a few months before the 2004 IHF Women's Beach Handball World Championship.
"Brazil's national team coach Claudia Monteiro came to watch us at that tournament which was in Fortaleza and where we finished third. She knew that there were these new, talented players from our region and had heard about me and the team. 
"She saw me play, talked to me and my coach Marques, and then I got the call up to the national team. I was so happy; I cried with happiness and my mother and father were so happy for me."
Pessoa's father was a big sporting inspiration for her, and almost had his own professional career – as a central midfielder in football – but gave up the chance, opting to finish studying with the aim of becoming a university teacher, which he did, and is now a professor. 
And in her early days, football was a big part of Pessoa's life too with Brazilian national team goalkeeper, 1994 FIFA World Cup winner and current Brazilian goalkeeping coach, Claudio Taffarel one of her sporting inspirations.
But with the future national team goalkeeper playing many sports at Colégio Lourdinas, João Pessoa – which she joined at four years old – coach Marques, who would later go on to become a World Championship-winning coach with Brazil, managed to focus Pessoa's mind solely on handball, which she had only started to play at the age of 10.
"I was playing all sports, but handball made me fall in love with it," explained Pessoa. "I think it was around 2000 when I played a beach competition for the first time; the 'Taça Kika' tournament which coach Marques runs in my city every year. I played for her team, we won, and I kept being voted best goalkeeper every year I played in it. I won many medals because I was always playing in such a high category."
So, with the passion for beach handball running through her veins, and just after her 20th birthday, Pessoa was off to El Gouna.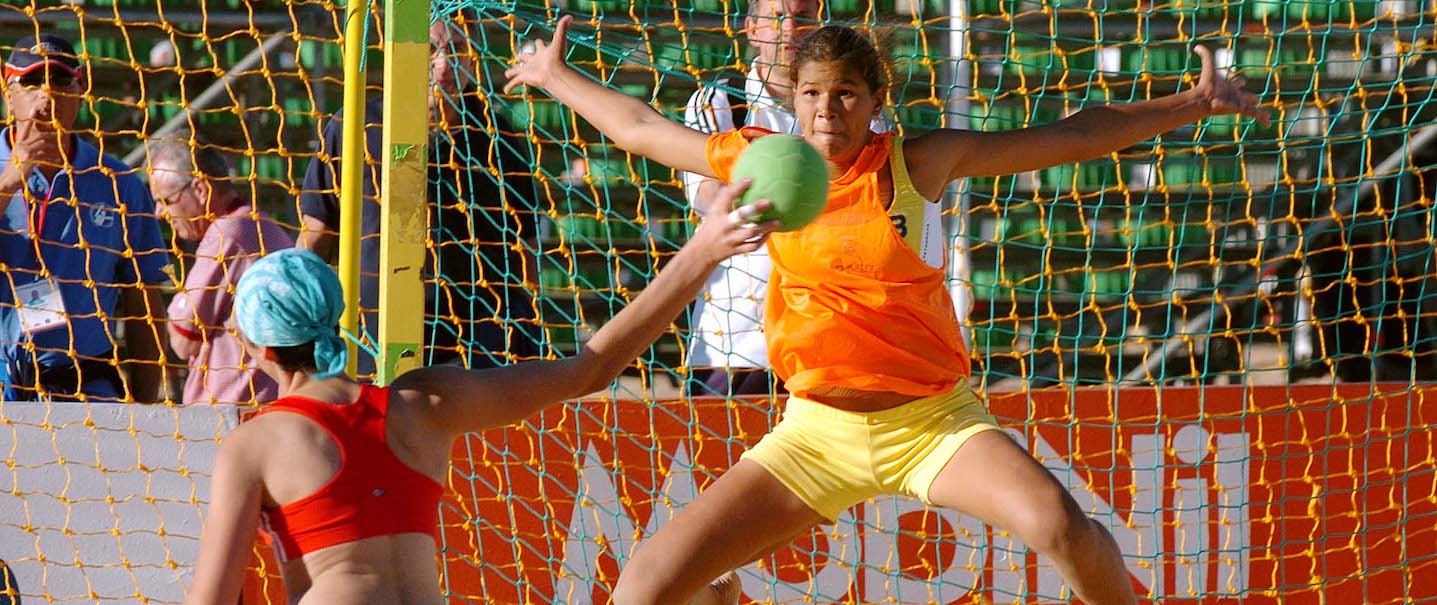 In Egypt, Brazil lost their opening game, against eventual bronze medallists Italy (2-0), but bounced back to beat Japan by the same score. They then lost two in a row (vs Croatia 2-1, vs Tunisia 2-0), before defeating Hong Kong 2-0. A shoot-out loss to Russia was then rounded off with a shoot-out win against Hungary. 
Russia went on to win the debut edition, while Brazil's sixth rank meant Pessoa and her teammates returned home empty-handed – of medals, at least, as Pessoa was voted into the All-star Team as best goalkeeper.
"Even though we finished sixth, it was a very good experience for all of us and we all had a good feeling about our next steps in the next competitions; we knew that Brazil could grow and be the best team in the future," said the former HC Vardar player.
"I was so happy and so proud when I won the award for the best goalkeeper in the world, I will never forget when they announced it; I was crying already as my coach told me a little bit before the awarding that I was going to get it. I was crying like a baby, but it was such an awesome feeling.
"Right after Egypt though, the following year, Brazil became world champions at the World Games in Germany, and I won the best goalkeeper in the world award again."
Those 2005 World Games were held in Duisburg, Germany where beach handball was present for the second event running as a demonstration sport, following a successful introduction in Akita, Japan in 2001.
"I remember so many things from Germany, it was a great experience in my career and in my life," said Pessoa. "We played against so many great teams and I saw so many athletes and sports together, it was amazing. We beat Hungary in the final when I remember I shot the last ball from inside of my goal to win the game. I cried so much with happiness and it is still a very clear memory for me.
"It was like a mini-Olympic Games for the sports that were not in the Olympic Games, but some of them are now, and I hope beach handball will be another one to add to that list soon." 
Following her gold medal in Germany, Pessoa then moved to Portugal to start her European indoor career, taking her beach skills with her, but she would stay with Brazil on the sand until 2008, when she won bronze in Cadiz, Spain, at the IHF Women's Beach Handball World Championship, after beating Italy in a shoot-out.
"It was because of beach handball I moved to Portugal to play indoor for Andebol Gil Eanes," she said. "The President of the club flew to João Pessoa to see me and talk with my father and mother to let me go and play there, so I flew to Portugal in October 2005 and there my professional life started.
"I already had my goalkeeping style and played the same in beach as I did indoor, but, as a goalkeeper in beach you need to run more than indoor, you need to run all the time."
By May 2006, Pessoa had moved to Spain after her impressive performances in Portugal had been noticed by the club Ermua, but it was a move which would prevent her from winning gold with Brazil on home sand on the world-famous Copacabana Beach in Rio de Janeiro at the 2006 IHF Women's Beach Handball World Championship.
"Like many indoor teams, the club didn't let me go and play beach handball, because they didn't accept players playing beach handball, but in 2008 I had moved to another Spanish club, Rotulos Plasneon Zaragoza. I asked them if I could play for Brazil at Cadiz 2008 and they said 'okay, you can go'. So, I was back again with the Brazilian team, playing in a World Championship.
"The problem was that I hadn't played or trained with beach handball for two years and I did get injured in the tournament, but the win against Italy to get bronze was amazing. It was very nice to be back on the sand after a long break, however that was the last time I played on the sand as right after that I finished and started playing for the Brazilian indoor side."
Pessoa has gone on to have a very successful indoor career, winning that 2013 World Championship as well as the 2015/16 EHF Women's Champions League with CSM Bucuresti, 2013 Pan American Games and numerous national club competitions. She also appeared at the London 2012 Olympic Games and the 2016 edition, at home in Rio.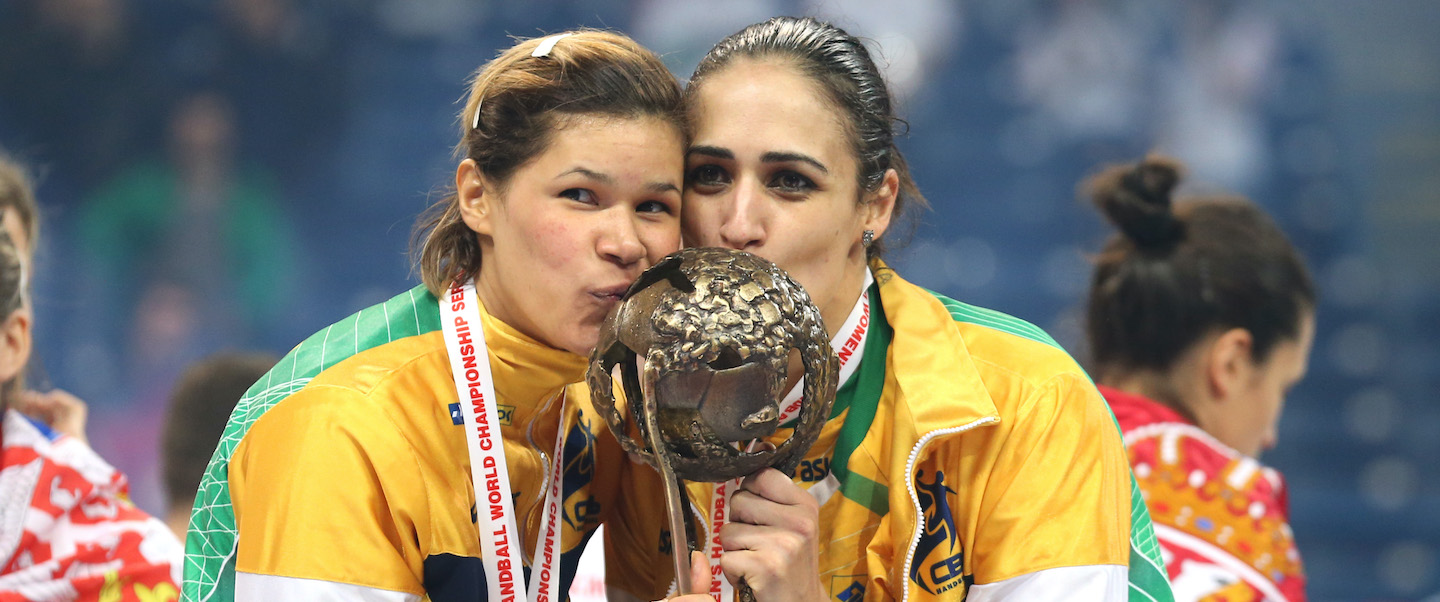 Currently, her Rostov-Don side are in the quarter-finals of the postponed 2019/20 Women's EHF Champions League, awaiting updates on whether it will continue due to the COVID-19 outbreak. But was all of this indoor success something which Pessoa could have imagined when she made the move from the sand to indoors?
"Yes, I did imagine it because I dreamt for everything which happened in my career and fought for it," said Pessoa, who never played in an IHF Women's Junior or Youth World Championship before joining the senior team. 
"I was sure about my skills and knew it was possible to do it, but beach handball really helped me to start my professional career. My career is a big story, so many big things have happened and I'm really proud that I could make my name in world handball."
This September, Pessoa, who has played for 12 clubs in seven different countries, will be 36 and thoughts may be turning to what to do post playing, but like her career so far, she has many options available to her.
"As a goalkeeper, you can have a longer career than other players, but I'm thinking maybe my career stops in two or three years," she revealed. "Maybe I will return to beach handball? It is growing across the world and I am 100% sure it is a sport that will be very successful when it becomes part of the Olympic Games, hopefully in 2024.
"The Brazilian Handball Confederation have many new projects planned for beach handball in the future to ensure we see new talents and keep Brazil at the very top and they want me to help it grow. I am sure I will be involved with Brazilian beach handball teams in the future either through playing or on the staff."
In fact, Pessoa is still regularly in touch with current Brazilian beach players, including the legendary Cinthya Piquet, who played with Pessoa back in 2005, and most recently, won bronze at the 2019 ANOC World Beach Games in Qatar.
"Cinthya is amazing, such a great role model, and she's also from my hometown," said Pessoa. "After Kazan 2018 (IHF Women's Beach Handball World Championship, where Brazil won bronze), she came to visit me in my home in Rostov-on-Don and stayed with me for just under 10 days, along with Rossana too.
At the age of just 35, Pessoa has already managed to squeeze in a lifetime of different handball experiences already, but she is quick to acknowledge those who have helped her along the way.
"I have so many people to say thanks to, so many people who have helped me and made me stronger when I was fighting to have a big career," she said. "I want to especially say thank you to all of my coaches that I had throughout my career; every single one has been very important in the whole process.
"But there are also people who didn't help me; who wanted to hinder my career, and who wanted to make me give up, but for all those people I'm grateful because without them I wouldn't get where I am today, it gave me a greater motivation to win in life, and show that they were wrong about me.
"I want to give an extra special thank-you to my mother, father and sister who always supported me no matter what; they always wanted me to follow my dreams."
While looking back to the past and forward to the future, it is the here and now which Pessoa is most concerned with, as her personal and professional life, like everyone else, is severely affected by the ongoing COVID-19 global outbreak.
"These are very strange times at the moment," she said. "It's pretty hard right now, for all of us, all across the world. I'm training at home, like all the players. We are doing online training with our personal trainer from Rostov-Don every day. He sends us programmes to follow and video training.
"My family are all in Brazil and my sister and mother want me to stay here in Russia, but right now, there are no flights back home anyway, so we need to wait and see what will happen. I talk with them every day by FaceTime. 
"My sister is actually a paediatrician, working in two hospitals, one close to her home and one more than two hours away," she added. "She's okay, but we all worry because she cannot stop, and in my hometown, like many across the world, there are many people with coronavirus – she is a hero and I am thinking of everyone working in hospitals. 
"One thing we all know is that this will pass, and everything will be fine in the end."
Mayssa Pessoa – Club History
1994-2005         João Pessoa (Brazil)
2005-2006        Gil Eanes (Portugal)
2006-2007        Ermua (Spain)
2007-2008        Rotulos Plasneon Zaragoza (Spain)
2008               Castro Urdiales (Spain) 
2008-2009        Mérignac (France) 
2009-2011         Arvor 29 (France)
2011-2012          Issy Paris Hand (France)
2012-2014         Dinamo Volgograd (Russia)
2014-2016         CSM Bucuresti (Romania)
2016-2017         HC Vardar (North Macedonia) 
2017-Present     Rostov-Don (Russia)