21 Jul. 2023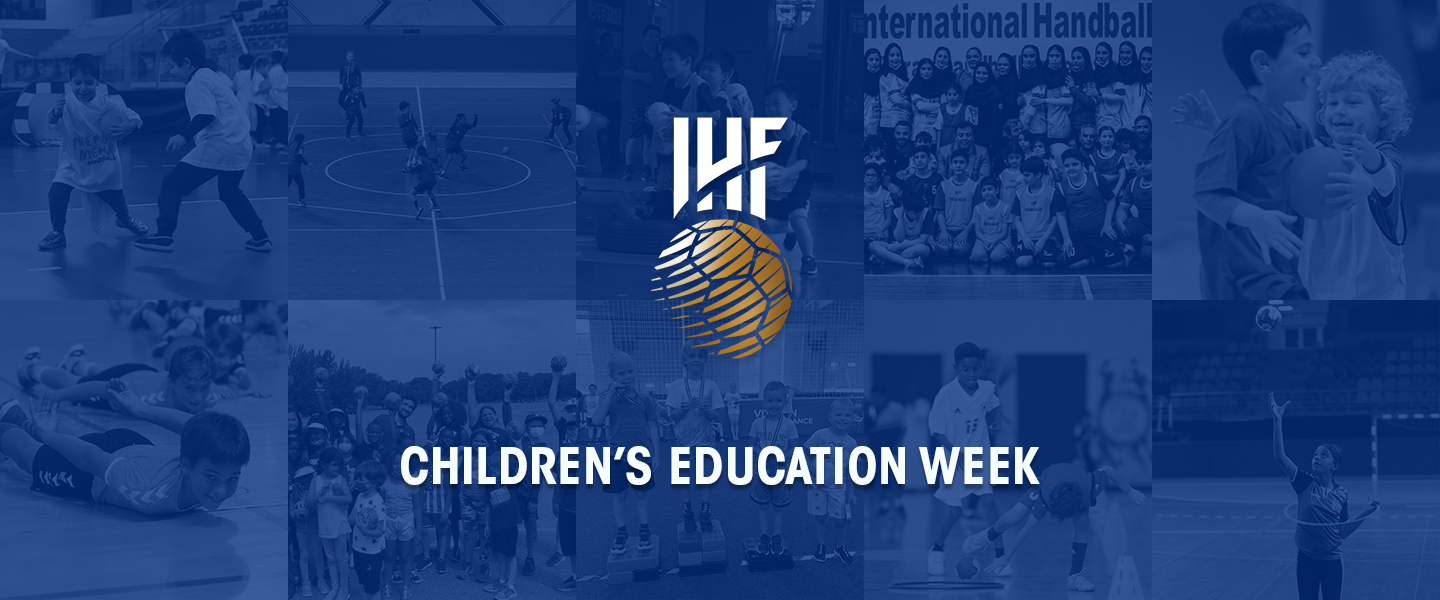 The 2023 IHF Education Weeks are set to continue in September, with two programmes taking place that month: the Children's Handball Education Week and the Youth Handball Coaches Education Week. The Children's Handball Education Week will be held from 4 to 10 September, before the Youth Handball Coaches Education Week on 18 to 24 September. 
With the Children's Handball Education Week next on the agenda, the full programme has been finalised. The core topics that underline all lectures are involvement of different stakeholders in children's handball, skill development for children, and competitions as an educational tool to apply acquired skills.
The Children's Handball Education Week programme:
Monday 4 September
Involving teachers, coaches and parents in handball
Dr Nabeel Taha AlShehab (Bahrain) — IHF Handball at School Working Group member
Involvement of children, teachers, coaches, and parents in the sport, including benefits of handball for children (applications, practical example, psychology, health, and benefits for life)
Practical example(s) of children's competitions and their benefits for education
Tuesday 5 September
Specialisation and talent development
Claus Dalgaard-Hansen (Denmark) — IHF Commission of Coaching and Methods Expert Group member
Specialisation in handball and the balance between technical and tactical elements
How to work and develop talented players, from Mikkel Hansen to Mathias Gidsel
Preparation of individual skills and group tactics for competitions
Wednesday 6 September
Differences between teaching and coaching
Daniel Sánchez-Nieve (Spain)
Differences between teaching children and coaching children
Why boys and girls can play together in the U11 category — practical examples
Thursday 7 September
Creation of alternative training materials 
Joanna Villa-Real Franquelli (Philipines)
 
Principles for and creation of teaching units (practical examples and alternative materials)
Importance of involving short leaded matches or matches in training to prepare children for official competitions
Friday 8 September
Physical activities in children's handball
Adrian Struzik (Poland)
Advice for the development of motor skills with practical examples of handball activities for children (tips and mistakes), concentrated on under 11 and 13 age groups
General recommendations regarding the rules for competitions for different categories, with practical examples
Saturday 9 September
Importance of avoiding contact in beginners' handball
Dr Ilona Hapkova (Czechia) — IHF Handball at School Working Group Chairwoman
Why contact needs to be avoided in children's handball. The focus during training and teaching should be put on good positioning, reading the game, protection of the goal post, closing of open spaces and winning the ball first (important rules for beginners who are developing defensive skills) and creating a link between defensive and attacking skills. Includes examples of playing without contact in a match
Examples of competitions for children (e.g. festivals)
 
Sunday 10 September
Methodical development of defensive systems
Ignacio Torrescusa (Spain)
Progression of the rules, from one-to-one defence to two-line zone defence, methodology and approach for children, practical tips for PE teachers and coaches
Example of competitions for children (e.g. tournament) and involvement of children as referees
Lectures are live streamed on Zoom and on the IHF Facebook page and are presented in English with live translation options for French, Spanish and Arabic. All lectures will take place from 13:00 to 14:30 CEST. Registration information will follow. Everybody who attends all courses will receive a certificate via email. 
About the 2023 IHF Education Weeks
The two September courses follow the previously held Beach Handball Education Week and Coaches and Referees Education Week, which took place in May and June. Following the September programmes will be two more to conclude the 2023 IHF Education Weeks: Management Education Courses (2 to 5 October) and Wheelchair Handball Education Courses (6 to 8 October). 
The 2023 IHF Education Weeks come after eight extensive courses held in 2020 and 2021, which followed the launching of the IHF Virtual Academy at the height of the COVID-19 pandemic. The goal of the IHF Virtual Academy is to aid the development of handball around the world through the provision of free, live-streamed courses designed for every level, from the top through to grassroots.