22 May. 2023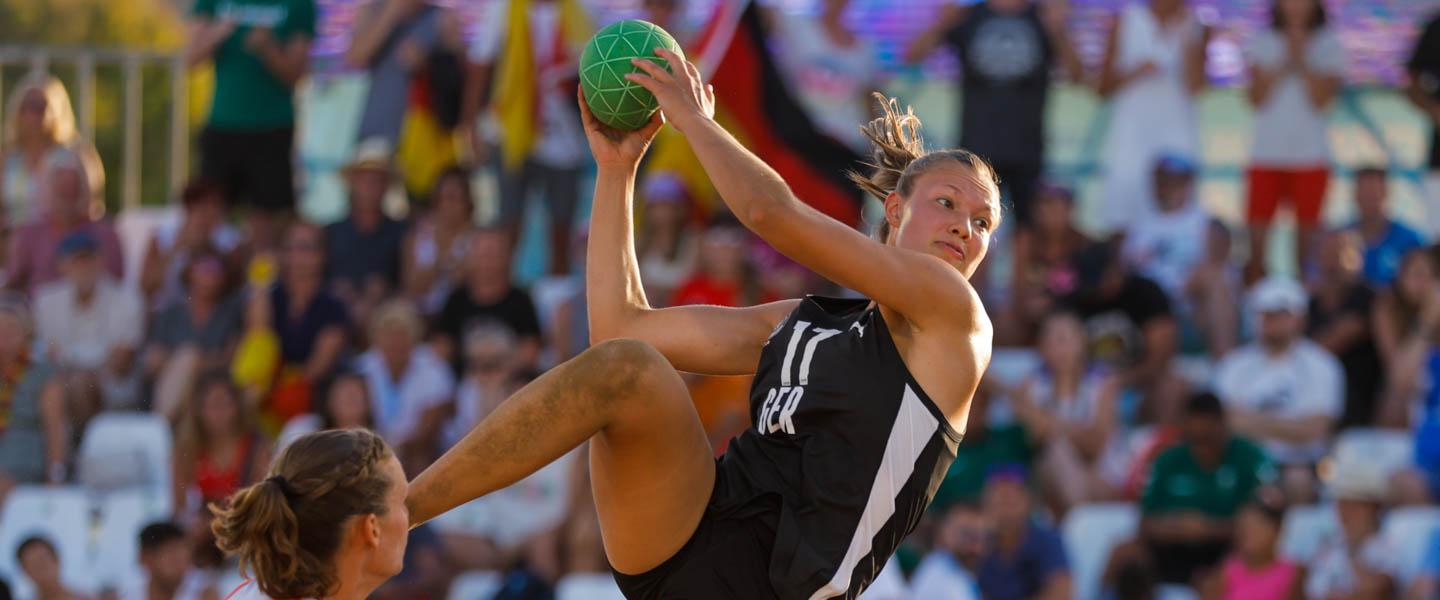 Nazaré, Portugal, is the focus of the beach handball world this week as the 2023 EHF Men's and Women's European Beach Handball Championships play out from 24 to 28 May.
2023 marks the 13th edition of the championships, with Croatia's men and Germany's women the teams to beat in the town famous for its world record waves – and the thrill-seeking surfers who chase them down.
But could the earlier start in the calendar, meaning overlaps with players playing in the indoor leagues, present a curve ball for the preparation and readiness of the favourites?
In total, 18 different nations – including the Ukraine men's and women's teams – will battle it out for continental glory across 136 matches in total.
Playing format
Both the men's and women's championships feature 16 teams each, initially drawn into four preliminary groups of four teams each.
After playing each other in their group once, the top two teams in each group (eight in total) move through to the main round, which features two groups of four teams each. 
All eight teams then move through to the quarter-finals, with the pairings decided by their main round group placings. The winners of those matches then progress to the semi-finals and onwards.
The bottom two teams in each preliminary round group move into a consolation round and then eventual 9-16 placement matches.
Men's championship
Having won the last two editions, Denmark will be seen by many as the team to beat in Portugal, but their vanquished rivals in the 2021 final in Varna, Bulgaria – Croatia – will be hungry to beat them. They will be desperate to add the continental title to their The World Games and IHF World Championship gold medals won last year to ensure a full set for the first time.
Croatia's 2022 world title saw them dispatch Denmark impressively in Greece in the final. If Croatia were to win in Portugal this week, it would be their first European title for nearly a decade, with their last coming in 2015 – their fourth consecutive one at the time, following gold in the 2009, 2011 and 2013 editions. This run means they are the all-time medallists in the championship, a haul added to by two silvers and a bronze. In his playing days, Croatia's coach Mladen Paradžik won the European Championship MVP award twice (2009 and 2011).
Norway will be looking to add to their sole medal (2019 silver), while the host nation should never be discounted. Portugal, who made their world championship bow last year, are appearing at their fourth championship, with a fifth place being their top placing to date. They warmed up for their home championships with a visit to Brazil, appearing at the first stage of the 2023 IHF Beach Handball Global Tour. 
Neighbouring Spain, with their mixture of youth and experience, will also be one to watch. But what about Greece? Could the form shown for a debut fourth-place world championship finish on home sand last year translate to Portugal?
Women's championship
15 teams will be coming to Nazaré wanting to make history and deny Germany a chance to defend their 2021 title. 
Alexander Novakovic's German side grabbed their continental title two years ago without dropping a set. It proved to be the start of an unprecedented and remarkable winning streak which has seen them go undefeated ever since, picking up an IHF World Championship and The World Games titles on the way.
Their staggering 25-game winning run will be tested severely in Portugal, with Denmark and the Netherlands likely to provide the strongest test, alongside the traditional threats from Hungary and Spain.
The Netherlands were well beaten at Greece 2022 by Germany in their semi-final 0-2 (10:18, 16:25) before taking bronze and they will be looking to get some sort of revenge in Portugal. One to watch for them will be a new addition to the senior side, Eva Heuten. 
The left wing was sensational at the 2022 IHF Women's Youth Beach Handball World Championship in Greece where her side finished with silver. Heuten took the MVP award, ended as top-scorer and was voted into the All-Star Team.
Another side looking for revenge against Germany will be Spain, who lost the tightest of finals on the Greek sand 0-2 (14:15, 20:22) against them last year. A continental final for them this week would be a first after three semi-finals (2015, 2017, 2021).
2023 could see a repeat of the 2021 final, with Denmark in fine form and looking to reverse the 2021 European final loss against the Germans after winning the title in 2019.
More than a continental title
A place in the top seven in both championships will earn nations a historic place at the 3rd European Games in Tarnów next month. Beach handball is making its debut at the event in Poland, which is dubbed the 'European Olympic Games'.
The winners of each championship in Portugal will also book their ticket to the 2023 ANOC World Beach Games in Bali, Indonesia. The second edition of the global event will take place in August.
For further information, visit eurohandball.com. A total of four courts will be hosting games, with all the action livestreamed for free on EHFTV.com (geo-restrictions may apply).