21 Jun. 2022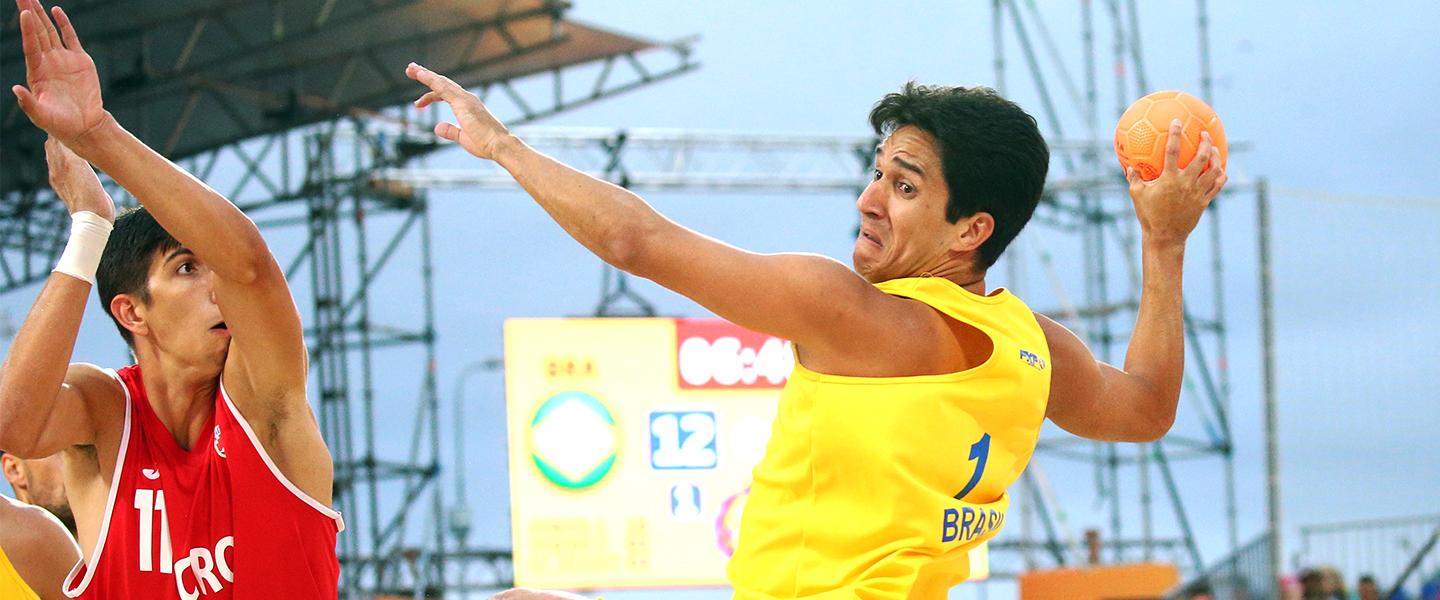 It's a simple question really, but one which only Croatia have been able to answer generally. A wobble early on at the 2019 ANOC World Beach Games had the South Americans on the brink of going out but they should never be doubted – they won gold in the end.
In the history of the IHF Beach Handball World Championships, they are the most successful men's or women's team ever, winning five gold medals, two ahead of their nearest rivals and closest of teams – the Brazilian women.
It is not surprising that the only other ever-present nation in the IHF Men's Beach Handball World Championship, Croatia, are the team to stop them winning gold in every edition since 2006.
Those two times were in 2008 and 2016 and a player and then coach in them, Davor Rokavec, is in Heraklion working on the statistical and scouting side of the game for the IHF and could be a reminder for some of the squad that they are not invincible.
Another curve ball could be seeing the spiritual father of the sport and a man known as 'The Professor', Antonio Guerra Peixe, with a different tracksuit on this time – he is now the coach of the Iran men's senior team after being with Brazil for those championships and the two teams could face each other in an emotional main round clash, should results be positive for both.
Let's just remind ourselves again – Brazil are current world champions (2018), ANOC World Beach Games champions (2017), South and Central America champions (2022) and The World Games champions (2017). There is nothing else left to win for the senior side. They just have to keep winning.
Aside from Croatia stopping them, who lie second in the all-time table, with a total of five medals, Spain will be looking to take a leaf out of the Argentina women's team book, with a Youth Olympic Games gold medal-winning coach overseeing the team to record a victory over the South Americans.
Pedro Bago Rascon also has a couple of the 2018 Youth Olympic Games champions in his squad too – could they turn around their fifth place finish run at the last four editions and make a step up to the podium?
Nearly half of the 16 teams at Greece 2022 are debutants, with Puerto Rico, Ecuador, Norway, Portugal, Mexico and Greece stepping onto Men's Senior World Championship sand for the first time. Ecuador are appearing for the first time at any Beach Handball World Championship.
For Greece, they will be hoping they can replicate part of what their women's side did on their debut – win gold.
"It's important for us to have the support of the local fans, especially at a World Championship that's taking place in your own country," said Greece player Theodoros Boskos.
"We will be extra motivated," he added. "Fans get engaged with handball and beach handball from the very first moment; it's the speed, the spectacle that makes people who watch handball for the very first time to come and watch it again. 
"The facilities in Heraklion are fantastic, one of the best in Europe. I am sure the fans will come and cheer for us will help us get victories and in the end, we will celebrate altogether."
16 teams, six continents, 72 games, one winner – who will it be?