01 May. 2021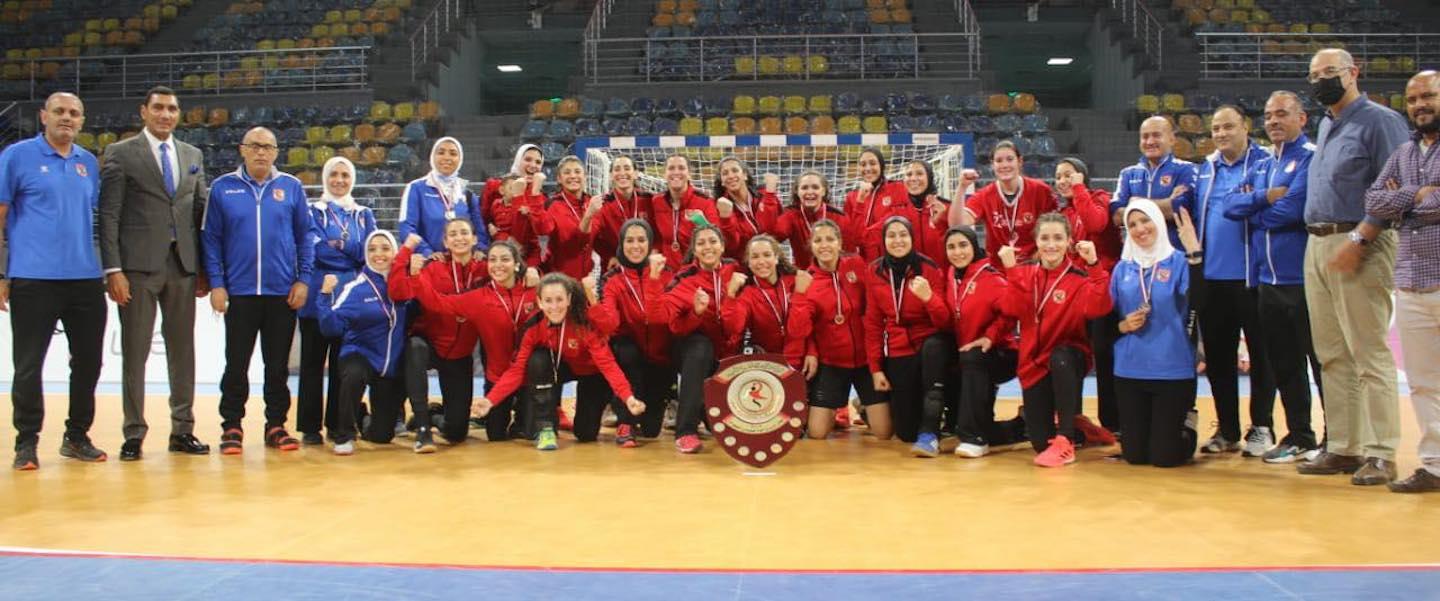 It was the traditional Cairo city rivals Zamalek SC and Al Ahly who swept the board in the men's and women's league and cup honours, with a number of competitions coming to a conclusion in March and April.
Al Ahly women win Egyptian treble
Led by a match-winning performance from goalkeeper Ghada Hossam, the Al Ahly women's team defeated Zamalek SC 27:20 in the final of the Egyptian Cup in March as Yehia Youssef took home his first trophy as Al Ahly coach.
Held at 2021 IHF Men's World Championship venue Dr Hassan Moustafa Sports Hall, Al Ahly had made the final after beating Alexandria Sporting Club (ASC) 27:23 in their semi-final while Zamalek overcame El Shams in their last four match. It was the second successive year Zamalek had lost the cup, following their defeat to Sporting last year.
"We made a lot of effort throughout the cup campaign to win the title," said Al Ahly captain Nasra Eid to local media after the match. "I would like to dedicate this precious title to our loyal fans."
The cup win was swiftly followed up by a league title, too, as Al Ahly secured their title with a game to play, defeating El Shams SC 34:22 (14:12), in the second stage of league competition where Ahly and El Shams were joined by ASC and Zamalek SC.
Ahly had already seen off Zamalek 29:19 (14:6) in their opening match and ended their campaign with another win, 34:28 against Alexandria Sporting Club (ASC). In between the national cup and league titles, Ahly took the Cairo League title as well to make it a trio of gold medals.
"Winning the competition wasn't an easy thing for us as we had a lot of difficult games," said Al Ahly's Sondos Hashana to local media after the title. "However, our effort throughout the season paid off and we managed to win the title and after winning the Egyptian Cup and the Cairo League, everyone was determined to win the Egyptian League title."
Zamalek take men's league title, Al Ahly win cup
Al Ahly's men's side were unable to repeat the success of their women's team, losing 17:18 (10:11) to Zamalek SC in the decisive match of the Egyptian Men's Super League in April.
Four-time IHF Super Globe participants @ZSCOfficial won their 17th men's 🇪🇬 Egyptian league title on Monday night after beating Al Ahly 18:17 in the final 💪

🎥 OnTime Sports Egypt#bestofhandball pic.twitter.com/N5H6J03cAJ

— International Handball Federation (@ihf_info) April 21, 2021
The teams could not be split at the end of the season, equal on 38 points each after Ahly defeated Zohour by nine (36:27) and Zamalek overcame Aviation Club by 10 (34:24), and their own match-up ended equal, 28:28 (13:16).
So, a special play-off took place 72 hours later and Zamalek managed to win, confirming their 17th title in history, six behind Al Ahly, who have 23 to their name.
Shortly after that league loss, Al Ahly were able to get some revenge, winning the Egypt Handball Cup for the eighth time, defeating Zamalek 26:23. Following the result, Al Ahly President Mahmoud El Khatib announced he would double the win bonuses of his side 
"Many people thought that losing the Egyptian League title would affect us," said Al Ahly goalkeeper Mohamed Essam El-Tayyar, to their official website, www.alahlyegypt.com. "However, Al Ahly's character led us to defeat Zamalek SC and clinch the title. Al Ahly have many brilliant players and this encourages me to show my greatest performance."
The Al Ahly men's youth team won the Egyptian League and Cup, defeating Zamalek both times – 31:27 and 34:23 respectively – in their finals, also held at the Dr Hassan Moustafa Hall earlier this week.
'Captain Egypt' El-Ahmar announces probable Egypt retirement
Earlier this week, Egyptian men's handball legend and captain Ahmad El-Ahmar, who has more than 1,400 goals to his name and is considered by many as one of the best-ever players to come from the North African nation, announced that he will "probably" be retiring from the national team after he has led his team at the Tokyo 2020 Olympic Games – his fourth Games.
"I have not decided the final date for my retirement yet," the 37-year-old El-Ahmar was quoted as saying to television station MBC Masr. "But I will most probably retire internationally after the Tokyo Olympics."
Including the most recent league title, El-Ahmar has won a total of 55 championships with his various clubs, including Al Jaish (Qatar), Al Ahli (Saudi Arabia), El Saad (Lebanon), Club African (Tunisia), SG Flensburg-Handewitt (Germany) and the team he joined as a boy (Zamalek SC) and those with the Egypt national team where he has won four CAHB Men's African Championships.
Photo: Egyptian Handball Federation