Building the next generation of shot stoppers: Players turned goalkeeper coaches share their stories
27 Jun. 2022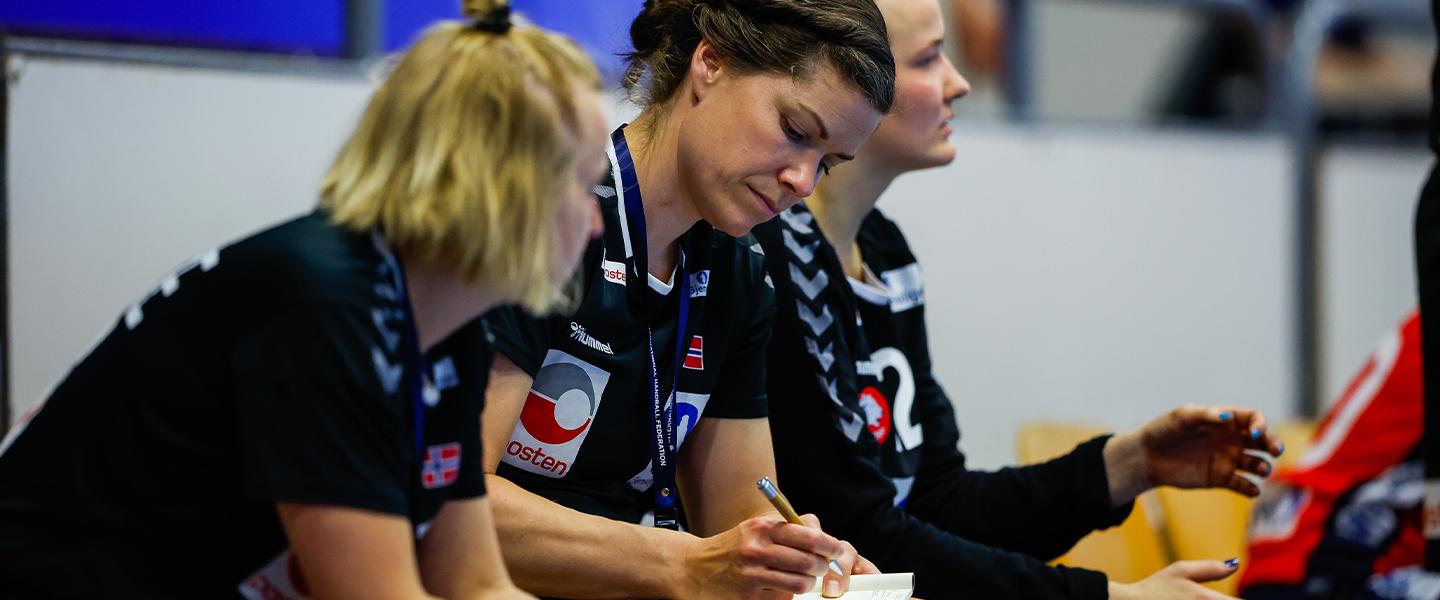 "The goalkeeping position is somewhat special. It is different from others on the court for obvious reasons, but it is also a beautiful one, which combines the physical aspect of handball, but also the mental one, which is paramount in mastering the position."
The definition of a handball goalkeeper given by Kari Aalvik Grimsbø is simple, but complicated. A paradox in itself, because a goalkeeper's performance is always scrutinised and analysed thoroughly, put under a microscope in every game. It is true, a goalkeeping masterclass will lift a team to the win, while an underwhelming performance can definitely lead to a loss.
However, Grimsbø, a two-time winner of the IHF Women's World Championship and the Olympic Games and a five-time EHF EURO gold medallist, loves handball so much, she could not stay away after retiring from her playing career in 2020, after being named the MVP of the EHF FINAL4 in 2019, while securing her third trophy in the EHF Champions League Women with Győri Audi ETO KC.
After a life as a goalkeeper, Grimsbø returned to Norway after more than a decade spent away at Team Esbjerg and Győr and decided she wants to nurture the next best goalkeepers in Norway.
For a few months, the 37-year-old former shot stopper has been appointed as the goalkeeping coach of the Norway women's junior team, trying to teach a thing or two to the next wave of players who are trying to keep the bar high for the most decorated team in the history of women's handball.
"I love handball so much, with all my life, therefore I decided to be here and try to help develop a new generation of goalkeepers, which could be the future for Norway's team. It is a different role than as a player, but I like to think I was my own coach at times, especially trying to improve the mental part, because goalkeeping is all about that," says Grimsbø, after Norway's clear 32:24 win against Brazil at the IHF Women's Junior (U20) World Championship.
Up until this point, Grimsbø's plan is working flawlessly, as Norway's top goalkeeper, June Cecilie Krogh, ranks third in the number of saves made ( 21) after two days at Slovenia 2022, for a superb efficiency of 42%. The Scandinavian side's other goalkeeper, Jenny Sofie Sundt Utne, also posted a saving efficiency of 32%, as Norway rank second, just behind France in the top goalkeeping efficiency at Slovenia 2022 after two matches.
Trying to find the new Kari Aalvik Grimsbø, Katrine Lunde or Silje Solberg might prove difficult, as Norway had a long tradition of proving excellent goalkeepers, but for the sake of the senior national team, the conveyor belt must continue, irrespective of the challenges provided by replacing some of the all-time greats in the Scandinavian side's history.
"We must constantly develop and find new players, because this is just the way it is. It motivates me to continue and to try and help with whatever I can," says Grimsbø, who is at her first major event in the new role.
"A joy to be here"
Another goalkeeper who is doing her utmost to nurture new talent is French shot stopper Armelle Attingré. Born in Côte d'Ivoire, Attingré started her career in France, spent two years in Turkey at Yenimahalle Bld. SK, before a short stop in Hungary at Alba Fehérvár KC.
In the past two seasons, she plied her trade for Montenegrin powerhouse Budućnost, which she represented in the EHF Champions League Women. Planning to play for two seasons at Budućnost, Attingré also decided to give a helping hand to Montenegro's junior women national team, where she fit in as a goalkeeping coach. 
"It is just a joy to be here, at the World Championship, and help these amazing players, who are very talented. Of course, it is a different role and I would gladly switch to playing, but I have to keep my feet on the ground and deliver the best instructions to the players," says Attingré.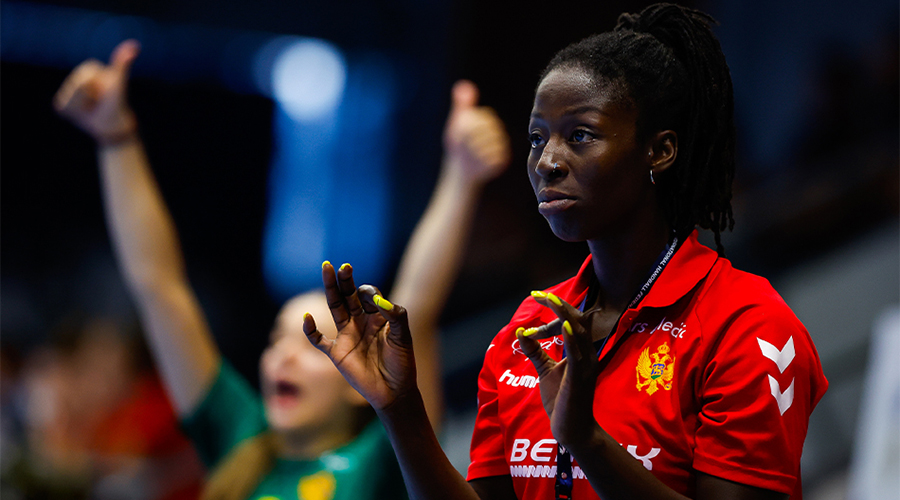 Therefore, she is in an unique position, an active player, who acts as a goalkeeping coach for a foreign national team. But everything worked out well in the first two games in Group C of the IHF Women's Junior World Championship, as Montenegro need a win against Italy in the last match to proceed to the main round.
Moreover, Montenegro's goalkeepers have also been superb during the first matches in Celje, saving 38.5% of the shots they faced, just a little less than France (40.9%) and Norway (38.6%).
Attingré built an instant connection to Jovana Kadovic and Milena Vujisic, constantly shouting words of encouragement and offering pieces of advice to the young aspiring goalkeepers.
"The communication is usually done in English, I also speak a bit of Montenegrin, which I picked up while playing for Budućnost. But we understand each other well, even during the matches, when everything heats up," adds Attingré. 
The 33-year-old goalkeeper admits she still has the habits of a player during video meetings and during matches, but the balance between the current role of a goalkeeping coach and the one as a player works out just fine.
"It is amazing to be here, it is amazing to coach new players and be a part of this team. I do not know if it is harder as a player or as a coach, but I love handball and I love every bit of work we do," concludes the French goalkeeper.
With the IHF Women's Junior World Championship being a clear springboard for goalkeepers, as shot stoppers like Sandra Toft, Althea Reinhardt, Dinah Eckerle or Laura Glauser all made the All-star Team in the past editions, it is easy to see the appeal of why Grimsbø and Attingré are putting in the work.
Whether that will translate to the senior team, it is still to be seen.