18 Jan. 2023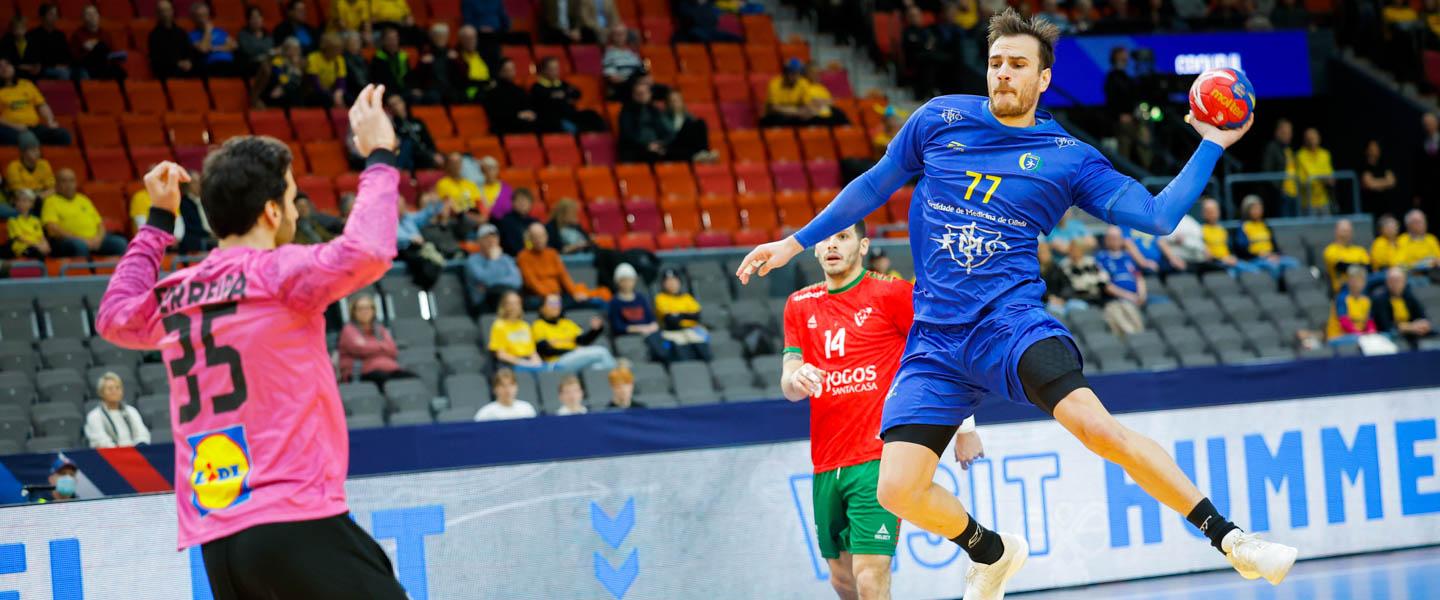 Portugal and Brazil were vying throughout the whole match, both having a slender advantage at one point. Just as it seemed to be over, in a thriller finish, Brazil received a penalty shot at the end of the match and scored for a draw, ruining Portugal's dream of two new points in a well-balanced group where each goal and each point counts for the quarter-finals spot.
Main Round Group II
Portugal vs Brazil 28:28 (12:11)
Portugal started with a 2:0 goal run but were soon stopped by Rangel Da Rosa's two saves. Brazil capitalised on that, rebounded and took a 3:2 lead. The match's pace was not at a high level at the start. Therefore, we waited for a new set of goals until the ninth minute.
Da Rosa's saves were not unanswered as Miguel Ferreira had two consecutive ones, pushing Portugal back in front. However, Portugal could not make a break as Brazil were constantly right behind their backs.
Paulo Pereira, who welcomed his first match with the team on the court after an IHF suspension, decided to call for a time-out to rethink his team tactics. However, nothing seemed to be working as Brazil's strong defence, coming out and transforming from 6-0 to 5-1, kept making trouble for Portugal.
Brazil kept the contest close and managed to trail only by one at half-time. The good Brazilian game continued at the start of the second part. They opened with a 3-0 lead and, with a goal by Rudolph Hackbarth, took a slender advantage (17:19). And they should say thanks to their goalkeeper Leonardo Terçariol.
The overall pace increased as both sides tried to make a difference. After the initial Brazil strike, led by Jean Pierre Dupoux, who ended the match with ten goals out of 14 attempts, the Portugal side responded and once again turned the match around.
From the 45th minute of the match, the one-goal lead was moving from one side to another (21:20, 22:23), and it was Portugal who were the first to get the two-goal lead as Pedro Portela's shot from the right wing was unstoppable, setting 27:25.
Could it go without a thriller? Well, of course not. Two minutes before the final whistle, Hugo Bryan Monta Da Silva narrowed the gap to 26:27 and after another great save by Terçariol, Gustavo Rodrigues netted an equalizer as the clock hit 58:51.
The only thing Portugal could do at that moment was to call for a time-out and hope to score and defend the narrow win. And they almost did. 18-year-old Francisco Costa netted for 28:27, Brazil missed their chance in the last attack, which was rushed, wanting to score before the buzzer, and it seemed to be over. However, after a video replay, Alexis Borges received a red card disqualification and consequently, Brazil got a chance for a draw through a penalty shot.
Hero for Brazil? Jean Pierre Dupoux was cold as ice before emotions erupted, scoring from seven meters and setting the final result.
In the next match of the main round Group II, Portugal will try to get back to winning against Cape Verde, while Brazil have yet another tough task ahead - Hungary.
hummel Player of the Match: Leonardo Terçariol (Brazil)