28 Jun. 2023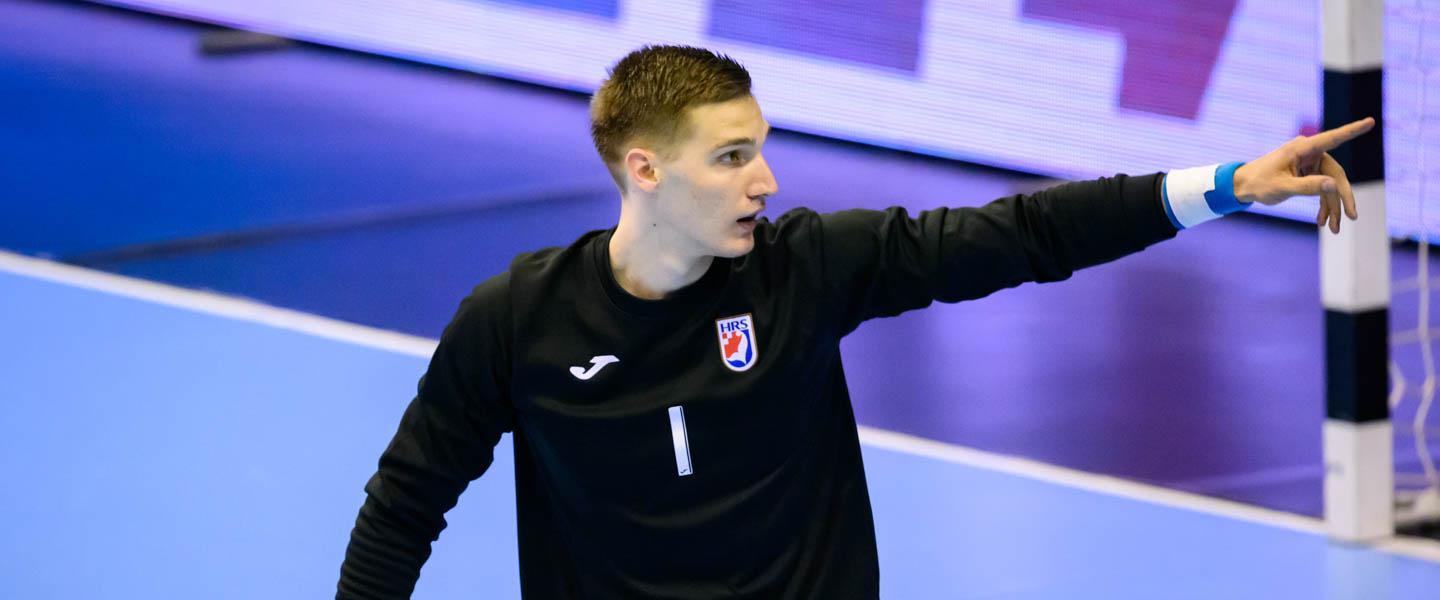 Four years ago, at the 2019 IHF Men's Junior World Championship, Croatia finished on the second place, after conceding a 23:28 loss against France in the final of the competition, with a generation spearheaded by Halil Jaganjac, Ivan Martinović and Josip Šarac.
It was the best performance ever in the world handball flagship competition for Croatia's junior team, which they hope to beat, securing their first trophy in this age category, at Germany/Greece 2023, with other stalwarts running the show.
One of them is Dominik Kuzmanović, a goalkeeper who has already made his debut at the IHF Men's World Championship, at Poland/Sweden 2023 in January, and has been an integral part of the junior's side success over the last week, with Croatia sealing a quarter-finals berth.
So far, Croatia created a four-game unbeaten run to make it to the main round in Magdeburg, only for their last game to end in a nail-biting loss against Germany (29:31), after Croatia erased a seven-goal gap to provide the co-hosts with a huge challenge. 
"Unfortunately, we failed to win this game, but we are still going to the quarter-finals, where we can show our passion and our love for the game and deliver another good performance. We hope to progress once again to the final like Croatia did four years ago," said Kuzmanović after the loss against Germany.
The goalkeeper is no stranger to excellent performances, as proven time and time again for club side RK Nexe Našiče, a team which made the EHF Finals Men in the 2021/22 season, with Kuzmanović as a crucial player. His form was excellent the next season, boasting a 26-save game against Sporting CP in the EHF European League Men, the second-tier European competition, for an outstanding 50.9% saving efficiency.
While goalkeepers usually peak later in their careers, as the position needs a lot of experience to master, Kuzmanović is one of the shot-stoppers who made their mark early in their careers, making his debut in the Croatia men's senior national team when he was only 20 years old.
Surprisingly, he was also part of the senior team that made the main round at Poland/Sweden 2023, and he also featured in four games, making 14 saves throughout the competition, one that has helped the goalkeeper mature even more and become a leader of the current junior side.
"I love playing with the junior team because we all grew up together, we are all good friends, we know each other well and we want to finish off on a high. That is clear, at least in this competition," says Croatia's goalkeeper.
Whether Croatia will progress or not from this quarter-final against Hungary is still to be seen, especially as the two teams know each other well – "we have played a lot of friendly games against them," according to Kuzmanović – but one thing is certain: the silver medallists at Spain 2019 will need a good game from their goalkeeper.
So far, at Germany/Greece 2023, Kuzmanović has made 41 saves, ranking 10th in the top number of saves made in the competition, with a 33.8% saving efficiency, being crucial at times, especially in the game against Germany, the last in the main round.
In that game, Kuzmanović finished with 14 saves, or a third of his total in the competition, but had to sit out in the last minute due to a dislocated finger, which prevented him from being on the court when Croatia needed him the most.
"It is just a dislocated finger, I will battle through it, and I will be on the court against Hungary, that is for sure," said Kuzmanović after his finger was put back into place during the dying seconds of the match by Croatia's medical team.
Since the current format with quarter-finals was introduced at the IHF Men's Junior World Championship, Croatia won both they participated in, one at Bosnia Herzegovina 2013 and the other one at Spain 2019.
But the challenge against Hungary seems to be a tough one, especially as Croatia's neighbours are coming with a five-game winning streak on their hands, ready to fire from all cylinders and secure their best finish in the competition since 2005, when they took the bronze medal.
"We know it is going to be tough, but I really hope we will be well-prepared and we will win," concludes Kuzmanović.