Big ambitions for a young team: Uzbekistan dream big after maiden IHF Women's World Championship win
11 Dec. 2021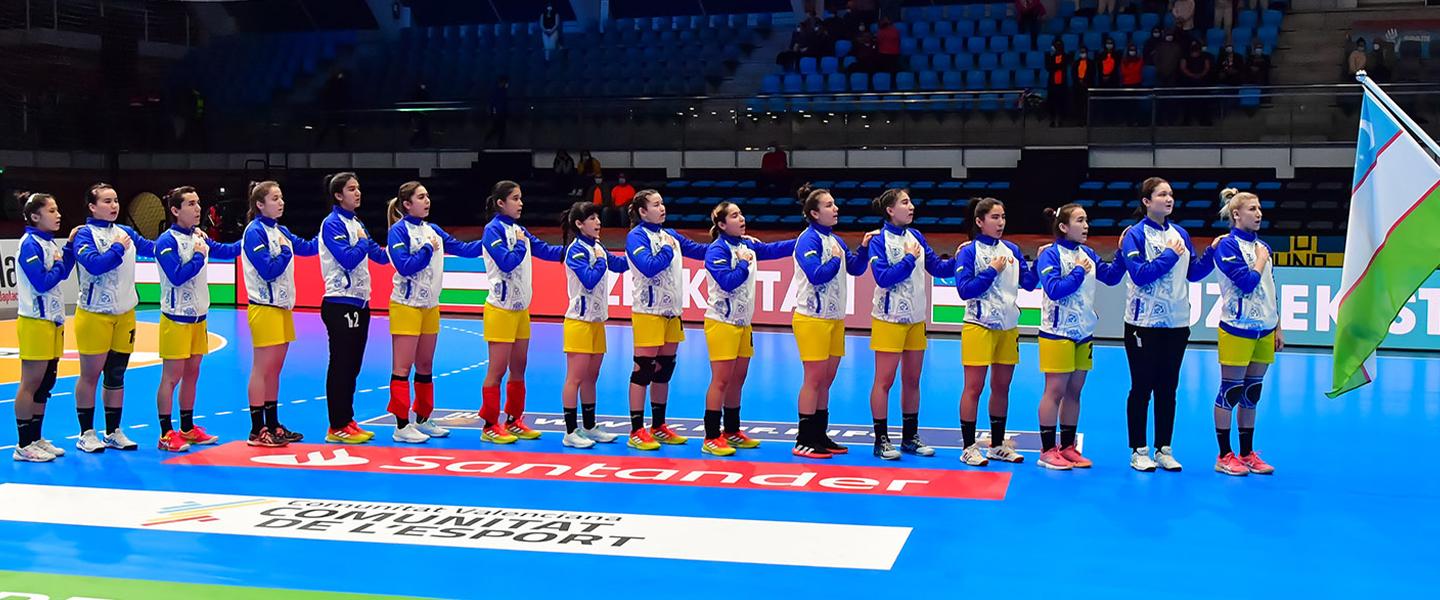 When Uzbekistan started their 2021 AHF Asian Women's Championship campaign with three losses against the Republic of Korea, Kazakhstan and Hong Kong, it looked like they stood little chance to secure a second IHF Women's World Championship berth, with only the top five sides from Asia progressing to Spain 2021.
But a remarkable resurgence in the 5-8 placement matches, which included wins against hosts Jordan (34:26) and Hong Kong (28:25) meant that Uzbekistan were headed to the world handball flagship event for the first time in 24 years.
At Germany 1997, the Asian side lost four games against European sides Croatia, Norway, France and Belarus and drew against Canada, 18:18, despite leading throughout the whole game.
But, from that point on, Uzbekistan, despite the popularity of handball in the country, failed to get to the big stage. However, ambitious plans were laid down and, with more than 10,000 children starting handball early, in their schools, the Asian side finally secured their berth to the IHF Women's World Championship at Spain 2021.
Uzbekistan's luck ran out even before they qualified, as the fifth-placed side at the 2021 AHF Asian Women's Championship were going to face reigning world champions the Netherlands, Sweden and the North America and the Caribbean Women's Championship winners, Puerto Rico.
While Uzbekistan conceded 113 goals against the European powerhouses, scoring only 32 times, the 24:30 loss against Puerto Rico was heartbreaking for the young Asian side. But that result was, in itself, a blessing in disguise.
Uzbekistan picked up where they left off in the President's Cup, facing Angola, Cameroon and domestic rivals, the Islamic Republic of Iran, in Group I. The first game, against Iran, pitted Uzbekistan against a team they knew they could beat, having prepared thoroughly for this type of match.
Indeed, with a superb game from 19-year-old back Madina Khudoykolova, Uzbekistan recorded a historic 37:32 win, their first one at the World Championship, with an attacking display which impressed many at Spain 2021.
"This win has huge consequences for us and for the Uzbek handball. Of course, the focus in our country is normally set on martial arts, but, with this amazing win, we hope to draw some attention and improve our funding, because we proved that we can compete at the highest level possible," said Zafar Asimov, Uzbekistan's coach.
Khudoykolova was instrumental in her team's win, scoring 11 goals, just two days after putting 10 past Puerto Rico in the 27:30 loss that sealed the Asian side's fate in the preliminary round.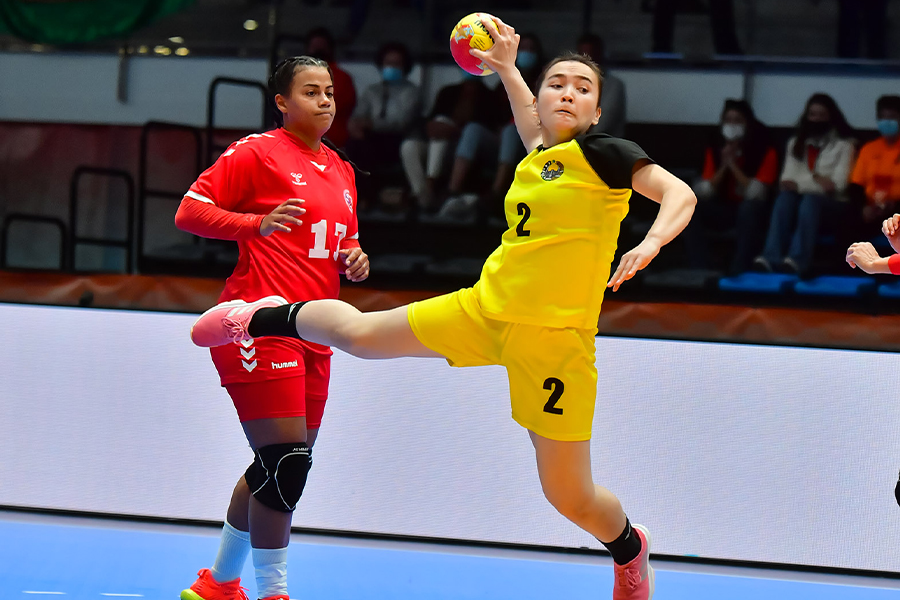 After four matches played by each team, the 19-year-old back was ninth in the top scorer standings at Spain 2021 with 24 goals, half the output managed by the top scorer of the competition, Sweden's right wing Nathalie Hagman.
"I am very proud that one of our players is playing so good and is one of the best scorers in this competition. Scoring 10 goals or more in two games at Spain 2021 is a remarkable achievement and I hope she will be great player," added Asimov.
Whether or not Uzbekistan steal a win against Cameroon or Angola, this tournament still feels amazing for a side that had only reached the 10-match milestone at the IHF Women's World Championship and sealed their spot at Spain 2021 only two months before the start of the competition.
This is especially true, when taking into consideration that none of the other 31 teams in the competition have an average roster age lower than Uzbekistan. 10 of the 16 players in Asimov's roster were born after 2000, with the average age being a meagre 22.1 years. Reigning champions the Netherlands and Sweden, both teams whom Uzbekistan faced at Spain 2021, have an average age of 26.2 years.
"We have a very young team and, in my book, this gives us a big additional advantage. Because we can still grow, especially if we get more assistance. Playing against stronger opponents underline our weaknesses and help us improve exactly the areas where we did not look good," said Uzbekistan's coach.
The short period between the 2021 AHF Asian Women's Championship and the IHF Women's World Championship meant that Uzbekistan, who only have one professional team in the country, did not have a lot of time to truly prepare for the competition. 
A 20-day training camp in Togliatti, in the Russian Handball Center, was swiftly organised, with the players getting to know themselves better and improve their chemistry just before the start of Spain 2021.
"With the number of teams at the IHF Women's World Championship improving to 32, our plan is to be one of the teams who are constantly in the mix to participate in the competition. We also still have an eye on the upcoming Asian Games, which will take place in China in September 2022," said Asimov. 
But the real challenge for the ambitious Uzbek Handball Federation is to qualify for the Olympic Games in the next decades. From Asia, only Korea, Japan and Kazakhstan have progressed to the women's handball tournament, therefore the challenge is going to be huge.
Uzbekistan have not yet won an AHF Asian Women's Championship medal, with their best result – a fourth place – being sealed in their first participation in 1997. The gap between Korea and other teams in Asia is still big, but Uzbekistan have big plans.
And taking part in the IHF Women's World Championship is just the first step.
Photo: RFEBM / J. L. Recio