08 Sep. 2023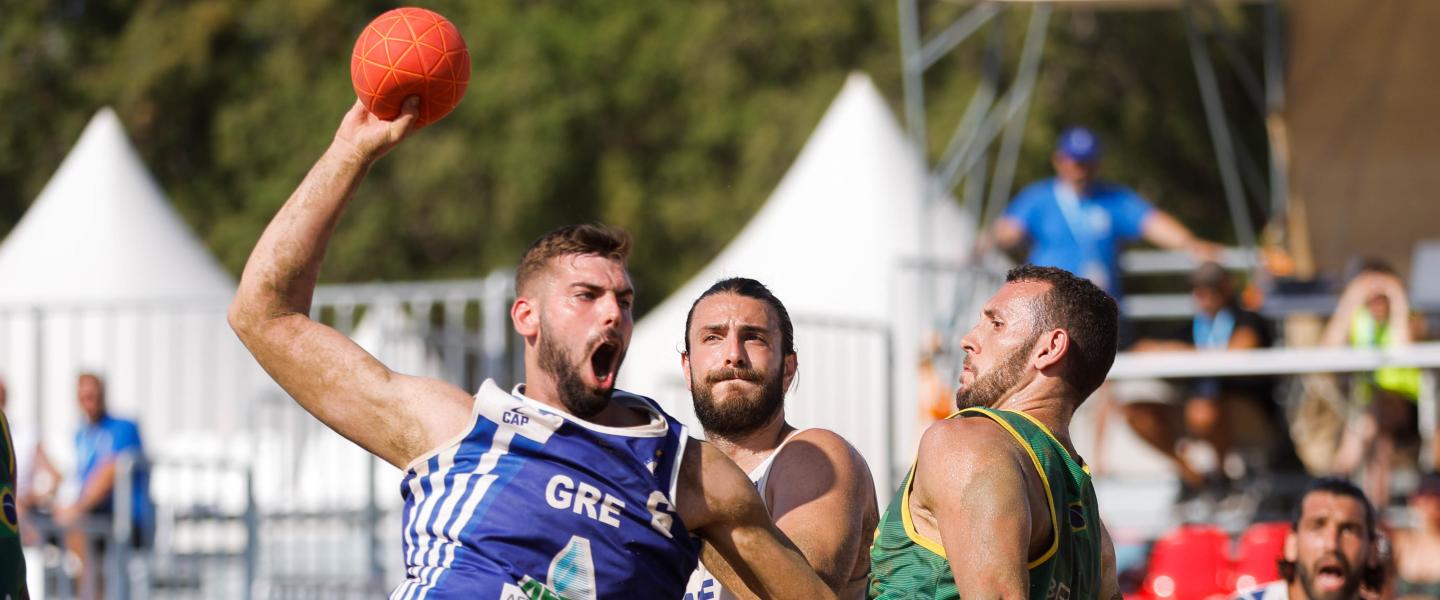 The third edition of the Mediterranean Beach Games gets underway on the Greek island of Crete tomorrow (9 September) for a week of action featuring 13 sports, including men's and women's Beach Handball.
The Beach Handball competition runs from 9 to 13 September, with 52 games being played across five matchdays. All games will be played at the Karteros Beach Sports Center, which hosted four 2023 IHF Beach Handball World Championships last year.
The men's competition features eight teams, initially split into two preliminary groups of four teams each. Group A includes Croatia (CRO), Cyprus (CYP), Italy (ITA) and Kosovo (KOS), while Group B includes Greece (GRE), Morocco (MAR), Spain (ESP) and Tunisia (TUN).
The top two teams in each group will then move directly into the semi-finals and medal matches, while those who finish third and fourth in each group will go into the 5–8 Placement Round. In total, 24 men's games will be played.
The women's competition features seven teams – Croatia (CRO), Cyprus (CYP), Greece (GRE), Italy (ITA), Portugal (POR), Spain (ESP) and Tunisia (TUN).
The initial preliminary group stage will be held as a round-robin league with each team playing each other once. At the conclusion of this, the top four teams in the group will play off in the semi-finals, then medal matches, while the 5–7 placed teams will compete in a placement round. In total, 28 matches will be played in the women's competition.
The women's gold medal match will be played on Wednesday 13 September at 18:00 (local time) and men's gold medal match an hour later, at 19:00 (local time).
The Beach Handball competitions at the 2023 Mediterranean Beach Games feature 149 athletes (80 men/69 women) across 15 national teams.
Greece are the double title-holders, having won both the men's and women's 2019 Mediterranean Beach Games titles in Patras, Greece.
The debut edition of the Games, held in Pescara, Italy in 2015, saw the host nation win gold in the women's competition, Greece finish with silver and Turkey end with bronze. Tunisia won men's gold, ahead of Cyprus in second place and Turkey.
In total, 768 athletes (453 men/315 women) will participate at the week-long Games with events held across four venues (Karteros Center, Ammoudara Beach, National Sports Center of Heraklion and Marina Heraklion) in the three municipalities of Heraklion, Hersonissos, and Malevizi.
Beach Handball is joined by Beach Soccer, Finswimming, Beach Volleyball, Beach Wrestling, Rowing Beach Sprint, 3X3 Basketball, Karate Beach Kata, Beach Tennis, Canoe Ocean Racing, Triathlon, Open Water Swimming and Kiteboarding.
The Games will officially commence with the opening ceremony on 9 September at 20:30 (local time).
All events will be streamed live and free via https://medgames.tv. 
For more information on the 2023 Mediterranean Beach Games, visit the official website or follow on social media via Instagram or Facebook. 
Schedule
Saturday 9 September
Women
10:00    CRO vs POR
10:50    ITA vs CYP
11:40    ESP vs TUN
16:40    POR vs GRE, CYP vs TUN
17:30    CRO vs ITA
Men
15:00    CRO vs CYP (Group A), ITA vs KOS (A)
15:30    GRE vs TUN (Group B), MAR vs ESP (B)
Sunday 10 September
Women
10:50    GRE vs ITA, TUN vs CRO
11:40    ESP vs CYP
17:50    ITA vs POR, CRO vs ESP
18:40    GRE vs TUN
Men
10:00    ESP vs GRE (B), TUN vs MAR (B)
12:30    CYP vs ITA (A), KOS vs CRO (A)
17:00    GRE vs MAR (B), TUN vs ESP (B)
18:40    CYP vs KOS (A)
19:30    CRO vs ITA (A)
Monday 11 September
Women
10:00    TUN vs POR
10:50    ESP vs GRE
11:40    CYP vs CRO
16:00    ITA vs TUN
16:50    POR vs ESP
17:40    GRE vs CYP
Men
Quarter-Finals
18:30    1A vs 4B
19:20    2A vs 3B
20:10    1B vs 4A
21:00    2B vs 3A
Tuesday 12 September
Women
09:30    ESP vs ITA
10:20    CYP vs POR
11:10    CRO vs GRE
17:10    Semi-final 1
18:00    Semi-final 2
18:50    5–7 Placement Round
Men
12:00    5–8 Placement Round
12:50    5–8 Placement Round
15:30    Semi-final 1
16:20    Semi-final 2
Wednesday 13 September
Women
10:00    5–7 Placement Round
15:00    5–7 Placement Round
16:00    Bronze-medal Match
18:00    Gold-medal Match
Men
10:50    7/8 Placement Match
11:40    5/6 Placement Match
17:00    Bronze-medal Match
19:00    Gold-medal Match