11 Aug. 2019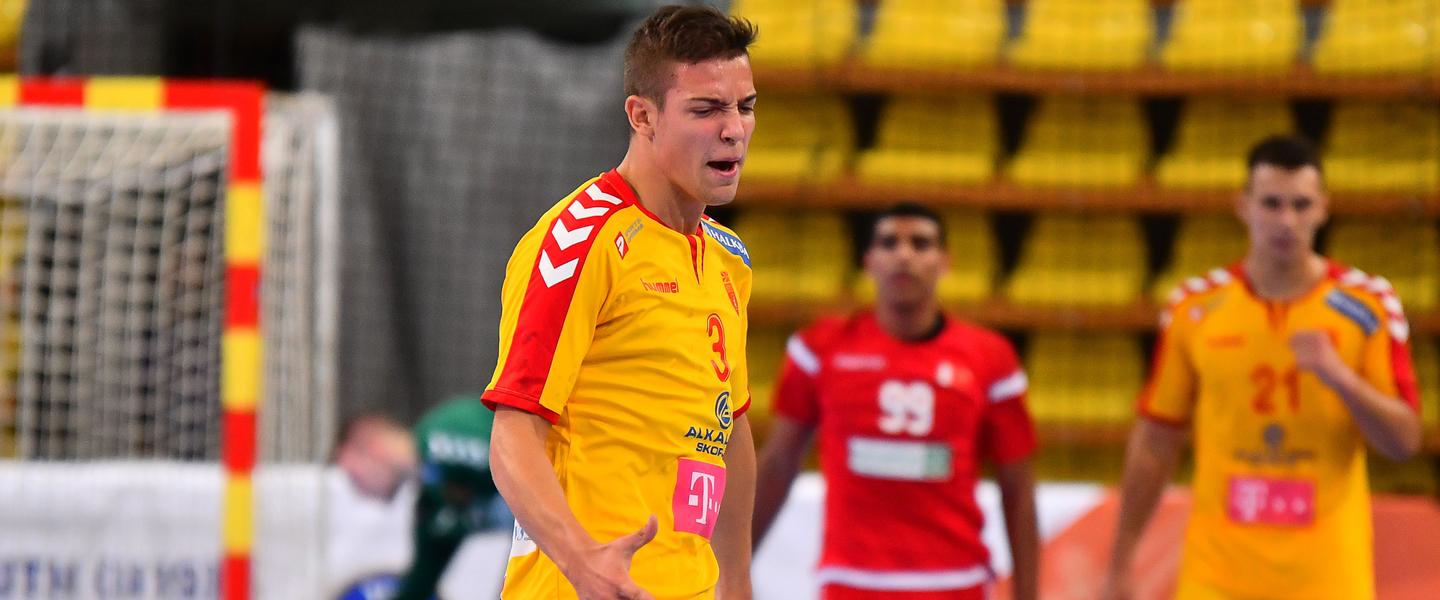 It is not often a handball player quotes the renowned English playwright, poet and actor from the 1500 and 1600s, William Shakespeare, but that is what happened when North Macedonia's Darko Kondev spoke to IHF.info following the second victory of his team at the 2019 IHF Men's Youth World Championship, against Bahrain.
The win put North Macedonia up to four points in preliminary group C and on the verge of qualification to the eighth-finals of their debut global tournament at this age.
After an action-packed 56 minutes, the game was all-square at 23:23 and Macedonia's coach Danilo Brestovac deployed a pressing, 5-1 defence to shake the Bahrain team into conceding possession and providing his team with an opportunity to take a decisive lead.
The outlying defensive player was Kondev, a blur of energy, sweat, determination and adrenaline as he paced left and right across the court, disrupting the Bahrain build-up.
Despite the frenetic energy levels, Bahrain kept in touch, behind by just one going into the final 30 seconds (26:25) and when play restarted on the final Macedonian attack following a time out, Kondev, sitting tight in the far left corner, spotted a hole right in the centre of the Bahraini line, made his move and was expertly picked out by right back Martin Serafimov.
Kondev gleefully smashed home, put his side two goals up and victory was ensured.
"My coach gave me an opportunity to score the last goal in the last five minutes; I was on the six-metre line and I scored the winning goal," said an adrenaline-full Kondev to IHF.info after the match.
"It was a tough game and it's a very hard position to play," added Kondev about his role in the 5-1 defence. "I am running about very quickly, catching all the players, but I am only playing good defence because of the help I get from my players and their heart.
"If you have heart, everything else on the court doesn't matter; you just need heart and the team together."
Despite Kondev playing just nine minutes and 30 seconds against Bahrain and scoring just four goals in his three appearances in Skopje so far, the 17-year-old, who is moving up from Metalurg's second team to the first team this coming season, is picking up valuable experience in his fledgling handball career already, not least with have the experience – and honour – of playing in a home world championship.
"In my club at Metalurg I have bigger responsibilities [than with the national team] and am scoring lots of goals, but with the national team everybody has a role and position to play and I am very happy for my coach to give me such an opportunity," he said.
"Bahrain was a very tough game but with the crowd and fans I am very happy; they are our eighth player - we really feel that, we really do. When they chant 'Macedonia' we hear that, and it is very beautiful - handball is beautiful."
This evening, the Macedonian youngsters face a big test, against the M18 EURO bronze medallists Denmark, but Kondev when asked about the prospects of a victory, he is philosophical, just like that famous English poet.
"This is a game 'to be or not to be' as Shakespeare once wrote," said Kondev. "Because, with the crowd, we can beat every opponent - we will fight until the end and see what the score is in the 60th minute."
Photo: WCH 2019 / Filip Viranovski