05 May. 2021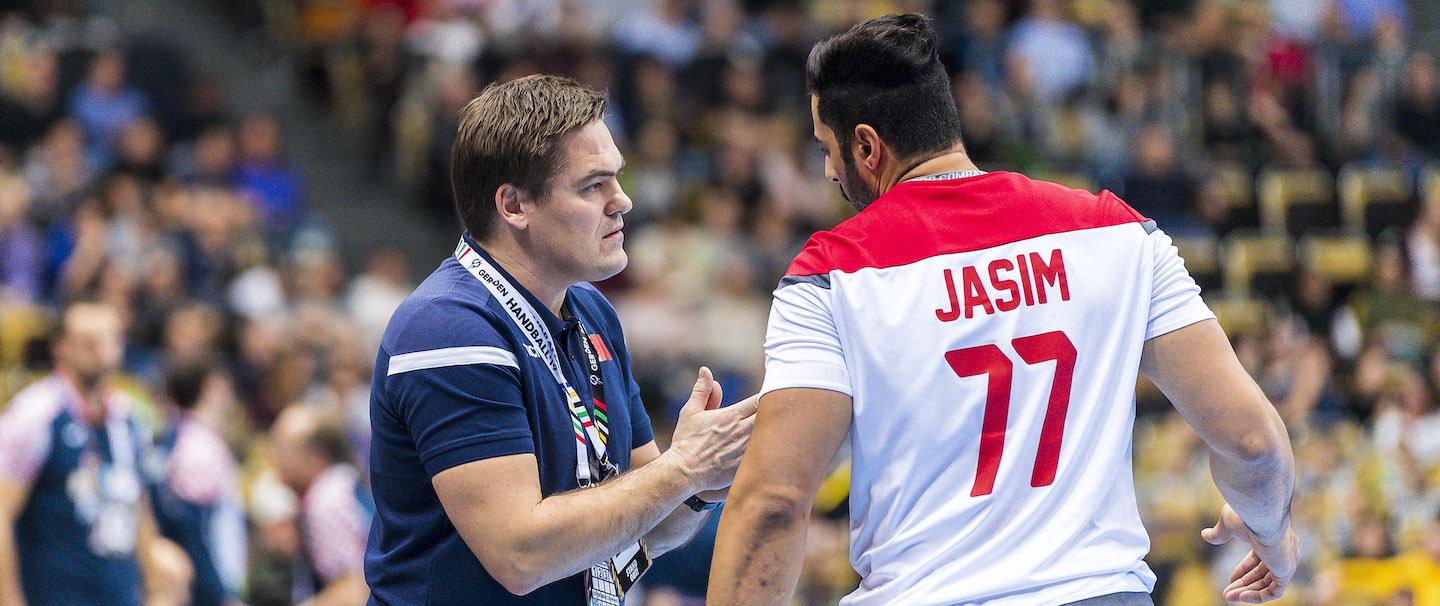 Almost four years to the day, in late April 2017, Icelandic coach Gudmundur Gudmundsson was announced as the new coach for the men's national team of Bahrain. Soon after, he guided them to silver at the AHF Men's Asian Championship in January 2018 but his homeland called, and he returned to Iceland to take up the role of national team coach a few months later.
Aron Kristjansson, who played for Iceland under the coaching of Gudmundsson and also took over as coach of him from Iceland in 2012, was then swiftly announced as his replacement and he would go on to make history for the Gulf island nation, qualifying the team for their first-ever Olympic Games after winning the AHF Men's Asian Qualification Tournament held in Doha, Qatar just over a year later. 
All was well in the Bahrain camp, but globally, the COVID-19 outbreak would have an unexpected effect on the ongoing Kristjansson journey in Asia. After signing a contract in early 2020 to take over Icelandic club side Haukar following his duties at the Tokyo Olympic Games that summer, the handball world ground to a halt with the world on lockdown.
Tokyo 2020 was delayed for a year, and unable to continue the dual commitments together with the time and travel away between Bahrain and Iceland, Kristjansson and Bahrain parted ways, albeit amicably.
"I signed with Haukar as my family lives in Iceland and I was originally going to return there following Tokyo 2020," he told ihf.info at the time. "But COVID-19 changed everything, the Olympics were moved, and it meant I could not be in Bahrain and honour my contract in Iceland at the same time as I had been travelling backwards and forwards between the two countries for the previous two years.
"I am disappointed as I really enjoyed working with Bahrain. It was a great experience to work with a national team in Asia and the players have a strong team feeling and are fighters, not to mention how friendly the people of Bahrain are. I did not have the chance to finish the work I started in Bahrain."
The Bahrain Handball Federation (BHF) found themselves looking for another coach and in August last year they announced that German coach Michael Roth had agreed a 15-month contract on 1 October covering the 2021 IHF Men's World Championship, the Olympic Games in and the AHF Men's Asian Championship in January 2022.
But Roth lasted just two months and was quickly replaced by former Bahrain youth and junior coach – and Kristjansson's assistant with Bahrain previously – Halldór Jóhann Sigfússon, who became the third Icelander to take over the Bahrain senior team, when he was announced in December, just before Egypt 2021. 
It all looked settled, but following a disappointing 21st place at Egypt 2021, Bahrain made their fifth head coach change in four years when it was announced in March that Kristjansson would return to the role with a contract until that 2022 Asian Championship.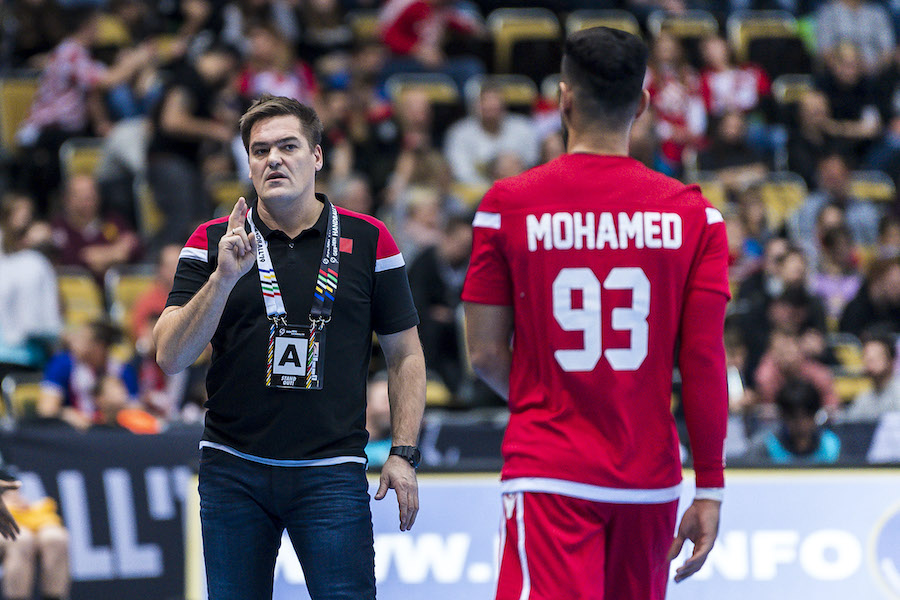 "We actually talked before the 2021 IHF Men's World Championship, but we couldn't agree on the contract and conditions," revealed Kristjansson to ihf.info about his eventual return to Bahrain. "We had kept in contact since I left as we did good things together, and, based on personal relationships, I have strong feelings for the team and for the people of Bahrain. 
"I helped them qualify for the Olympics and of course it's something you want to finish with the team," he added. "The plan was to take the team to Tokyo last summer and then, maybe, the World Championship before carrying on with my club, Haukar, and career in Iceland because my family lives there.
"That had always been the problem for coaches, but now, the federation think the best solution is that I come and go. It had to be a solution that fitted everybody involved, both Bahrain and Haukar."
الاتحاد البحريني لكرة اليد يتعاقد رسميا مع المدرب الايسلندي أرون لقيادة المنتخب الأول في الأولمبياد وتصفيات آسيا pic.twitter.com/xk6MPp0K5P

— Bahrain Handball (@bahrainhand) March 21, 2021
The rekindled Bahrain role has not affected Kristjansson's Haukar (Hawks) side, with the team currently sitting clear at the top of the first stage of the Iceland Premier League, which restarted in late April after being paused due to COVID-19.
"I have enough time now to work with Bahrain and prepare them, both in person and from distance, thanks to a good assistant coach and physical trainer based in Bahrain," explained Kristjansson who is "99.9% decided" on his full backroom team.
"It's important to work like this as in the past we always lost some weeks at the beginning of preparation periods to get players in their best physical preparation to be competitive at an international level which is very important for them.
"This means that when you do work with the players you can concentrate more on the tactical and technical parts – it is a mixture."
Like Gudmundsson, who revealed to ihf.info at Egypt 2021 that Bahrain still "has a place" in his heart and that he still kept in contact with the team, Kristjansson also revealed that he, too, kept involved with the team, despite stepping down last year, offering advice, help and keeping an eye on the future development.
"The same as Gudmundur, Bahrain has part of my heart," said the 48-year-old Kristjansson. "When Halldor took over the team ahead of Egypt 2021 I spoke a lot with him to try and help because he did not have a lot of time to prepare them and we all wanted them to succeed.
"I followed some of the games and it was very good that they qualified through to the main round. They then had tough games against Japan and Qatar and maybe they wanted better results in them but Qatar are always strong and Japan have developed very, very well over the last two years.
"When I was the senior coach and Halldor was my assistant, as well as the youth and junior coach, we worked together with the younger Bahrain players, preparing the new generation because some of the current national team players are getting older," he added. 
"We took four or five players from the younger age teams to the 2020 Asian Championship and gave them some roles, but not many of them played in Egypt, and maybe also not for the Olympic Games because the squads are smaller, but in the future, for sure."
And while those young players may not make the Olympic Games this summer, they, like Kristjansson and the global handball community, were avid followers of the Tokyo 2020 Men's Handball Tournament draw in April where Bahrain were drawn against Egypt, Portugal, Sweden, Denmark and Japan in Group B.
"I was actually training my team in Iceland at the time so I just saw it on Instagram and then Ismail, the Bahrain Team Manager, WhatsApp-ed me," said the Icelander about how he heard which teams his side would face at Tokyo 2020.
"For us, it didn't matter which group we were drawn into because it was always going to be a tough draw for us. The Olympic Games has the 12 best teams in the world so the two groups were always going to be tough and also because, maybe, we are the biggest underdog in the tournament as we surprised many with winning the Asian qualification.
"Our group is an exciting draw [for us], it's a tough group but we are looking forward to this challenge and we will try everything to get some wins."
As a player, Kristjansson qualified with Iceland for the Athens 2004 Olympic Games, but in a cruel blow, he injured his knee following the qualification, an injury which resulted in him missing his chance in appearing on court at a Games and which resulted in his retirement as a player. However, this disappointment does not give him any extra motivation with Bahrain at Tokyo 2020.
"The Olympic Games are the biggest sporting event in the world and something that athletes and coaches work head on to not only participate in, but to win medals in too," said the coach who played just over 80 times for his country.
"I didn't have the opportunity to go to Athens 2004, but I qualified for the Olympics again as a coach but last year they moved it and I left," said Kristjansson, joking at the prospect of bad luck repeating itself. "But I don't think missing the Games as a player gives me any extra motivation being there as a coach. I always want to win. You just want to do your best job every time and try to use every possibility to achieve the best result.
"Of course, watching your teammates entering the Olympic Stadium back in 2004 while lying on your sofa with your leg elevated was sad and I had actually forgotten about that as it was a long time ago but life goes on and we all hope that everything will be okay for the summer – the Olympic spirit is very special."
Bahrain coach Kristjansson on their Tokyo 2020 opponents
Sweden - Saturday 24 July
"The runners up at the last World Championship, they are a very good team, very organised and have a really, really strong collective. This is what they are playing on: good goalkeepers, good defence and really fast. They are a team which takes every game seriously so it would be a very, very difficult first game, but we have to look at the whole picture and see if we can get the win against some of the others."
Portugal – Monday 26 July
"They have been playing very good, very exciting, very interesting and very accurate handball over the past few years. Portugal are an exciting team who have developed very well. The players have a good understanding of the game and play with good emotions and a very good 7 vs 6. They will be a tough team to play."
Denmark – Wednesday 28 July
"They are the Olympic and world champions, a really good team – the best team in the world. As an Icelander we always want to beat Denmark but more for me as I also lived 10 years in Denmark as a player and coach, so Denmark is almost my second home. I know the players and the coach well. Their players are some of the best players in the world so it will be of course interesting to meet them and an interesting game of handball."
Japan – Friday 30 July
"The host nation who will have home advantage and who have developed very well under Dagur [Sigurdsson – coach]. They have physically improved a lot, as well as technically and tactically. Tokyo 2020 has been the focus of the Japanese team for the last four years or so, and they will be difficult to meet at home, but we know that we can beat them. Our game in Egypt was not good (Bahrain lost 25:29) as Japan took a big seven-goal advantage into the second half. We all want to do better."
Egypt – Sunday 1 August
"The African champions who invested a lot [in the team] for their home World Championship which means they will be well-prepared for Tokyo 2020. Egypt have really big talents with many really good players. They have been working very seriously over recent years on their system with coach Roberto Parrondo and  David Davis before him. We know this will be a difficult game, but also an interesting one as Bahrain have met Egypt in many friendly games so many of the players know each other."
Photos: Marco Wolf