24 Jan. 2022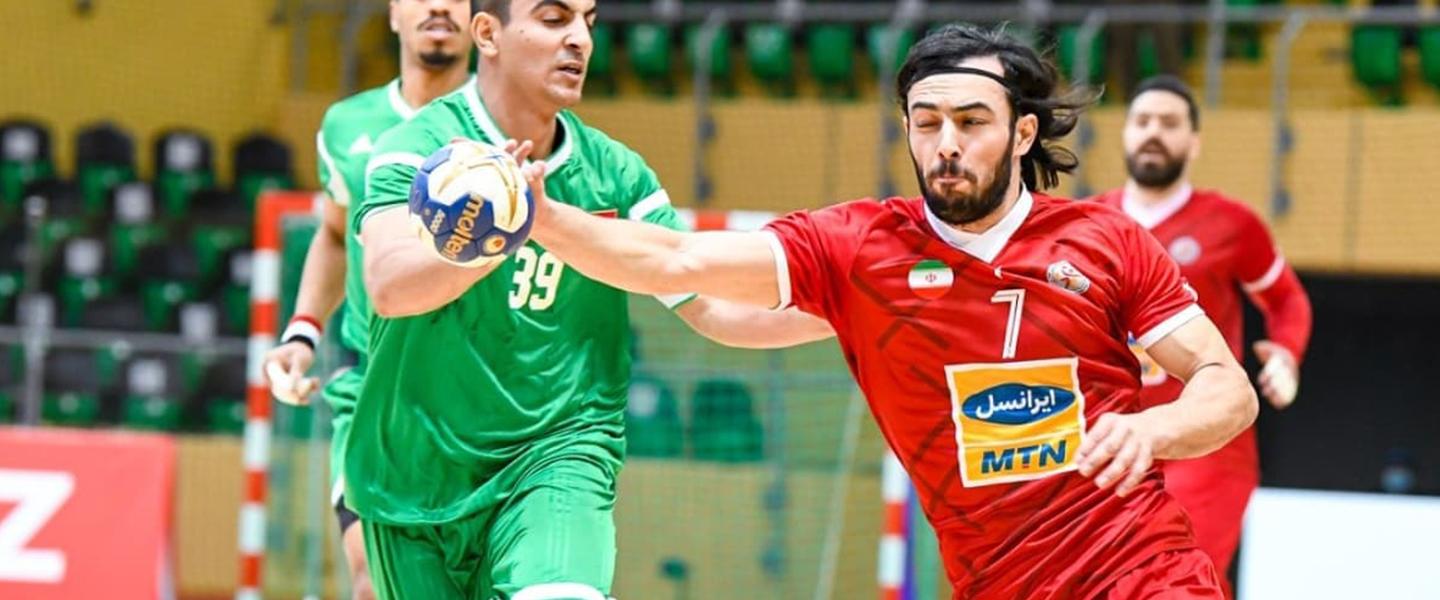 With 39 of the scheduled 58 matches already completed, the 20th edition of the AHF Men's Asian Championship is just one week away from completion with the bronze- and gold-medal matches taking place next Monday 31 January.
24 of those matches were in the preliminary round, split across four groups with Republic of Korea (KOR), Islamic Republic of Iran (IRI), Qatar (QAT) and Bahrain (BRN) winning group A, B, C and D, respectively. All four teams won all three of their games each with Bahrain impressing in front of goal, scoring 127 times and in defence, conceding just 53 times, the same as continental rivals Qatar.
Those four nations went straight through to the two main round groups, followed by preliminary group runners-up Kuwait (KUW), hosts Saudi Arabia (KSA), Iraq (IRQ) and Uzbekistan (UZB).
The bottom two teams in each preliminary group – Singapore (SGP), Jordan (JOR), India (IND), Australia (AUS), United Arab Emirates (UAE), Oman (OMA), Hong Kong (HKG) and Vietnam (VIE) – went into the placement group stages.
As of today (Monday 24 January), Main Round Group II is all up for grabs, with title-holders Qatar in the strongest position, sitting on top with two wins from two, but both Korea and Saudi Arabia, yet to play each other today, are competing hard to be one of the top two teams in the group and make the semi-finals.
Korea have a number of players missing due to COVID-19 but will be hoping to make the last four and guarantee a spot at the 2023 IHF Men's World Championship in Poland and Sweden next January. All four semi-finalists will book their tickets, plus the fifth-placed team in Dammam.
Two teams are already confirmed for 2023 with both Bahrain and Iran, on four points each in Main Round Group II, uncatchable by Iraq and Kuwait going into the final main round match day on Wednesday (26 January). Jordan's Khaled Abu Hasan leads the championship scoring with 41 goals in five games.
The semi-finals for the championship take place on Saturday 29 January with the all-important 5-6 placement match on Sunday 30 January and medal matches on Monday 31 January.
Japan, the 2020 bronze medallists, are not in Saudi Arabia after withdrawing pre-championship, while Australia, who are in Saudi Arabia, have forfeited their last two games due to COVID-19. 
IHF referees Seok Lee/Bonok Koo (KOR), Vladimir Jovandic/Marko Sekulic (SRB), Khalid Hussein/Fadhil Imran (IRQ) and Karim Gasmi/Raouf Gasmi (FRA) are whistling in Saudi Arabia alongside couples from Jordan, Kuwait, Oman, Uzbekistan, Bahrain, Iran, Korea and Saudi Arabia and delegates from United Arab Emirates, Thailand, Saudi Arabia, Jordan, Korea, Bahrain, Kuwait, Qatar, Japan, Oman and Syria.
Dietrich Späte, Chairman of the IHF Commission of Coaching and Methods (CCM), and Per Morten Sodal, Chairman of the IHF Playing Rules and Referees Commission (PRC), are both representing the IHF at the championship, working closely with the Asian Handball Federation on the continued development of the sport in the region.
All games are being streamed live on Alkass TV. 
For the full schedule visit 'Schedule' at asianhandball2022.com and for more information on the event, visit asianhandball.org.
Photo: Saudi Handball Federation