01 Feb. 2020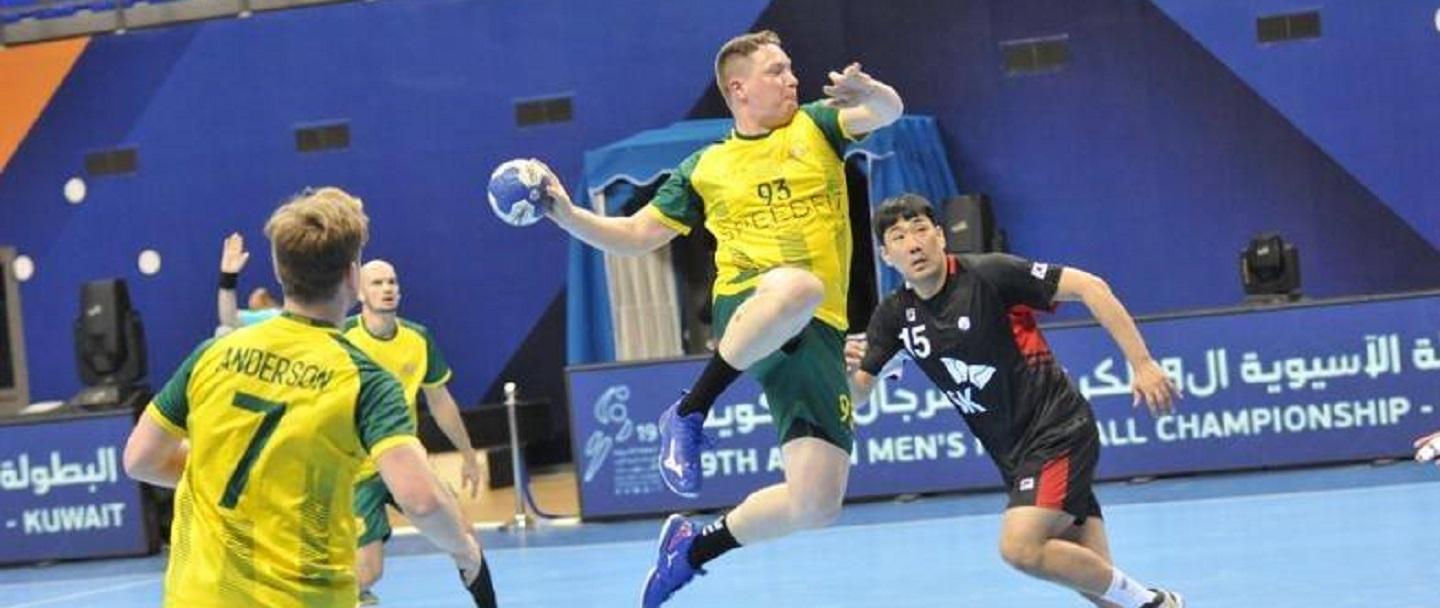 The recent Asian Men's Handball Championship in Kuwait saw Australia and New Zealand participating in the event for the second time, under the qualification pathway for the World Championship that was redefined to see Oceania teams make their way to the flagship IHF event through the Asian continent. 
Both teams played the preliminary and placement round, with Australia ultimately ranking 12th and New Zealand 13th. 
New Zealand team captain James Cochrane says the campaign in the Asian Championship was broadly beneficial, for both the team and the New Zealand Handball Federation. 
"These high-level tournaments and matches only come every two years for the representative sides in New Zealand. The experience that we gain from these is incredibly valuable – for us to grow our high-performance teams and the players individually, but also to get some more exposure for the NZHF globally and in New Zealand. We need to play more at this level to maximise our opportunities for growth on and off the court," says Cochrane, adding that the team did not achieve all their goals in terms of wins, but were satisfied with their level of play nonetheless. 
The same is true for Australia, as explained by team captain Tomasz Szklarski. Szklarski notes that Australia's preparation, with a pre-camp in Dubai, was an improvement on previous events and helped the campaign overall. However, Australia lost some placement round matches with narrow score lines and coming so close was naturally disappointing. 
"We can't be fully satisfied with our performance, especially in our few last games where the opponents were in our reach. But on a positive note we integrated a large number of debutants into our team and they have proven to be a solid point in the future. Winning against NZ was really important to the team and that lifted everyone up."
New Zealand also had five players who made their international debut in Kuwait. 
Both Australia and New Zealand are comprised of amateur players, who largely pay their own way to both championships and to training and competition preparation. For both sides and federations, securing sponsorship is a vital focus to help future development and participation in major events. 
This difference in status, with many national teams on court in Kuwait comprised of professional players, means it is a tough competition for Australia and New Zealand. Both sides focus on being as competitive as possible, and taking experience from all matches, no matter the final result. 
"Playing high-quality sides like Bahrain and Iran in pool play is an experience in itself. There were moments in both of those games where we were extremely competitive and were on the front foot, but we find it very hard to put in a full 60-minute performance at that level," says Cochrane. "These sides were a class above, but to be able to play for passages in this game and be very competitive shows us that we are heading in the right direction."
Cochrane says more consistent performance across the 60 minutes is therefore a key goal looking forward, and names that as the main lesson from Kuwait: "The sustained level of intensity to compete with this calibre of teams. However, we never gave up in the fight and always did all we could to get the result. On one occasion we fell agonisingly short against Hong Kong, where we had the opportunities to fight for the lead, but that's sport. 
"The boys are hungry for their first win at these championships. We have certainly seen progress since the Asian Championships in Korea two years ago, so we want to continue to build on this."
The two teams are eager to return to work in preparation for their next Asian Championship participation in 2022. For both sides, as highlighted by Cochrane, playing more games against high-level opposition is a key obstacle to overcome. Szklarski also mentions the need for sponsors – another aspect Cochrane noted as beneficial of the 2020 campaign, in terms of raising the profile of New Zealand handball. 
"Our campaign for next event needs to start straight away. We need to get the team together ASAP, have the same goals and communicate better," says Szklarski. "A big thing for us is to gather as much positive attention as we can so we can attract sponsors to help in our journey, because money is just a wall we sometimes can't jump over."
Although handball has been played in Australia and New Zealand for some decades now, the sport is still considered very young given the immense challenge of competing with mainstream sports such as rugby. The Asian Championship participation is a significant positive, and hope is high in both Australia and New Zealand that it will help both nations move forward. 
"We may be young when it comes to the sport of handball, but we are coming along in leaps and bounds," concludes Cochrane.
PHOTO: ASIAN HANDBALL FEDERATION