22 Jan. 2023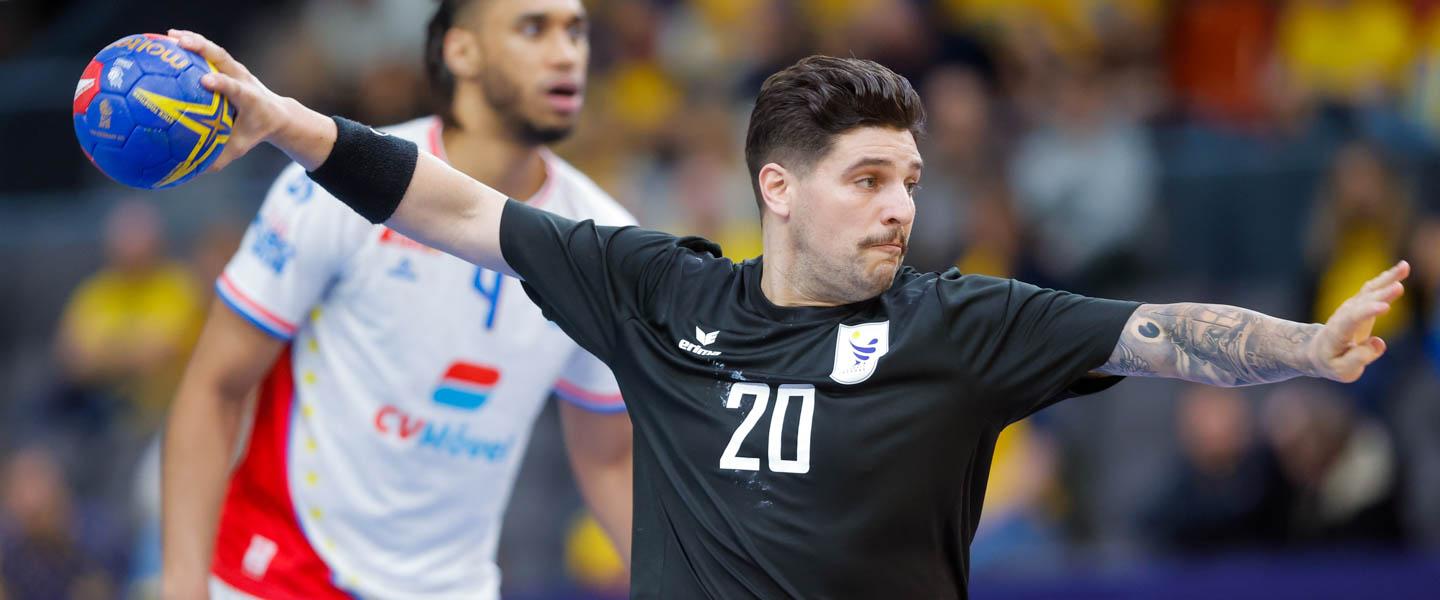 The 2023 IHF Men's World Championship in Poland and Sweden is just the second time Uruguay have appeared in the competition, following their debut at Egypt 2021.
A debut to remember
In the then newly-expanded championship featuring 32 instead of 24 teams, Uruguay were exposed to some of the very best handball in the world, lining up in their first-ever match against Germany before facing Hungary.
Their third and decisive match for the main round qualification then came against fellow debutants Cape Verde. Still, due to a COVID-19 outbreak which decimated the African squad, their clash did not go ahead and Uruguay were awarded a 10:0 win and, with it, a place in the last 24.
In the main round, they then took on Poland, Spain and Brazil, resulting in losses in all three – adding to the two losses against Germany and Hungary earlier on.
Despite the disappointment of those losses, the experiences have meant that Uruguay now feel a little bit more at home in their at Poland/Sweden 2023 surroundings.
"In 2021, we reached something that we had been looking for for many years and that we were lucky to enjoy despite the COVID-19 pandemic at the time," said Uruguay joint captain, who played two years ago.
"Going to the main round allowed us to measure ourselves against the powers of this sport, but it also took away the possibility of playing more competitive matches. In those matches, we took a huge step for handball in our country. Egypt was a World Championship of learning on and off the court, where we saw what handball was at its highest level."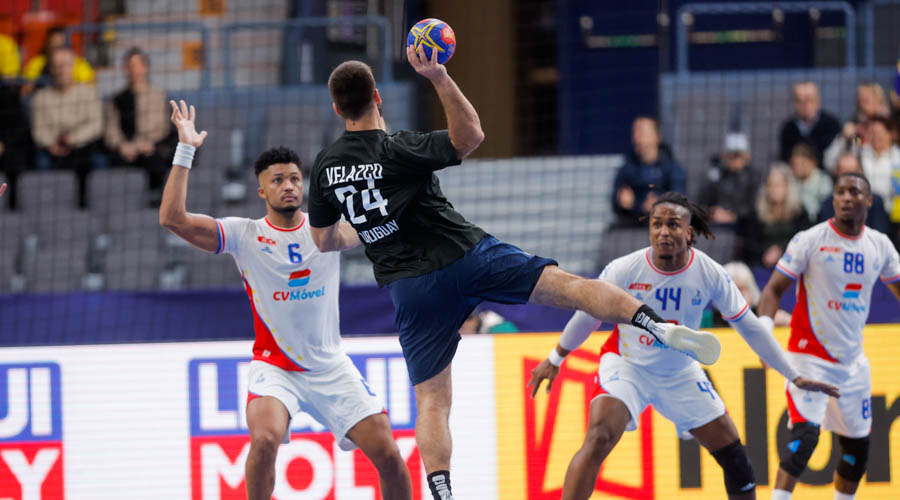 Clear progress made
At Poland/Sweden 2023, Uruguay are without a victory so far. Preliminary round losses against Cape Verde, Brazil and co-hosts Sweden were followed by President's Cup defeats at the hands of the Republic of Korea and Chile, with Saudi Arabia to come on Sunday (22 January).
With so few matches at the World Championship – just 10 have been played by Uruguay's men – there may be little to assess their development at this top level, but evidence is forthcoming against their continental rivals.
At Egypt 2021, Uruguay lost to Brazil 17:37, and earlier this month they lost 24:35. Two years ago the difference was 20 and now in 2023 it is only 11.
"If we really notice a difference compared to 2021, we are better physically prepared and we already know what we are facing, that makes the challenge different," explained the 29-year-old Velazco Fernández.
"We are focused on competing and fighting every second of the matches. Against Brazil here, we were able to play a very good game, but we had seven minutes of difficulties that made them pull away on the scoreboard. However, if we compare it with the previous results between us, it was undoubtedly one of our best matches. We know that the road is long, but luckily each time we get a little closer."
A captain's role
Unfortunately for Velazco Fernández, his experience on court at Poland/Sweden 2023 has been limited, with just 22 minutes played against Cape Verde in their opener after suffering a knee injury, which was later diagnosed as a broken meniscus.
Therefore, his role as co-captain with Federico Rubbo – who scored Uruguay's first-ever IHF Men's World Championship goal in 2021 – is even more important.
"We assumed these roles due to Nicolás Fabra's injury and for us, it is a pride to have and to be able to help the team in everything it needs," he said. "This is a team with many young players, but also with many references, and among all of us we are seeking to create an identity that will lead us to sport success."
Memories of 2021 utilised in 2023
And while the left back, who plays his club handball in Uruguay's capital Montevideo at Colegio Alemán, is hoping to play a few minutes in their last two matches in Plock, where the President's Cup is being held, his goalkeeper Felipe González has been a big presence in their 2023 campaign so far.
The 1,89-metre shot-stopper has played in all five of their matches, making 26 saves (21% save rate).
"I am very happy with my performance in terms of statistics and the quality of saves compared to the previous World Championship," said the goalkeeper, who is also 29 years old.
"Despite the fact that our last two matches were not good, our feeling is one of overcoming and learning. The team has shown that it tries to fight and gain experiences that help to continue improving and be able to be at the level, but there is still a lot of training and adjustments to be made in both defence and attack."
Back in 2021, González exploded onto the world scene in the first half of his very first match – making 10 saves against Germany, earning him a player of the match award, a standing ovation from the German team on court and praise from coach Alfreð Gíslason after the match. 
"It was a very emotional moment given the conditions and I could go so far as to say that it is impossible to have dreamed it in advance," said González, who moved to Spain to play club handball in 2022 and plays for CB Maristas Algemesi.
"From the applause of our rivals to the words of a coach with so much experience, I must confess that from time to time I go back to see that first time and vibrate as if I were reliving it again. I left the best player award in the hands of a great friend who I know is taking care of it with great affection."
A sandy tale
Aside from their age, the two players have something else in common: the beach. Both have represented their country globally on the sand and have used their experiences to enrich their performances indoors.
"I always try to learn and try to take things from one side to the other," said Velazco Fernández, who plays in both disciplines and who was part of the Uruguay squad which finished sixth at the 2022 IHF Men's Beach Handball World Championship in Greece.
"Beach handball teaches a totally different way of living the sport. It is a sport with its own identity that I really enjoy a lot and I am trying to apply many of its values to indoor handball," he added. "In Greece, we were able to play at the same level against great powers like Spain, Greece and Denmark."
And González, who played at both the 2018 IHF Men's Beach Handball World Championship and 2017 World Games, was also quick to point out the transferrable skills from the sand to the Gerflor.
"They were very enriching experiences," he said about his global experiences on the sand with his country. "It allows you to be a more complete player having experienced both modalities and of course there are techniques that can be taken from one modality to the other.
"I love playing beach handball and I will continue fighting to be on the final squad list for each championship. Competing is something I love, but the challenge is increasing in Uruguay as the latest results have been incredible."
Expanding knowledge in Europe
That challenge also translates to the indoor team, thanks in part to players like González leaving Uruguay to play in Europe, combined with dual nationality players like Zion Santiago Ramos Cano, who was born in Sweden.
"It is essential that players can play outside of Uruguay," says Velazco Fernández unequivocally. "Those of us in Uruguay are all working and playing handball. For example, I work 8-10 hours a day in a school as a teacher, while those who are outside are luckily able to dedicate themselves to handball.
"They are the ones who give the team professionalism and the ones who best understand the international rhythm of this sport. Thanks to them, we can adapt faster to the speed of the game at this level.
"For this sport to grow in Uruguay, we need more young people to want handball to be a big part of their lives and decide to go abroad to be able to compete at the highest levels and thus continue to improve. In order to improve, you have to compete against the best, and that can only be achieved by playing abroad."
"Europe raises the demands," adds González. "It motivates younger players to give themselves to this sport and seek to shine from an early age. I hope that our participation in World Championships generates that attraction for learning and the desire to be able to fight to be among the world elite."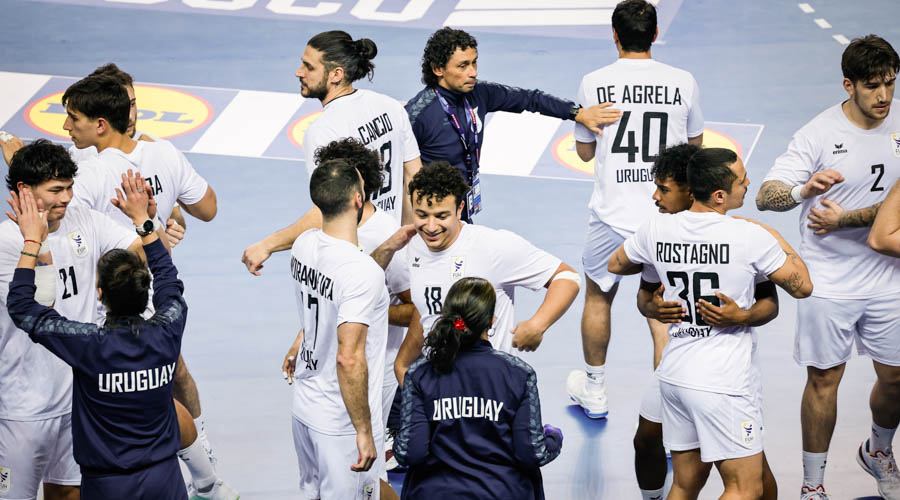 A new direction with a clear goal
That strength of fight is progressing, with legendary Uruguayan coach Jorge Botejara starting that process, which is now in the hands of Nicolás Guerra.
"Nico is giving us new things. He is trying to make us a faster team, that we run more and that our game has much more speed," said Velazco Fernández about his coach at Poland/Sweden 2023.
"It is a new game system with many young players and we know it will take time to assemble."
With two matches left at Poland/Sweden 2023, starting with Saudi Arabia on Sunday (22 January) and then followed by a 29/30 or 31/32 placement match, Uruguay are hoping for that elusive first competitive World Championship win.
"For us, all the matches are important, some to learn and continue to grow, others to be able to compete," explains Velazco Fernández.
"Saudi Arabia is of great importance, not because of the position we could play later, but because we have a clear objective, which is to make history and win Uruguay's first match in a World Championship.
"We believe that if we manage to play a great game, stay focused and defend, we have a chance to compete and win the match, which for us would be a giant step."
The future is looking good
With their Poland/Sweden 2023 experience coming to a conclusion soon, thoughts are starting to turn to the future and what it holds for handball in the South American country.
"Our expectation is to continue the ascending line of growth, both in terms of the game and competition, and at the organisational level," says González.
"There are many things to improve and that is what makes us want to continue fighting to show that handball in Uruguay has a lot of potential and we must do our best to continue growing and reaching new levels of performance.
"We hope that the generation of new players and professionals will continue to be promoted at the local level to accompany the process that has been achieved so far and to strengthen themselves in the coming years."
"We have already managed to come to two consecutive World Championships and we want to keep coming, for it has become a habit," said Velazco Fernández.
"This will allow us to continue growing little by little and continue getting closer to the world powers, to be able to be competitive and grow.
"We know that it is a difficult task and that we did not start it and it will not end with us, but we are part of a process that seeks to make Uruguayan men's handball better and better."

With thanks to Alejandro Trejo from the Uruguay Handball Federation.