01 Dec. 2021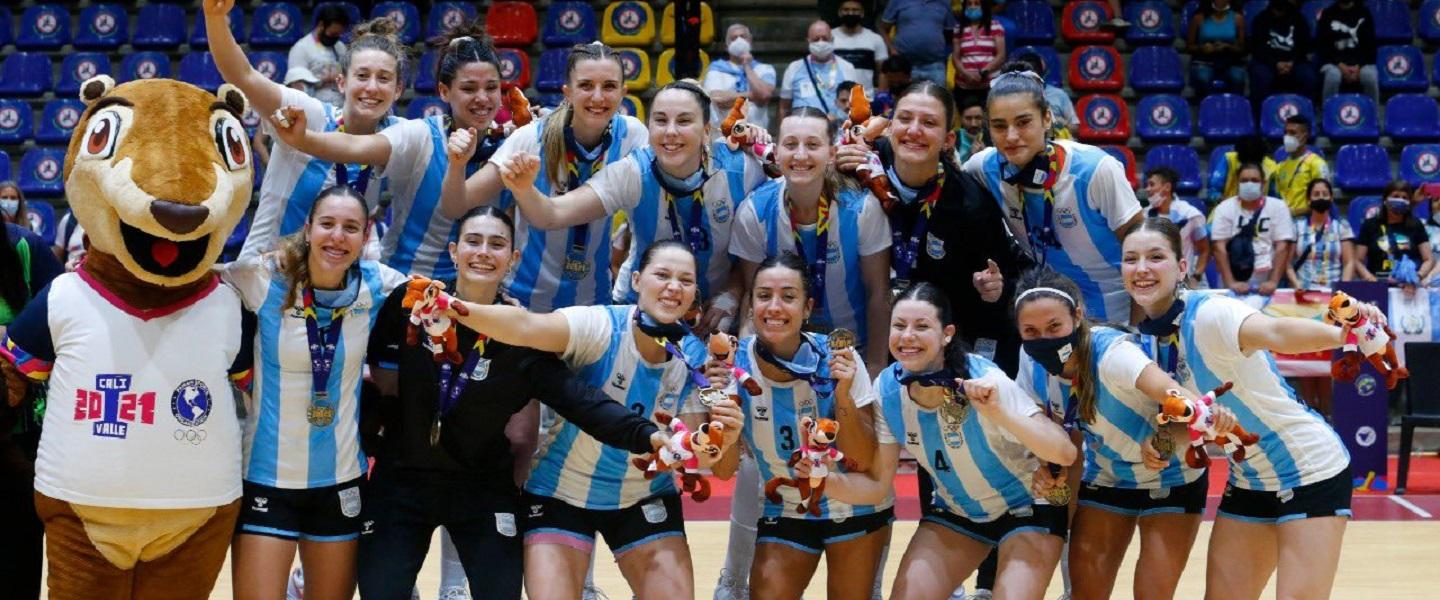 Argentina have won the women's handball competition at the first-ever Junior Pan American Games after defeating Paraguay 27:24 in the final in Cali, Colombia on Sunday (28 November).
Twenty games were played in the women's tournament at Ivan Vassilev Todorov Arena with Argentina winning four of their five games, including the classic South American clash, against Brazil 23:21 in the semi-final – that result was their first victory in 11 years against a Brazilian women's national team at youth, junior or senior level – only Mexico, in their opening game, could hold Argentina, with a 32:32 draw.
In the final, Argentina defeated Paraguay 27:24 after pulling ahead in the second half, following a 12:12 half-time score. Paraguay had beaten Chile 31:26 in their semi-final. 
The result for Argentina means they have qualified directly for the senior XIX Pan American Games to be held in Santiago, Chile from 20 October to 5 November 2023 and can use the XII South American Games, taking place in Asunción, Paraguay from 1 to 15 October 2022, to prepare the side, without the pressure of gaining qualification from that event for Chile the following year.
"The main key of the tournament was to take advantage of the setback of our debut game against Mexico," said coach Martín Duhau to handballargentina.org. "They took that to become stronger and qualifying for Santiago gives us peace of mind to be able to take advantage of the Games in Asunción to bet on development."
"We have been working a lot even though we were separated because some of us played in Europe," said player Caterina Benedetti. "Luckily we did things better [than Paraguay]. I always live it as if I had not won anything, as if it were the first time, I am very excited."
Amanecer con la medalla de oro en tus manos se siente así ??

? @CaliValle2021 pic.twitter.com/VugywMOlgi

— Sel. Argentina Handball ?? (@CAHandball) November 29, 2021
Benedetti and Belén Aizen were also part of the Argentina women's beach handball team who won gold at the 2018 Youth Olympic Games in Buenos Aires, Argentina.
Cali 2021 is the first-ever edition of the junior games, which are for athletes aged 17 to 22 years old and which officially take place from 25 November to 5 December 2021.
The men's competition is now underway, taking place from 29 November to 4 December, starting with two preliminary groups comprised of:
Group A: Brazil (BRA), Chile (CHI), Puerto Rico (PUR), Mexico (MEX)
Group B: Argentina (ARG), Cuba (CUB), Dominican Republic (DOM), Colombia (COL)
For further information, including the match schedule and live stream, visit the Cali 2021 website. 
Women's Competition (23-28 November)
Preliminary Groups
Group A: Chile (CHI), Argentina (ARG), Mexico (MEX), Colombia (COL)
Group B: Brazil (BRA), Paraguay (PAR), Dominican Republic (DOM), Cuba (CUB)
Results
Preliminary Round
CHI vs COL 32:26
ARG vs MEX 32:32
BRA vs CUB 29:30
PAR vs DOM 49:26
CHI vs MEX 36:29
ARG vs COL 41:12
PAR vs CUB 40:23
CHI vs ARG 17:25
COL vs MEX 24:35
BRA vs PAR 22:21
CUB vs DOM 43:27
BRA vs DOM 40:14
5-8 Placement round
CUB vs COL 39:30
MEX vs DOM 32:28
Semi-finals
PAR vs CHI 31:26
ARG vs BRA 23:21
7/8 Placement match
COL vs DOM 28:28 (COL win 4:3 on penalty shots)
5/6 Placement match
CUB vs MEX 39:36
Bronze
CHI vs BRA 19:30
Gold
PAR v ARG 24:27
Final ranking – Women's competition
1 Argentina
2 Paraguay
3 Brazil
4 Chile
5 Cuba
6 Mexico
7 Colombia
8 Dominican Republic
Photo: Panam Sports