11 Aug. 2019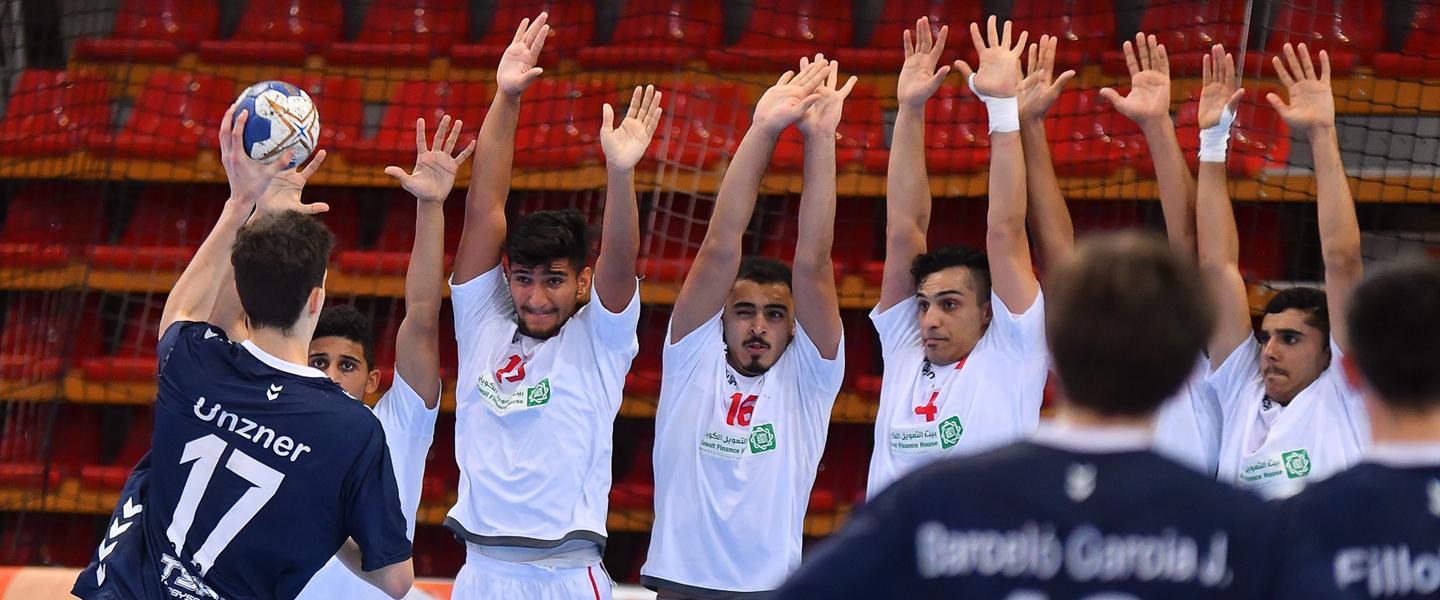 Agustin Unzner's nine metre free-throw strike after the final buzzer had sounded saw Argentina push through to the 2019 IHF Men's Youth World Championship eighth-finals at the expense of Bahrain.
The 25:24 win means the South Americans will now finish with their best ranking in the competition since 2011, when they finished 10th.
GROUP C
Bahrain vs Argentina 24:25 (10:10)
Boris Trajkovski Arena, Skopje
An even opening 10 minutes (4:4) eventually gave way to a two-goal lead from Bahrain (7:5) just after the quarter-of-an-hour mark  in this do-or-die battle for the final eighth-final qualification spot from group C.
Going into the game, Bahrain were in the fourth and final qualification place in their group but knew a loss would be devastating.
Key saves at key times from goalkeeper Juan Ignacio Villarreal in the Argentina goal (14 in total), helped Argentina come back into the game, and then go on a 4:0 run to lead 9:7 (23rd minute), but Bahrain came back to end a low-scoring half all-square (10:10).
Villareal even got on the scoresheet early in the second half, scoring at the end of a 5:0 run from Argentina as they were now 15:11 up (39th minute) as Bahrain, even with a time out pause, could not find their rhythm. Their third and final timeout came under five minutes later as coach Johan Halldor tried to kickstart his team into the game who were now five down (17:12).
Argentina entered the last 10 minutes four goals up (21:17) but Bahrain never know when it is over and a 5:0 run in the final five minutes of the match brought them level (24:24), even though Mahdi Mahdi had earlier missed an open Argentina net in a rash throw moments earlier.
And as Argentina attacked in one last attempt, a foul was called, and the buzzer sounded. Up stepped Unzner and as Husain Mahfood adjusted his wall most people assumed the wall would be hit. But Ali Ali, in the centre, was fooled a little by the first movement from the left back and moved slightly to his left, leaving a small gap between himself and Ahmed Isa, and that is what the ball travelled through before hitting the back of the net.

"I am happy that we secured a place in the eighth-finals," said Unzner to wch2019championship.com.mk. "We were very lucky, especially me, with the last shot. I didn't think about anything, I just hoped to score and I succeeded."

"We knew about the situation in the group and Bahrain were just above us and we knew we had to win this match," said Argentina captain Agustin Ariel Iglesias to IHF.info after the victory. "We know how to handle the pressure and I enjoy it. Despite the pressure. which can complicate things, we play good with pressure, like we did against North Macedonia.
"I felt happiness," he continued. "We were actually disappointed because of how we were winning by five against them earlier. I don't think it was a mental thing why we went behind as we are a strong mental team and every one of us has a strong mind a strong personality, so it is not from that side.
"Maybe their 3-3 defence complicated things for us; we didn't know how to attack and what to do. The shots we took weren't good. We were missing a lot, the first half we ended with 10 goals. I think we played good defence in the first half but scoring only 10 goals, we have to improve.
"Personally, I had hope in him and my team," said Iglesias about his teammate Unzner. "We have seen him making throws like that and I know he could make it; he saved the game for us. All of us knew he could make that shot."
With five goals from five strikes, Joaquin Barcelo Garcia was top-scorer for Argentina and won the best player award. Mohamed Mohamed top-scored for Bahrain with seven strikes.
Best Player of the Match: Joaquin Barcelo Garcia (ARG)
Photo: WCH 2019 / Filip Viranovski