06 Sep. 2023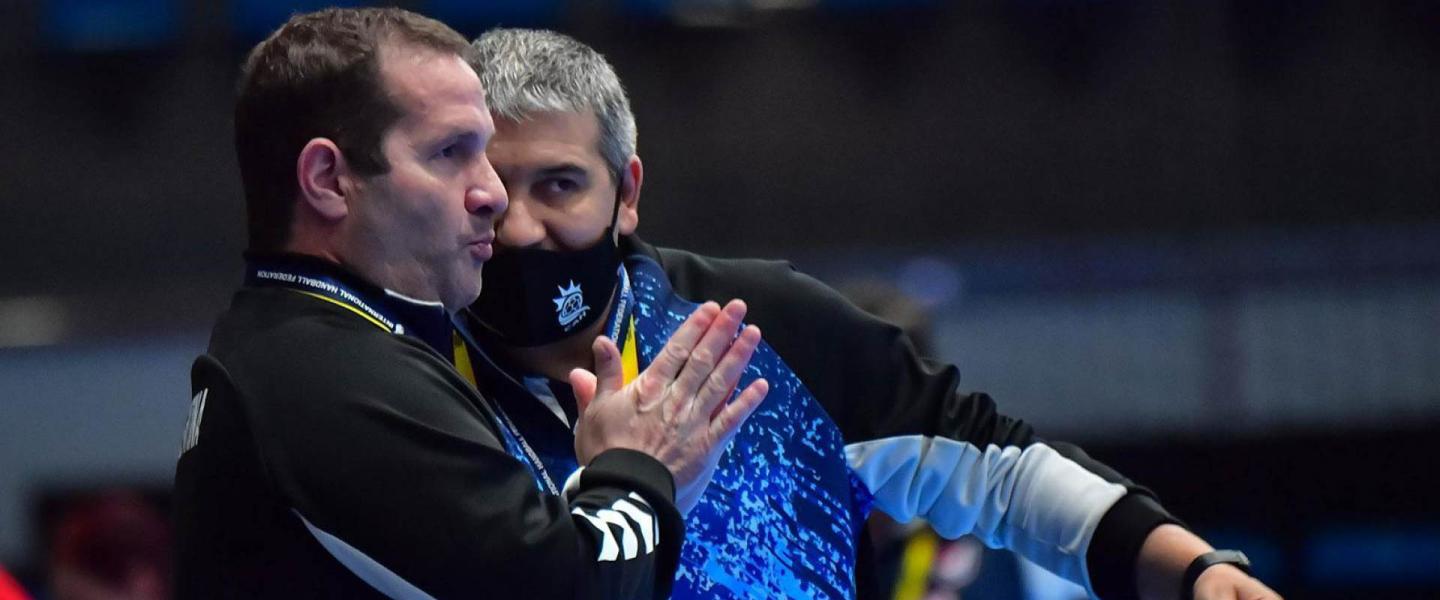 Prior to what was the Costa Rica's first ever participation in an IHF World Championship, at the 2023 IHF Men's Junior World Championship, the U21 side worked in collaboration with well-known Argentinian coach Eduardo "Dady" Gallardo as part of the IHF Traveller Coach project. Gallardo is recognisable to many in the handball world following his years on the Argentina bench, which saw him lead the men's national side from 2008 to 2017 and the women's team from 2018 — a position he still holds.  
The IHF Traveller Coach project involves the opportunity for emerging handball nations to work with coaches experienced at the top level in preparation for participation in World Championships. As Costa Rica had never played any age or gender category World Championship before, their berth at the IHF Men's Junior World Championship in 2023 was an historic one — and completely new territory for the national federation. 
"The Traveller Coach programme is an excellent opportunity for many countries to be advised and accompanied by professionals with experience at World Championships and Olympic Games — that's precisely my role there," says Gallardo. 
"It's a really valuable project from the International Handball Federation. I also believe it's important that the coaches are from the same continents as the teams they work with because that way they know much more their reality — even when every country has particular situations, there are things in common among the countries in one continent."
Costa Rica qualified for the 2023 IHF Men's Junior World Championship through the 2022 South and Central American Junior Championship held in Buenos Aires in November 2022. Their fourth-place finish saw them through to not only the championship held in Germany and Greece in June and July this year, but to the IHF Intercontinental Trophy, which Costa Rica hosted, in March 2023. Costa Rica placed fourth at the IHF Intercontinental Trophy then 31st at the IHF Junior World Championship. 
To aid in the preparation for the events, with a focus on the Junior World Championship in particular, Gallardo visited Costa Rica twice for more than a week each time and conducted 15 online seminars. 
"It was focused on the tactical aspects and the improvement of the technique of each individual player. We gave them big support in their physical preparation and specific goalkeeper training, apart from coaching tools for the whole team," says Gallardo. 
Gallardo was a perfect fit to work with Costa Rica, due to his background and current role with the Argentina senior teams as well as the fact his career with the blue-and-white striped jersey began with youth age category sides. 
"In Argentina I started with the formative divisions: I coached the men's youth team at the Bahrain 2007 World Championship. We finished fourth — the highest rank for Argentina at any indoor World Championship," says Gallardo of the experience coaching the youth team that included arguably the biggest handball star to come out of Argentina, Diego Simonet. Gallardo led that same generation of players in their Junior World Championship two years later, after taking the helm of the men's national team in 2008. 
"This process I had, the fact that I together grew with the team, was a huge learning experience for me. I gained a lot in what refers to the technical, physical and mental aspects of the game. I also learnt from my mistakes. It was very enriching for me. Now I've coached at Men's and Women's World Championships, and also the men's team at the 2012 and 2016 Olympic Games."
Gallardo therefore counts experience that few in handball can, having led both men's and women's teams. Additionally, the regional connection and the fact he made his way through the ranks of his own federation allowed for a mutually beneficial understanding of the situation for Costa Rica as the country eyed their first World Championship in history. 
"Costa Rica's reality now is in a way similar to that we had when I started coaching the Argentina youth team. I think it's a good chance for me to transmit my experience on how we built our team, 'the Gladiators,' and it's very useful to them," says Gallardo. 
"It's huge for them to have this first experience at an IHF World Championship. Even when they had seen videos and everything, they wouldn't know what to expect at a World Championship. Competition at a club level in the continent is very different to what you see at the international stage. With time I've learnt, for example, how the athletes had to take care of themselves — also us as coaches, and the preparation for the games. I've built myself as a coach using the things I thought were right and I also used my mistakes. It took time but I could take a leap in quality and all that process is what I tried to transmit to the people in Costa Rica."
Although there are links between Argentina and Costa Rica given the regional proximity, the case is still about two different countries, so Gallardo needed to pay attention to any necessary adaptations for Costa Rica as he drew on his own experience. This included adapting day-to-day procedures such as training sessions as well as the bigger picture, the overall process. "It's necessary to adapt to their needs, to understand their ways, to understand them in general."
At the 2023 IHF Men's Junior World Championship, Costa Rica started their campaign with the preliminary round in Hanover, playing against Brazil, Portugal and Kuwait. Costa Rica were defeated in the three preliminary games, then went on to the President's Cup placement matches, taking on Japan and Angola in that stage. Two more losses sent Costa Rica to the 25–32 placement round, and the side ultimately ranked 31st. Although they were defeated in those last ranking matches as well, the results were much closer than in the earlier stages — losses of two and three goals to the United States and Libya, respectively. 
Overall it was a challenging campaign, but nothing unexpected for a team's first participation in any IHF World Championship, and the experience gained will be extremely valuable as the players, staff around the team and federation look to the future. So how did Gallardo see Costa Rica's campaign at Germany/Greece 2023? 
"At the Junior World Championship, Costa Rica managed to play in a neater way from a tactical point of view. That's one of the crucial things we worked on before and during the event, during which I acted as an online consultant. It's clear the players and coaches need to continue developing — probably it's necessary to work with them before, during and also after the event," says Gallardo. 
"There's a group of players with potential and they are ready to take a quality leap, but no one can grow a miracle in a couple of weeks — that's why we need to follow up on the work that has been done so far, for the sake of their growth.
"It's essential to provide these tools to coaches and players — without capable and updated human resources it would be really hard for them to develop," concludes Gallardo.