15 Dec. 2021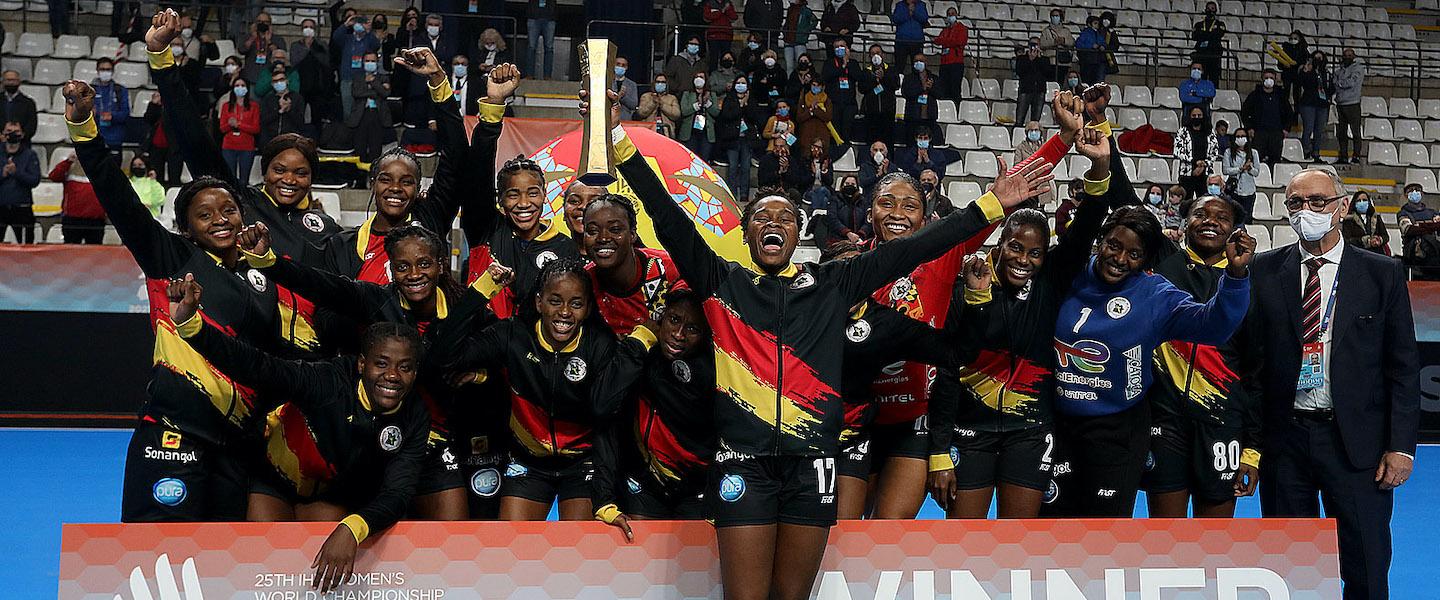 After 25 games, the Pabellon Polideportivo Pla De L'Arc in Llíria said goodbye to the 2021 IHF Women's World Championship with Angola taking a two-goal (23:21) victory over Slovakia in the President's Cup Final.
25/26 PLACEMENT MATCH – PRESIDENT'S CUP FINAL
Angola vs Slovakia 23:21 (11:9)
Two goals difference it was at the break (11:9) and two goals difference it was at full-time. Both teams did not want to be playing for 25th place, but that was the reality, following tight exits from main round contention so both teams played hard to end Spain 2021 with a victory.
It was not only victory they were playing for but something tangible to take back with them – this time the President's Cup was an impressive-looking trophy and Angola got their hands on it thanks to some impressive defending – not least from goalkeeper Marta Alberto with 16 saves (from 34 shots/67%) to end with an overall 37% in her championship, thanks to a total of 43.
"They played very well physically, we had too many mistakes in offence," said Slovakia coach Pavol Streicher. "It's been a great experience for our team to be here and I hope we can come in a few years stronger and better."
That experience came about via a Wild Card, but Slovakia have used their unexpected entrance into the global competition this December and progressed coming close to Hungary and the Czech Republic in preliminary group losses and only outplayed by Germany.
However, that 23:24 loss to neighbours the Czech Republic ultimately put them in the other side of the competition and they then went on a three-game winning run, plus a 10:0 awarded match against China. All of those games led to valuable experience for the team, not least from the African champions.
"They confirmed why they are part of every world championship, they were physically somewhere else than our team and it was difficult for us to go through their defence," said Slovakia goalkeeper Adrianna Medvedova about the side. "We are sorry we lost this game, but we were here for the first time in our careers and we hope we can be part of the world championship again in two years."
The second half was back and forth between the two teams with the European side mounting a big battle to overcome the deficit but in the end Angola kept the scores equal and the result was clear.
"Both teams were on the bad side of the luck in the preliminary round otherwise we would have been on the other side of the draw," said Angola coach Felipe Cruz. "We had to build a strong defence and be assertive in offence and this was the key to victory."
As 'We Are The Champions' played by Queen in the arena, Angola received their reward from Andres Campos, Sport Deputy of Diputación de Valencia and IHF 1st Vice President Joël Delplanque, taking over the title from France, who won the President's Cup at Japan 2019. 
Angola will be hoping they can repeat what France have done since, making the quarter-finals at the following championship.
hummel Player of the Match: Reka Bizikova, Slovakia
Photo: RFEBM / J. Navarro