18 Nov. 2020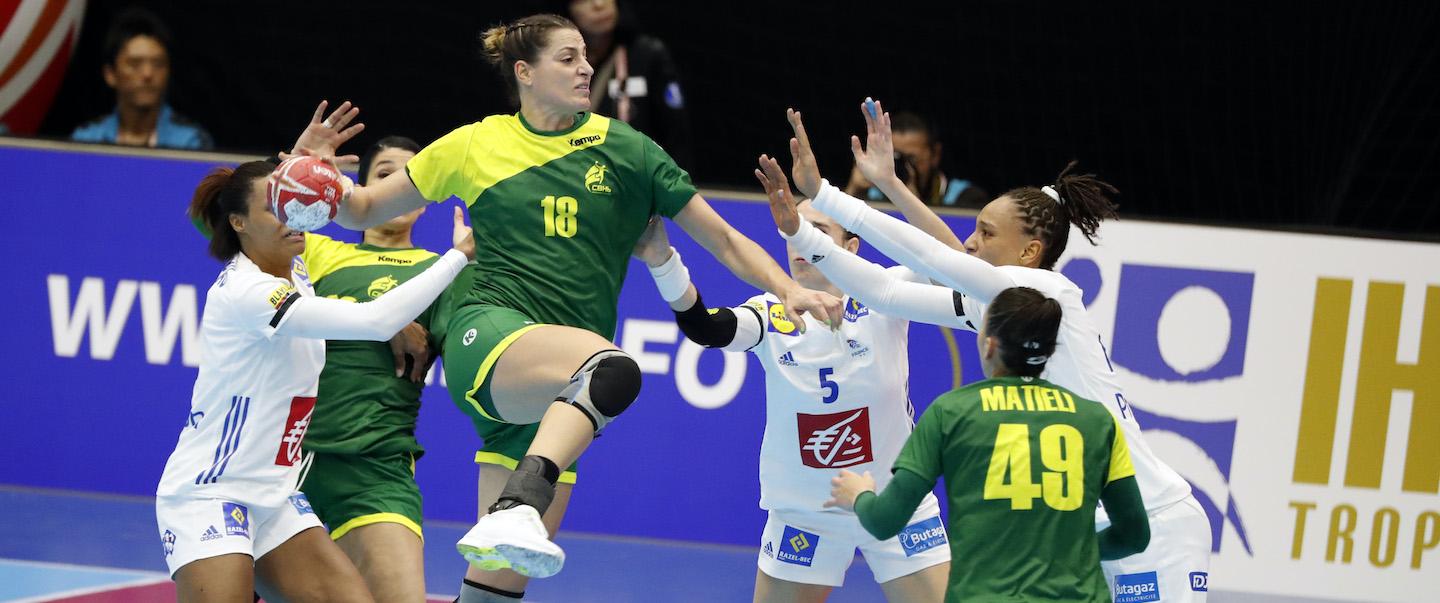 Handball is well represented as the Brazilian Olympic Committee (Comitê Olímpico do Brasil – COB) elected 25 new members to their 'Athletes' Commission' (CACOB) for the Paris 2024 Olympic Games cycle last week (11 November).
Györi Audi ETO KC and Brazil women's national team player Eduarda 'Duda' Amorim Taleska finished third in the female voting, while FC Barcelona and Brazil men's national team player Thiagus Petrus Gonçalves Dos Santos finished sixth in the male category, both were elected.
Duda, who was also on the commission from 2017 to 2020, having garnered the most votes (23) out of 170 cast, grabbed 26 votes (from 374 cast), finishing behind athletes from water sports and modern pentathlon, but ahead of rugby, athletics, rowing, basketball and volleyball, while Petrus (24 votes) finished ahead of rugby, boxing and cycling, highlighting the popularity of handball and its athletes in the South American nation. 
Handball is one of just 16 sports federations represented on the commission. The voting process was open to any athlete who had participated in one or more of the two previous editions of the Winter or Summer Olympic Games (2012, 2014, 2016, 2018) as well as athletes who have participated exclusively in Olympic Games prior to London 2012. From 2013 to 2015 four-time Olympian and Brazil women's national team goalkeeper Chana Franciela Masson de Souza represented handball.
Also standing for election, but not successful, were fellow Brazilian women's national team players Alexandra Priscila do Nascimento Martinez, Silvia Helena Araújo Pinheiro Pitombeira and Tamires Morena de Araújo Frossard, alongside former players Adalberto Pereira Da Silva Nascimento and Paulo Rogério Moratore.
According to the COB website, the election, which ensured gender equality, broke a number of records.
"It is a pride to have successfully completed this process and it is another big step which shows how much the Athletes' Commission has evolved in recent years," said Tiago Camilo, President of the COB Athletes Commission and the Election Committee. "I was surprised by the number of candidates and the record number of voters participating which shows the engagement of the athletes and that the work and the importance of the Commission are increasingly visible to the Olympic Movement in Brazil."
Paulo Wanderley Teixeira, COB President was equally happy with the result. "Increasing the participation of athletes in sports management and in the Olympic Committee in Brazil has always been one of the cornerstones of our administration," he said. "The record number of Olympic athletes choosing their representatives on the Commission, after their historic participation in the electoral process of the COB itself, shows that we are on the right path to further value athletes."
Created in 2009, CACOB had a historic 12 votes at the recent COB elections last month and in the next cycle will have 19 votes out of the 25 members. 
Its main objectives are to establish an environment of discussion and offer suggestions, recommendations or information on any issues related to the Olympic Movement; represent the rights and interests of Olympic athletes; encourage female presence in sport; and support the development of youth education through sport, amongst others.
Speaking to the IHF today as part of her Instagram Live Takeover, Amorim explained her happiness with the new role and what it entails.
"It's a real pleasure to be there, it's quite an important job," she said. "I feel that, recently, players see they have to be responsible also outside the court, so we want to know more about the management of our federations or any demand we might have. The Athletes' Commission helps all the players to improve and to also help the federations to develop for the better every sport. 
"We have 25 players on this commission and every player has different sports to take care of," she added. "I take care of fencing, [rowing] and handball so every demand that these three sports have they forward to me and then I forward to the Brazilian Olympic Committee, it's not an everyday thing, but we have to help them improve and help them in every situation they need regarding their sport."

For more information on the Brazilian Olympic Committee Athletes' Commission visit here (in English and Portuguese).