01 Aug. 2019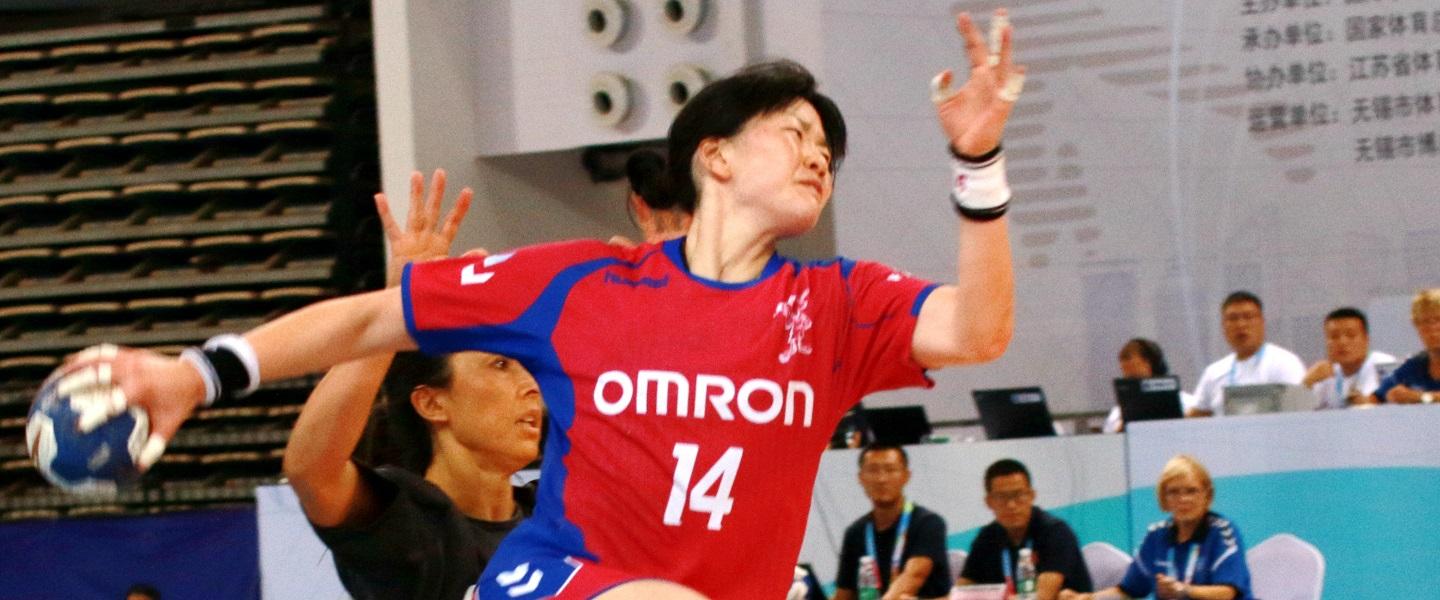 After wins in their opening matches on the first day of the 2019 IHF Women's Super Globe, OMRON and Chinese National Club will meet in the first semi-final in Wuxi, before Agosto Luanda take on A. A. UnC Concordia to decide the second place in the trophy match. 
Prior to the semi-finals in Wuxi Sports Hall, the first round of 5-8 placement matches will be played. New York City Team Handball Club will open the day against Kazakhstan's Kaysar Club, before Jiangsu Team meet University of Queensland. 
SEMI-FINAL
Feature match: OMRON (JPN) vs Chinese National Club (CHN) 
Wuxi Sports Hall, 18:30 local time
Chinese National Club are the only Chinese team left in the race for the first IHF Women's Super Globe title, following Jiangsu's elimination at the hands of Agosto Luanda in their quarter-final on Thursday. They are therefore under pressure to defeat OMRON and move on to the semi-finals. 
CNC earned their place in the semi-final with a 24:21 victory over Kazakhstan side Kaysar Club, which was far from easy. OMRON also had to work to reach the penultimate stage, though they ultimately took a clearer win – 29:22 win versus NYC. It promises to be an interesting battle between the two Asian teams. 
OMRON relied heavily on two dangerous attackers in their quarter-final victory, with Yukiko Yoshida scoring eight goals and Yuka Ishii tallying six. In goal, Sato Shiroishi contributed eight saves and was strongest against nine-metre shots. 
For CNC, Ru Qiao was the top scorer, with six goals, while Xiao Mei Liu contributed five. Their goalkeeper, Yu Rou Yang, who has represented China for several years and already played two World Championships despite being just 23 years of age, made 12 saves at 40% and will clearly be a decisive factor. 
Luanda aim to continue strong form
The second semi-final will see Agosto Luanda looking for a second dominant win when they meet A. A. UnC Concordia at 20:45 local time. The Angolan team recorded the clearest victory of any side in the quarter-finals, with a 41:20 result versus Jiangsu Team. The win showed that Luanda are perhaps the biggest threat to the title, so Concordia must be prepared for a tough fight against a powerful opponent. 
In the first match of the 5-8 placement round, before the semi-finals throw off, NYC will meet Kaysar in what appears to be a promising chance for the Kazakhstan team to record their first victory. Kaysar challenged CNC through the whole match, only being defeated clearly in the final minutes. NYC fought hard against OMRON but were ultimately overcome by a six-goal margin – but Kaysar's opponent, comprised of national team players, was tougher and hints they are the stronger of these two sides. Their clash will begin at 14:00 local time. 
The second placement match, starting at 16:15 local time, will see Jiangsu taking on University of Queensland. Both teams had some challenges in attack in their opening encounters on Thursday and will hope to improve on those aspects when they take the court for their second match in Wuxi.