22 Jan. 2023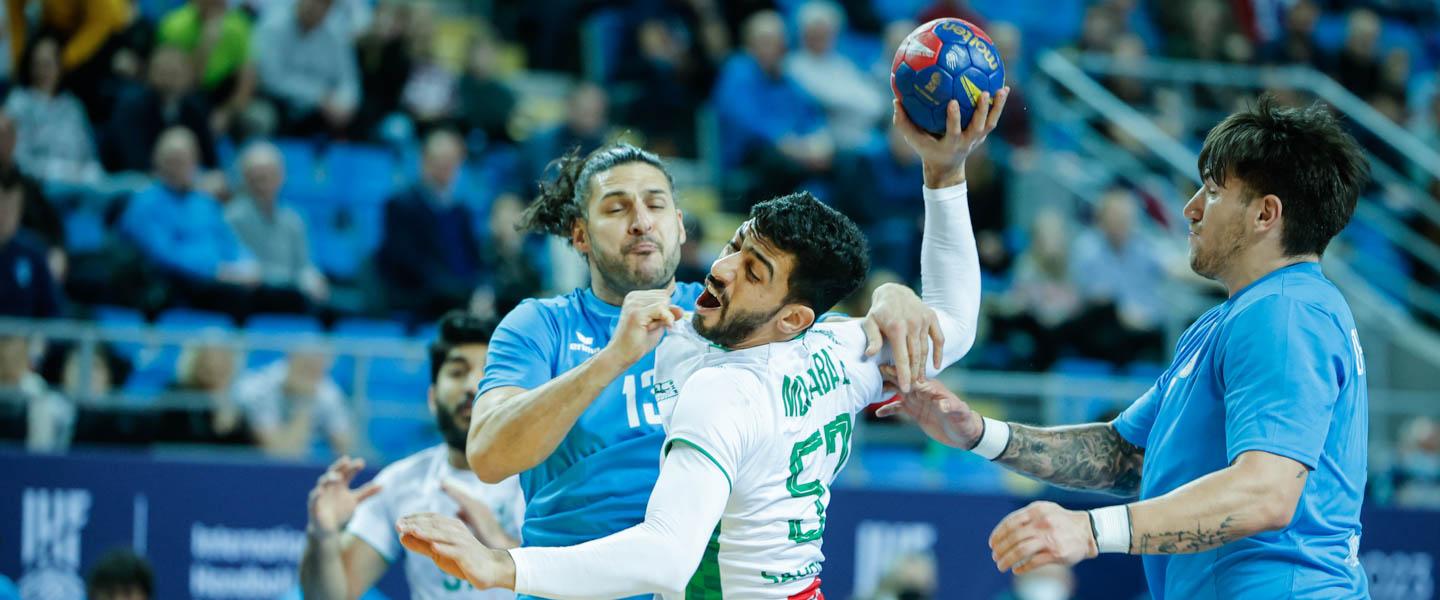 After five straight defeats, both Saudi Arabia and Uruguay were eager to claim their maiden victory at Poland/Sweden 2023, and it was the Asian team who succeeded in a tight battle. 
Following a long-awaited win, Saudi Arabia secured third place in the President's Cup Group I and will meet North Macedonia or Morocco in the 29/30 Placement Match. Uruguay finished fourth in the group and will play Algeria in the 31/32 Placement Match. 
President's Cup Group I
Saudi Arabia vs Uruguay 28:27 (15:14)
Saudi Arabia could have won at least some of their earlier matches at the current World Championship, as they fought hard against Poland at the group stage and Chile at the start of the President's Cup. In contrast, Uruguay hardly had a chance to take points in any of their previous matches as the team coached by Nicolás Guerra struggled in attack and especially in defence.
So Saudi Arabia were favoured to win Sunday's match and they lived up to expectations. The three Al-Salem brothers were their driving force as Mohammad stopped 18 balls for a 42% save rate, Mahdi scored eight goals and Mojtaba netted four times. 
However, Uruguay should also be given credit for their commitment. It was the South Americans who enjoyed a better start to the match and were powered by Federico Rubbo and Maximiliano De Agrela. They opened a 6:3 lead eight minutes into the match. 
But led by the trio of Al-Salems, Saudi Arabia quickly drew level and pulled in front a bit later. The Asians led 12:9 in the 23rd minute, but Uruguay did not give up and closed the gap to just one goal at half-time.
After the restart, Saudi Arabia were dominant for the most part, punishing the South Americans for their mistakes. Jan Pytlick's team increased their advantage and when the score was 26:21 with 11 minutes remaining, the Uruguayans did not look likely to make a comeback.
However, Guerra's team was better towards the end of the match and two minutes from full-time, they cut the deficit to just two goals (25:27). Saudi Arabia looked shaky, yet they weathered the storm thanks to a couple of Mohammad Al-Salem's saves. 
Although Federico Rubbo, who was named "hummel Player of the Match", scored his goals number 10 and 11 in the last 50 seconds, all he could do was to slash the gap to just one goal. Saudi Arabia were in front for the most part of this match and they deserved to claim two points. 
hummel Player of the Match: Federico Rubbo (Uruguay)