04 Jul. 2022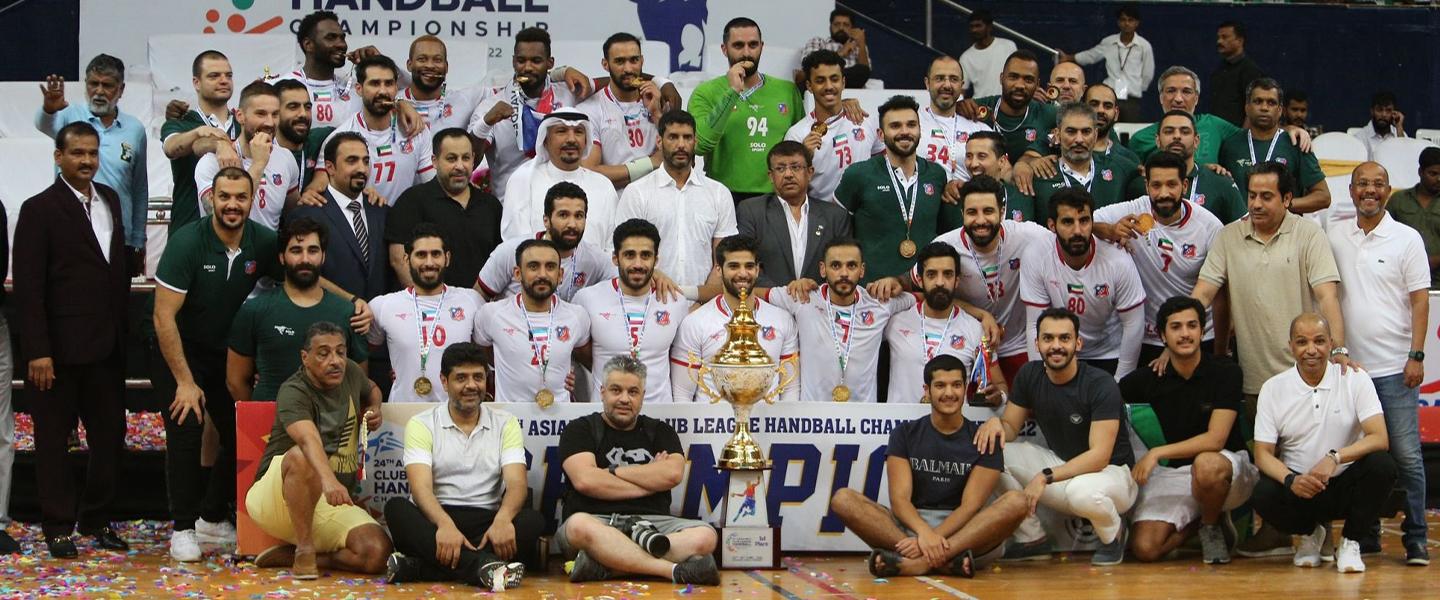 Al Kuwait have won the 2022 AHF Men's Asian Club League Championship in India, after defeating Bahrain's Al Najma in the final on 30 June.
This year's event was the 24th edition of the continental championship and took place from 22 to 30 June at the G. M. C. Balayogi Indoor Stadium in Hyderabad, India.
Eight clubs from six countries took part with Qatar's Al Arabi and Al Wakrah and Kuwait's Al Kuwait and Al Qadsia competing alongside Al Najma (Bahrain), Al Noor (Saudi Arabia), Sanat Mes Kerman (Iran) and T-Sports Club (India).
Iran's Shahid Shameli Kazeroon withdrew from the championship before the draw was made back in May, while Saudi Arabia's Al Safa Club withdrew after the draw due to "… extremely unavoidable circumstances," according to the AHF.
The initial stage of competition in India split the eight teams into two preliminary groups of four clubs each with the top two qualifying directly through to the semi-finals and the bottom two moving into the 5-8 placement round.
Al Kuwait won their semi-final against country rivals Al Qadsia 25:20 after leading by two (11:9) at the break, while in the other last-four match, Al Najma defeated Al Arabi 22:21 after the teams had been all-square at the break.
Al Qadsia recovered the quickest from their disappointment after missing out on the final, defeating Al Arabi 28:27 for bronze, although it was nervy affair after they had led comfortably 16:12 at the break.
The final was one-sided in the end with Al Kuwait's 28:23 victory highlighting their strength in 2022. They had led by four at the break (15:11). Al Najma improved on their fourth-place finish in 2021.
The result improves on the runners-up spot the Kuwaiti club took last year, when they lost to Qatar's Al Duhail in the final in Saudi Arabia, and is their first continental club title, having only finished as high as third (in 2012) in their previous appearances.
It also is the first Kuwaiti team to win the competition since Al Salibikhaet won it back in 2009. 
The title for Al Kuwait means they have directly qualified for the 2022 IHF Men's Super Globe which will be played in Saudi Arabia from 17 to 23 October 2022.
Final Ranking
    
1. Al Kuwait (Kuwait)*
2. Al Najma (Bahrain)
3. Al Qadsia (Kuwait)
4. Al Arabi (Qatar)
5. Al Wakrah (Qatar)
6. Al Noor (Saudi Arabia)
7. Sanat Mes Kerman (I.R. Iran)
8. T-Sports Club (India)
*Qualified for the 2022 IHF Men's Super Globe
Photo: Asian Handball Federation