13 Nov. 2020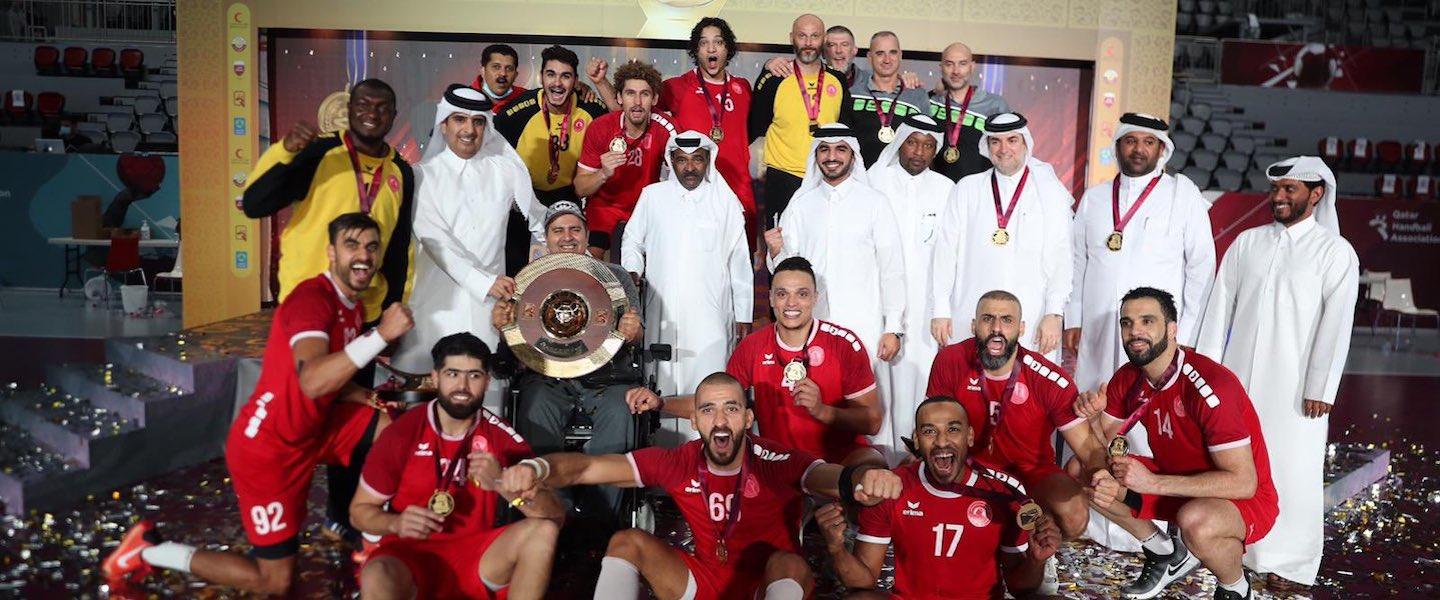 The Qatar Handball Association (QHA) Senior Men's Handball League Championship 2019/20 finally reached its conclusion last weekend with Al-Arabi becoming champions for just the second time in their history.
Bringing talent to Al-Arabi for success
Al-Arabi's 31:29 victory over Al-Wakrah in the Duhail Sports Hall, ended a 37-year wait for the title, after they won it for the first and only time back in 1983. And it was sweet revenge for the club after losing by one goal to Al-Wakrah in both the Emir Cup and Qatar Cup semi-finals this season.
Al-Arabi have brought in a number of new faces to the team in recent times both on and off the court in a bid to become the top team in the Arabian Gulf State.
In July, double Olympic bronze medallist and 1999 IHF Men's World Handball Player of the Year, Rafael Guijosa, became coach of the club, with the former Spanish national team player being able to choose from a team featuring a number of familiar names on the world handball scene.
Goalkeeper and Qatar international Danijel Saric became an Al-Arabi player last year and is joined by fellow Qatar national team player Youssef Ben Ali, who recently returned to Qatar after a spell in France. Qatar's key beach handball player Hani Kakhi is also in the squad, alongside August signings, Serbian international Darko Stefanovic and Brazilian Acácio Marques Moreira Filho, who joined from Abanca Ademar Leon.
A long journey to a second league title
Due to the COVID-19 outbreak, 2019/20 was the longest-ever season in Qatar handball history, having started on 10 February 2020, after initially being postponed from the week earlier.
Adaptations were made, with all 10 teams playing each other once, and the top six in the league progressing through to a play-off and subsequent final round. However, with the global pandemic affecting Qatar, only four rounds of games were completed before the league paused at the end of February.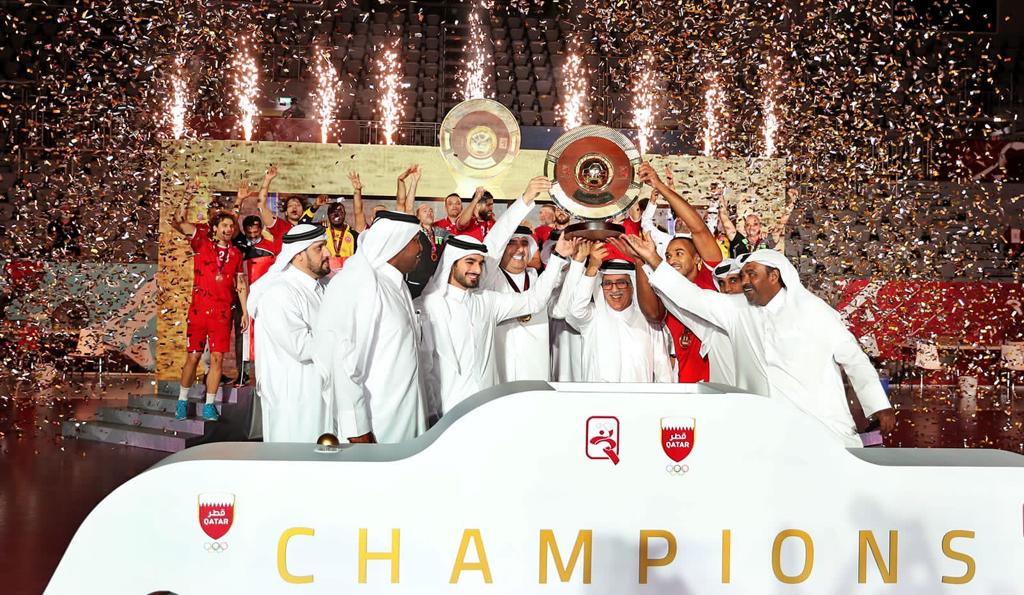 The league then restarted on 10 September, with five further rounds of matches played, and the league reaching its conclusion on 29 October with Al-Wakrah finishing top of the table on 23 points, having won seven games and lost two. They were followed by Al-Ahli in second and Al-Arabi in third (both 22 points), Al-Duhail in fourth (21 points) and fifth and sixth spot taken by Al-Gharafa and Al-Rayyan respectively (both 19).
These top six teams in the league then went through to the second stage of competition – the play-offs for the semi-finals and semi-finals themselves, with first and second-placed Al-Wakrah and Al-Ahli, receiving a bye directly through to the last four. 
This meant that the third-placed league team played sixth and fourth played fifth in the play-offs with the winners going through to the semi-finals and on 2 November Al-Arabi easily overcame Al-Rayyan 30:25, while Al-Duhail did even better, defeating Al-Gharafa by eight (26:18). 
Thursday 5 November saw the semi-finals with Al-Wakrah squeezing past Al-Duhail (21:20), while Al-Arabi upset Al-Ahli, easily defeating them 26:22 to set up Al-Arabi versus Al-Wakrah championship final, which Al-Arabi took by two goals (32:29), avenging their 27:26 Match Week 6 league defeat to Al-Wakrah. Al-Arabi had trailed 13:15 at the break. Al-Duhail took bronze, defeating Al-Ahli 25:24.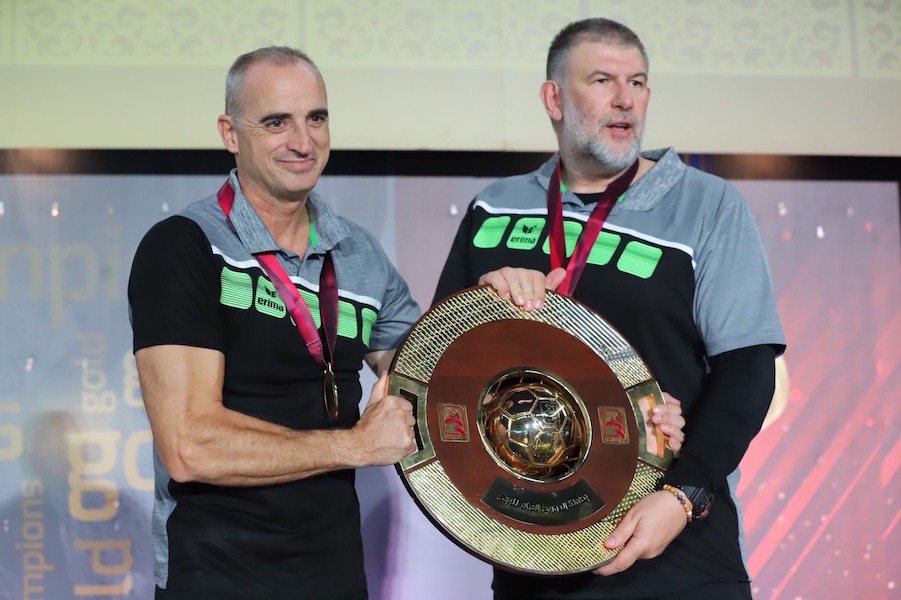 In fact, Al-Arabi lost just twice in the league all season, their other loss, a heavy one, coming at the hands of Al-Ahli 27:36 in Match Week 9 at the end of October. Their other seven games saw them draw once (vs Al-Duhail 32:32) and win six (vs Al-Gharafa 28:27, Al-Khor 29:21, vs Al-Rayyan 30:28, Al-Sadd 34:18, vs Al-Shamal 38:28, vs Qatar SC 33:14).
Last November, eventual winners Al-Arabi defeated Al-Wakrah in the semi-finals of the 22nd AHF Men's Asian Club League Championship in Samcheok, Korea Republic. 
Qatar Cup and Emir Cup
The league took another pause between Match Week 7 and 8 to play both the Qatar Cup and Emir Cup – with Al-Duhail winning both. The Qatar Cup was played from 25 September to 2 October, with Al-Duhail beating Al-Wakrah 32:29 in the final, and it was nearly exactly the same results in the Emir Cup which took place from 7 to 16 October, as Al-Duhail beat Al-Wakrah again in the final, 31:29.
For more information about handball in Qatar, visit www.qatarhandball.com.