11 Dec. 2019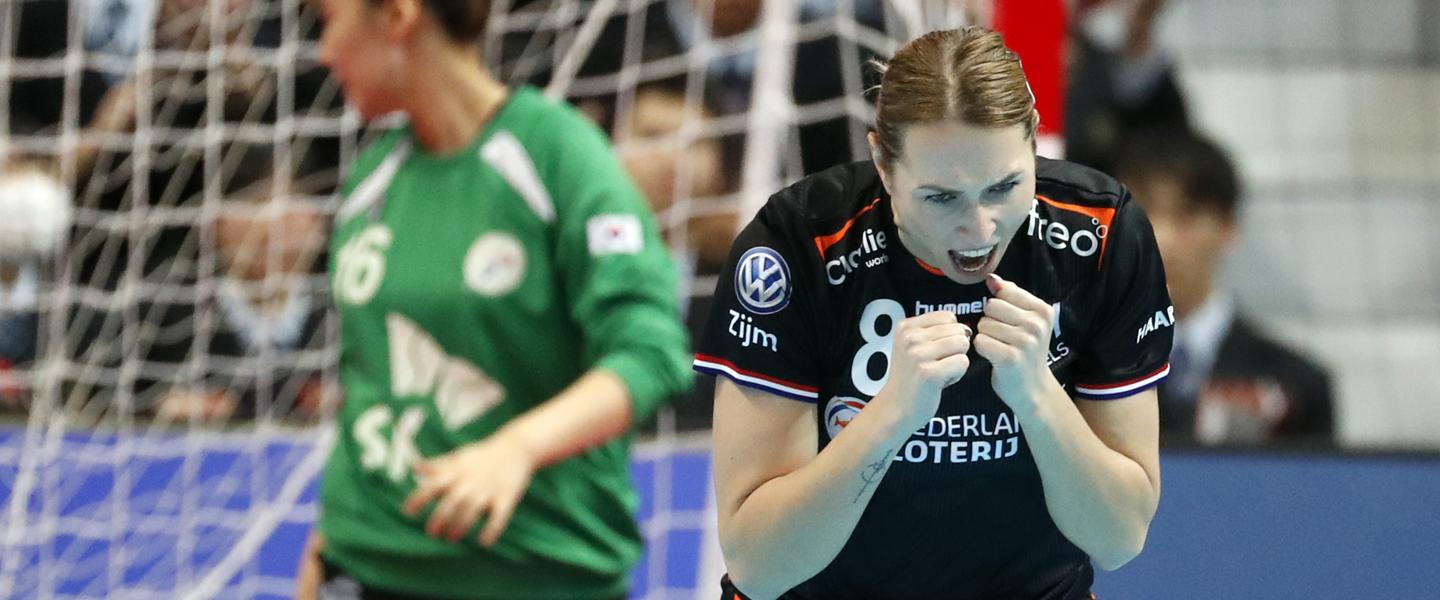 From the very first second the Netherlands team meant business against the Republic of Korea in their final main round group game of the 2019 IHF Women's World Championship, eventually winning 40:33 but while they played a fantastic attacking game, they now play a waiting game to see if they will qualify for the semi-finals. 
To make the last four they will be hoping for a number of different result combinations and, if in their favour, Netherlands will be in their third consecutive IHF Women's World Championship semi-final after silver in 2015 and bronze in 2017.
For Republic of Korea, they now look to the Tokyo 2020 Olympic Games, already qualified as winners of the Asian women's qualification tournament, held in China last September.
MAIN ROUND – GROUP I
Netherlands vs Republic of Korea 40:33 (23:16) 
"She's great," said Netherlands coach Emmanuel Mayonnade about his player Lois Abbingh after he watched her lead his side in demolishing Korea in their last main round match, putting them up to six points in the group.
Now they wait. They are waiting for a number of mathematical possibilities between the remaining two group games (Serbia vs Denmark, Norway vs Germany) to find out the destiny of his side at Japan 2019 and if they play for a ranking position or a medal.
Any nervousness his side may have had before the match quickly evaporated as Abbingh took just 16 seconds to put his side up and they were never caught again in the whole 60 minutes. As early as the 19th minute, their lead was double figures (15:5) as Abbingh continued her individually-brilliant performance with 90+ km/h shots straight down the throat of a leaky Korean defence.
And when Korea shut up on the line in the middle the buzzing Angela Malestein on the right wing and Martine Smeets on the left wing would cut in, find a wide-open angle and slot home. Between them, they scored 11 of those 15 early goals and the game was out of sight as a contest with just one third of it played.
But Korea coach Jae Won Kang, enjoying a tournament "without any pressure," due to their qualification already for Tokyo 2020, was not interested in the result, just experience for his squad with all but three of his players getting court time. "We have seen a lot of potential for our Korean players here in Japan," said Kang. "This championship means a lot to us; we saw a lot of our younger players play against these strongest teams here."
Dione Housheer, Bo Van Wetering and Larissa Nusser were left on the bench for the Netherlands as Delaila Amega, added to the squad overnight, got a handful of minutes to bed in before that possible final four match in two days.
"We just have to wait," said Mayonnade after the match. "We cannot change anything now; we will take a shower and go to the hotel and wait."
"At the beginning we came with so much energy that we decided the match quite early," added his player Danick Snelder. "We have to wait and cross our fingers with what will happen next."
hummel Player of the Match: Lois Abbingh, Netherlands