10 Jun. 2021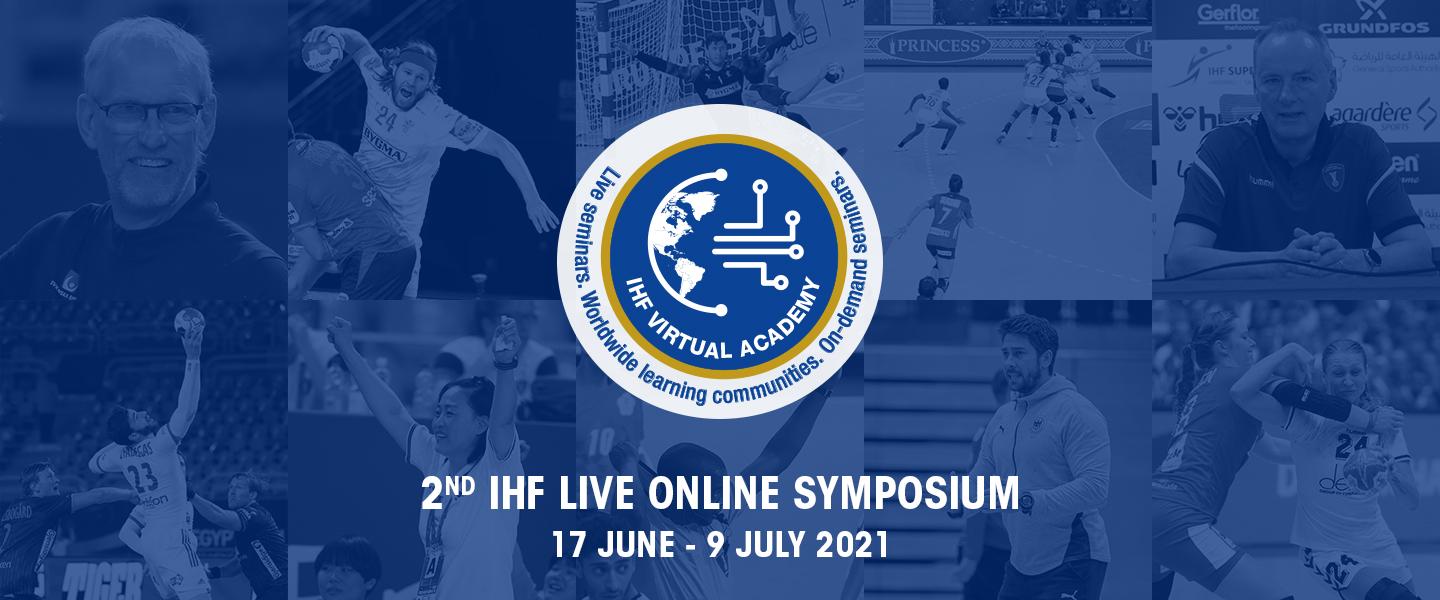 After the resounding success of the 1st IHF Live Online Symposium last summer, the second edition of the IHF Live Online Symposium, presented by the IHF Virtual Academy, will take place between 17 June and 9 July with two to three live webinars every week, each held from 14:00 to 15:30 CEST.
This year's IHF Live Online Symposium will focus on "Development trends of the game: consequences on training methods for coaches, tactical training for referees". For coaches in competitive, youth and talent training, they will be presented and processed in a methodological way; for referees, various current topics concerning their tactical education are offered, which will be useful for their observation and decision-making tasks.
The 10 lectures are free to attend and will be led by IHF Experts, IHF Analysts, IHF Lecturers and professionals from three continents.
The Symposium will be streamed on the IHF Facebook page and on Zoom, where translation will be available into Arabic, French and Spanish.
Furthermore, participants who log-in via Zoom with their email address and full name and attend all 10 webinars will receive a certificate of participation after the conclusion of the 2nd IHF Live Online Symposium. 
FIRST SESSION
Thursday 17 June 
14:00-15:30 CEST: Dr Nabeel Taha, IHF CCM Lecturer – Mental toughness and tactical discipline
Friday 18 June
14:00-15:30 CEST: Gabriel Bourguignon, goalkeeper coach USAM Nimes – Professional goalkeepers' preparation for the LNH competition (men's 1st division)
Update (16 June): The lecture by Gabriel Bourguignon has been cancelled due to work-related reasons and a pre-recorded lecture will be made available on the IHF Virtual Academy platform. Only the nine remaining webinars will be taken into account for the certificates. 
Saturday 19 June
14:00-15:30 CEST: Jorge Duenas, IHF CCM Member and head coach of Brazil women's national team – Defence against line players
SECOND SESSION
Thursday 24 June 
14:00-15:30 CEST: Jochen Beppler, IHF Analyst and head coach for younger age categories, German Handball Federation – New role of the line player in modern handball
Friday 25 June
14:00-15:30 CEST: David Gröger, German Handball Federation National Athletics Coach – The overarm throw, the sniper among the throws! How to improve throwing velocity and protect the shoulder
THIRD SESSION
Thursday 1 July
14:00-15:30 CEST: Paul Landuré, IHF CCM Member – Quick and right decision of the attacker
Friday 2 July
14:00-15:30 CEST Michael Apelgren (SWE), six-time champion in a row with Elverum (NOR) and champion with Sävehof (SWE) this year; Per Morten Sodal, IHF PRC Lecturer – Attacker faults – criteria and philosophy. What is an attacker fault and what is not?
Saturday 3 July
14:00-15:30 Mats Olsson, IHF CCM Member goalkeeper coach at the Norwegian Handball Federation – Tendencies in goalkeeping – tactical behaviour in breakthrough situations
FOURTH SESSION
Thursday 8 July
14:00-15:30 CEST: Thierry Anti, head coach of PAUC Handball (1st division France) and president of the European Professional Coaches Association – Which handball do we expect for the future?
Friday 9 July
14:00-15:30 CEST: Oh Seong-ok, IHF Analyst and former head coach of Republic of Korea women's youth national team – The importance of pass feints in modern handball
Click here for the full programme.