24 Sep. 2023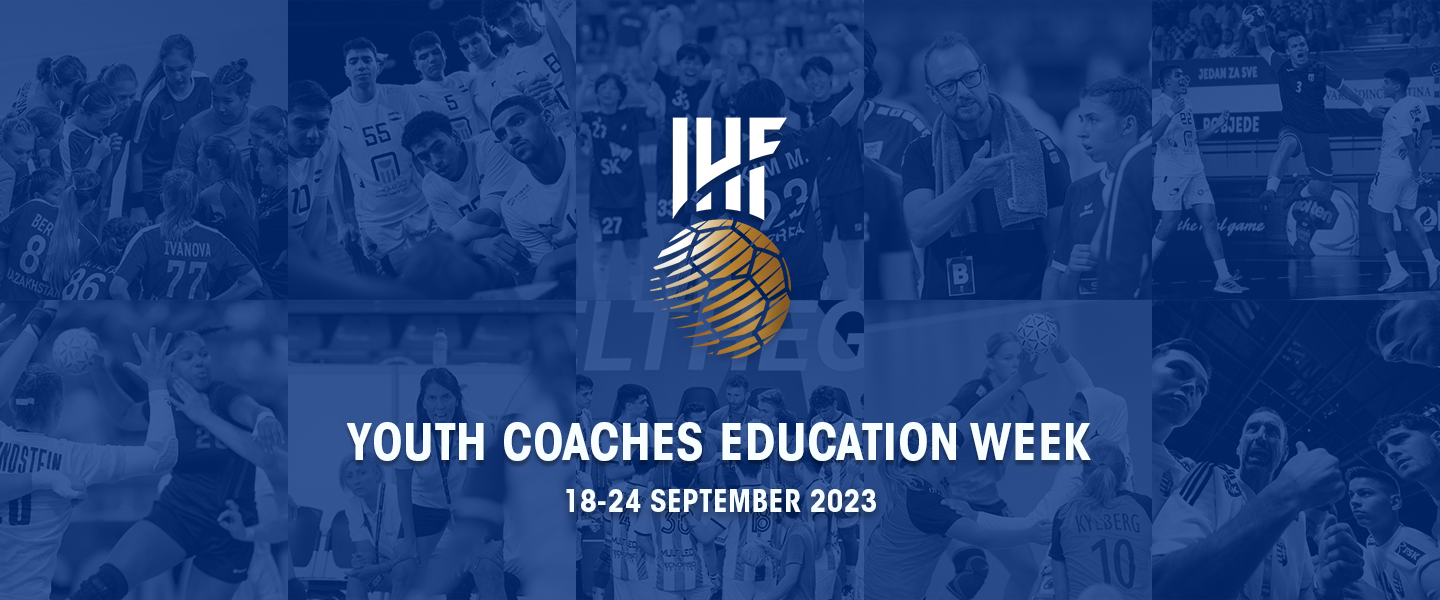 The fourth of the 2023 IHF Education Weeks courses, the IHF Youth Coaches Handball Education Week, concluded on Sunday, after a total of eight lectures presented by handball experts from all around the world, with different topics touching very interesting parts of the development of youth players throughout the world into modern professionals.
Thousands of attendees, gripped by the interesting presentations, tuned in for the eight webinars, which were organised on Zoom and had top experts deliver unparalleled knowledge and excellent materials, with the aim being to develop handball throughout the world by sharing tailor-made knowledge from leading nations in world handball.
The participants also had the chance to ask questions and get valuable feedback from our panellists, who did their best to give concrete answers and help the attendees gain excellent insight into how to develop the youth players and how to best create the perfect environment, through trial and error.
The IHF Youth Coaches Handball Education Week threw off with a lecture from Marko Šibila, a Slovenian master coach, who presented the Slovenian way of doing things, with a scientifically supported approach in nurturing the best talent on the way to the top.
Claus Dalgaard-Hansen, an IHF Commission of Coaching and Methods Expert Group member, then took over on Tuesday, sharing his experience from Norway and how the discovery, sighting and promotion of talent is being delivered.
Wednesday saw back-to-back seminars with lecturers from Germany, as Dr Patrick Luig shared information on the "Long-Term Athlete Development in Germany", while IHF Lecturer and assistant coach at Germany women's senior national team, Jochen Beppler, continued his presentation from the 2023 IHF Coaches & Referees Education Week with another interesting theme, "Isolation Spaces for Successful 1:1 Duels: How Can Trends From Top Handball Be Transferred to the Next Generation in Youth Handball?".
After a very successful summer, with top 10 placements at the IHF Men's Junior and Youth World Championships, the Faroe Islands were also under the spotlight, with coach Mark Lausen-Marcher leading an interesting webinar, with the theme "The World's Best Talent Development Environment".
On Friday, one of the most decorated handball players in history, Korea's Seong Ok-Oh, presented a lecture titled "Training of Feints in 1:1 Situations", a crucial feature in Asian handball, which has been mastered by plenty of players.
Pascal Person delivered another interesting webinar on Saturday, with a focus on French handball, "Developing Intentions of Playing in a Large Space (Motor and Mental Skills – Fight Against the Fear of Making Mistakes)", while the the 2023 IHF Youth Coaches Handball Education Week concluded on Sunday, with a lecture by Javier Fernandez, highlighting the efficiency of "The Spanish 5:1 Defensive System".
All webinars can be streamed on demand on the IHF Education Centre platform, available at ihfeducation.ihf.info, and you can rewatch them on the IHF official Facebook page.