18 Mar. 2022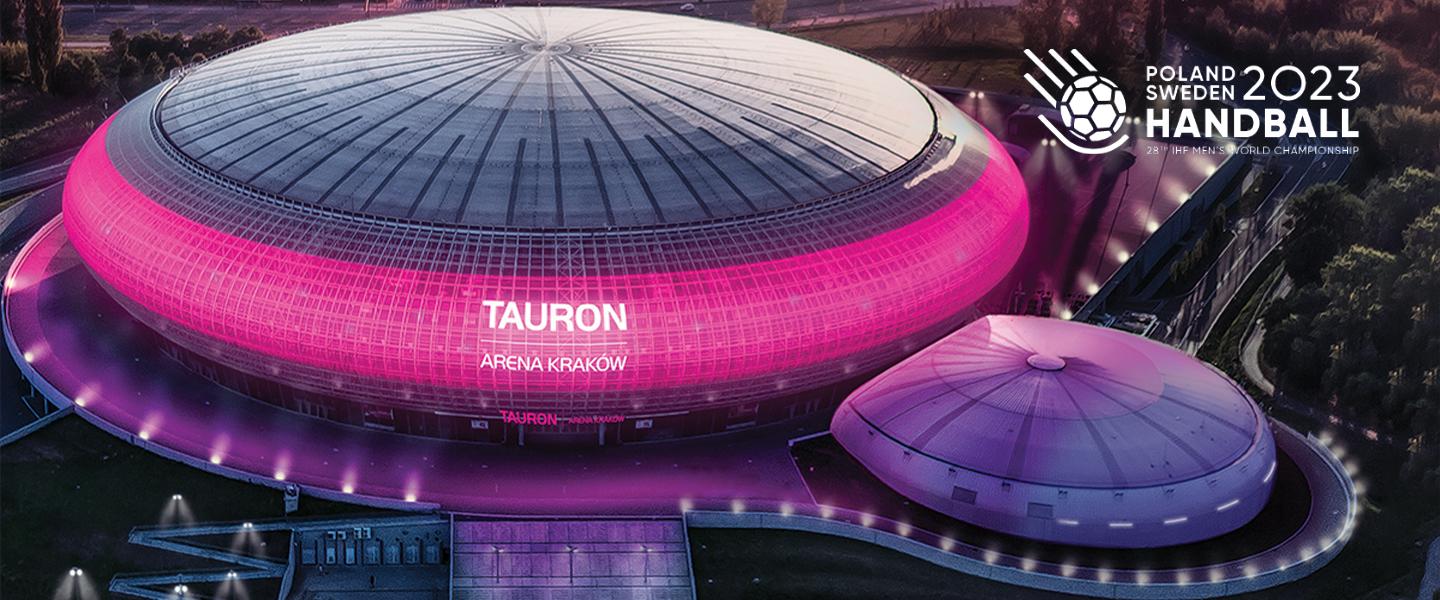 There are only 10 months left until the 28th IHF Men's World Championship throws off in Poland and Sweden and the tickets are now on sale for all 108 matches scheduled over nine venues.
The tickets for the five venues in Sweden have already been on sale since January, available on the official website of the competition, handball23.com, with the other four Polish venues now following suit, as the ticket sale for Polish venues opened today.
The preliminary round, which features eight groups of four teams each, will be played in two venues in Poland, with Katowice and Krakow hosting two groups each. The other four groups will play in Sweden: in Gothenburg, Jönköping, Kristianstad and Malmö.
The host countries had the right to choose where they will play in the group phase, as Poland picked Katowice and will play in Group B, while Sweden elected to play in Gothenburg, in Group C.
Each host country could assign a team to a host city, therefore Norway will play in Group F in Krakow, Spain are due to play in Group A, also in Krakow. Denmark, the reigning world champions, were assigned to Group H in Malmö, just 12 kilometers away from their border. Provided that the teams qualify for Poland/Sweden 2023, Germany would compete in Group E (Katowice), Iceland in Group D (Kristianstad) and Croatia in Group G (Jönköping). 
Katowice, Krakow, Gothenburg and Malmö will also host the main round groups, while the President's Cup is scheduled to take place in Plock, Poland.
The "Ergo Arena" in Gdansk, Poland, is due to host two quarter-finals and a semi-final, with the other two quarter-finals, a semi-final and the medal games set to be played in the Tele2 Arena in Sweden's capital Stockholm.
"It will be the biggest event in the history of handball in Poland. We especially will warmly welcome in Poland during the preliminary round fans from Spain, Norway and Germany, if they qualify.
"All these fans already know from the past championship events all cities in Poland and I am convinced that they will meet in Katowice/Silesia and Kraków/Malopolska the great Polish hospitality, which is famous all around the world," the Polish Tournament Director of the 2023 IHF Men's World Championship, Grzegorz Gutkowski, said.
Poland will host 61 games across the preliminary round, main round, President's Cup, quarter-finals and semi-finals in four venues throughout the tournament.
The preliminary round draw of the 28th IHF Men's World Championship will take place in Katowice on 2 July 2022, with the "Spodek" Arena in Katowice also due to host the first game of the event and the opening ceremony on 11 January 2023.
Tickets for all 28th IHF Men's World Championship venues are now available for purchase on handball23.com.