07 Jun. 2021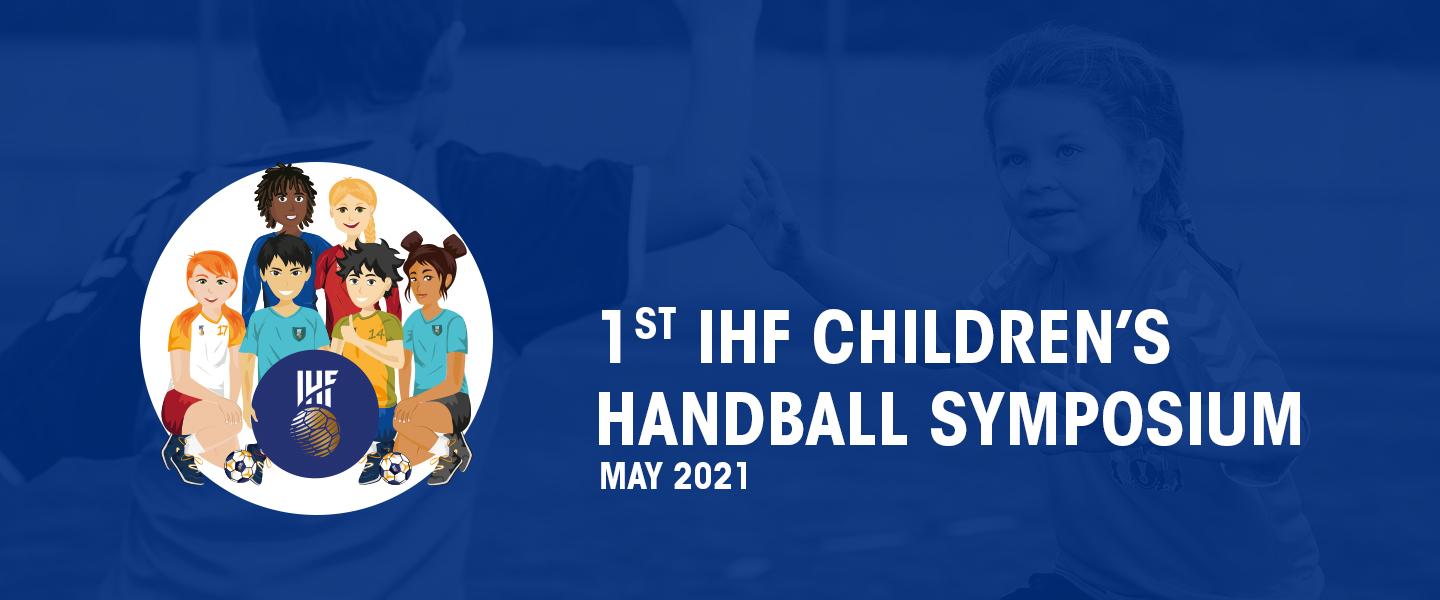 'Everything you need to start playing handball now' was the motto for last month, as the first-ever IHF Children's Handball Symposium took place virtually from 4 to 28 May.
Free and open to anyone with an interest in spreading the word of handball, eight live webinars took place via the web-meeting tool Zoom with attendees, who attended all eight sessions, receiving a special certificate of participation, – the first time the IHF has awarded one for a webinar focused on children's handball. 
Experts sharing their knowledge, practically
Throwing off the opening week of the 1st IHF Children's Handball Symposium was a presentation from IHF Handball at School Working Group Chairwoman and IHF Commission of Coaching and Methods (CCM) Expert Dr Ilona Hapkova regarding strategies on introducing handball to children as well as what they need to learn today for the game of tomorrow.
IHF Handball at School Lecturer Dr Patricia Sosa González then followed, offering key insights into structuring lessons and plans for children based on the stages of learning and using a game-based approach.
The second week started with IHF Handball at School and CCM Lecturer Dr Pablo Greco presenting his 'Building the foundation through handball' which focused on how important coordination is for youth handball players and ended with IHF Handball at School Working Group Member Dr Gerard Lasierra discussing 'Handball as an interactive sport' and posing questions such as "Do you require the same skills to practice an individual sport and a team sport?", and "What are the most appropriate teaching-learning methods in handball?"
Dr Milan Petronijevic, who holds a PhD in sports science, opened the third week of the symposium as the IHF Handball at School Lecturer brought his wide knowledge and experience as a handball coach and international lecturer to the table. His lecture topic, entitled 'Scoring the first goal', discussed the important steps in development of new handball players and looked at organisational difficulties in the training process and how to achieve a flow in training sessions for handball newcomers. 
The week was closed by Dr Nabeel Taha Al Shehab, a long-time captain of the Bahrain men's national team as well as former coach of the side, and current IHF CCM Expert and IHF Handball at School Working Group Member. He discussed recognising the art of defence in children's handball, when scoring goals and offensive play may have more focus in training, and methods and practical ways of finding solutions to this.
The final week saw Craig Rot, IHF Handball at School Working Group Member and IHF CCM Lecturer, discuss teaching handball in the real world, examining the most common pitfalls experienced when starting a programme. The week ended with a panel discussion looking back at the previous seven lectures and discussions as well as looking forward to teaching and developing handball to children after the pandemic.
One special way people were encouraged to participate throughout the month was with the 1st IHF Children's Handball Symposium Ambassadors, consisting of world-class players from across the globe: Argentina's Diego Simonet, Republic of Korea's Eun-hee Ryu, Brazil's Alexandra do Nascimento, Japan's Yuto Agarie, Egypt's Yahia Omar, Norway's Katrine Lunde and Angola's Albertina Kassoma. In pre-recorded videos they shared how they got into the sport and why they love it, among other things.
Success around the world
Accessible throughout a variety of live and on demand ways, the 1st IHF Children's Handball Symposium saw impressive interaction from across the globe.
The eight lectures saw a combined reach of more than 200,000 on Facebook with over 50,000 views. 
Just under 3,000 unique users watched live on Zoom, with more than 2,000 afterwards on YouTube.
Zoom participants represented more than 100 countries, with Morocco, Burkina Faso, the United States of America, Egypt, Jordan, Iraq, Saudi Arabia, Puerto Rico, Bahrain and Pakistan being the top 10 countries where users were registered.
"Listening to the exact needs of each other"
Speaking to ihf.info, Dr Hapkova was full of pride about the success of the debut symposium for children and looking forward to the future.
"The IHF Handball at School Working Group prepared the symposium for participants who want to get children to start playing handball," said Dr Hapkova. "These are the volunteers, coaches and people working with the youngest children (5 to 12 years old).
"We wanted to prepare them to start handball activities directly with children so provided basic databases on specific topics so they don't need to look in several places for it – and we also wanted to explain how they can be adjusted to their specific conditions.
"The important thing for all of us is to listen to the exact needs of each other," she added. "Especially at this time, the IHF are really listening carefully to what participants need and they had the opportunity to choose the topic by their interest.
"Our high-level lecturers were able to contribute with regards to this and gave them the best feedback, with fruitful discussions directly throughout these webinars. It was fantastic as we had people from all across the world meeting together to discuss the important topic of children and handball.
"Every lecturer and those in the wider Handball at School family really hope that all participants can come away from this symposium understanding that children's handball is not the same as the handball we see on TV but that we can learn from this high level of handball. Our group of experts who follow the new trends, simplified them and showed how easy it is to teach at the children's level.
"There was a lot of positive feedback and I'm sure that participants found a lot of ideas on how to improve their lessons. I would like to thank everyone involved because they are fantastic group to work together with.
"The Handball at School Working Group is working on many different projects and new material with all Handball at School Lecturers contributing to the improvement of the whole programme.
"We are in the early planning stages of a family programme to help the handball community grow with our sport centred around living a healthy lifestyle," concluded Dr Hapkova.
All webinars were delivered in English with live interpretation in Arabic, French, and Spanish. 
The lectures can be viewed for free on the IHF Facebook page. 
They can also be viewed with free registration on the IHF Virtual Academy platform here, where additional resources can be found.