19 Jun. 2023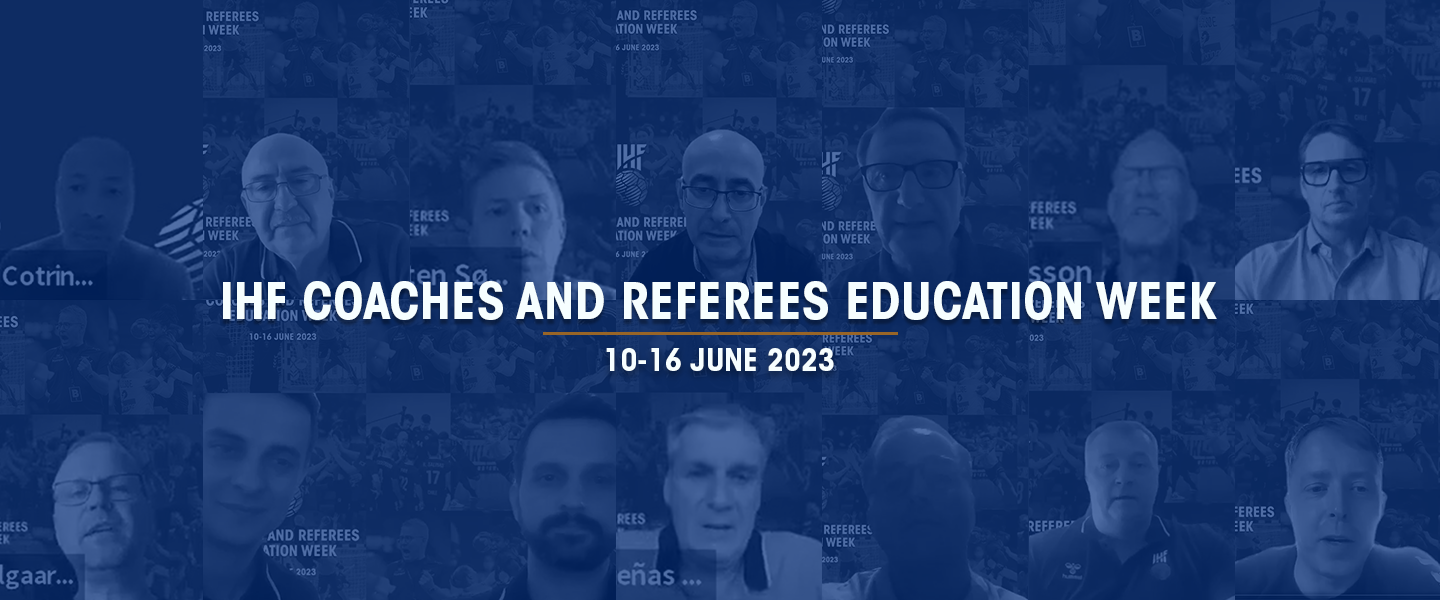 The second of the 2023 IHF Education Weeks courses, the IHF Coaches & Referees Education Week, concluded last Friday after a total of 12 lectures presented by handball experts from all around the world, with different topics related to coaching and refereeing matters of indoor handball.
Thousands tuned in for the 12 webinars, which were organised on Zoom and had top coaches and referees present different situations from the game, which is constantly changing and developing, with the aim being to identify the new tendencies and the new tactics in the game, but also to try and see what can be further done to improve the game of handball.
The participants also had the chance to ask questions and get valuable feedback from our panellists, who did their best to give concrete answers and help the attendees gain excellent insight into the development of handball.
First, Yérime Sylla, Belgium men's senior national team coach, presented the blueprint of his team's success in the last decade, which morphed from an emerging nation into a team that made it for the first time in their history to the IHF Men's World Championship in 2023.
Then Paul Landuré, IHF Commission of Coaching and Methods (CCM) Member, presented the new trends in player development and what is the current portrait of a successful handball player, which qualities such a player must have, and how handball will look in the future in terms of developing players.
On Monday, Jordi Ribera Romans, Spain men's senior national team coach, shared his knowledge about defence and particularly how "Los Hispanos", two-time European champions in 2018 and 2020 and bronze medallists at the 2023 IHF Men's World Championship, focus on shifting from a 6-0 defence to a 5-1 system, while Marko Šibila, Master Coach, shared his thoughts on the execution of counter attacks, a valuable weapon in modern handball.
The goalkeepers' play was not left behind, being the main theme of a webinar held by Mats Olsson, Sweden's men's national team and Norway women's national team goalkeeping coach, while Claus Dalgaard-Hansen, talent manager at the Norwegian Handball Federation, had a 90-minute presentation on "Talent Detection in the Light of Changing Playing Styles".
Last but not least, IHF Lecturer Jorge Dueñas had a webinar giving tips about how to defend the pivot position, while Jochen Beppler, IHF Lecturer and assistant coach at Germany women's senior national team, concluded the 2023 IHF Coaches & Referees Education Week with a webinar analysing the Isolation Spaces for Successful 1:1 Duels and Possible Follow-Up Actions.
On the referees' side, Per Morten Sødal, Chairperson of IHF Playing Rules and Referees Commission (PRC), had two webinars, with the first being focused on tendencies relating to simulations and punishments, while the second being co-hosted with Sweden's national team coach, Glenn Solberg, and focused on the pivot play.
Wing Situations from the Referees' Perspective was the theme for the webinar presented by IHF referees Bojan Lah and David Sok, while the differences between offensive fouls and penalties were underlined by IHF delegates Ángel Sabroso and Martin Gjeding.
All webinars can be streamed on demand on the IHF Education Centre platform, available at ihfeducation.ihf.info, and you can rewatch them on the IHF official Facebook page.