06 Apr. 2023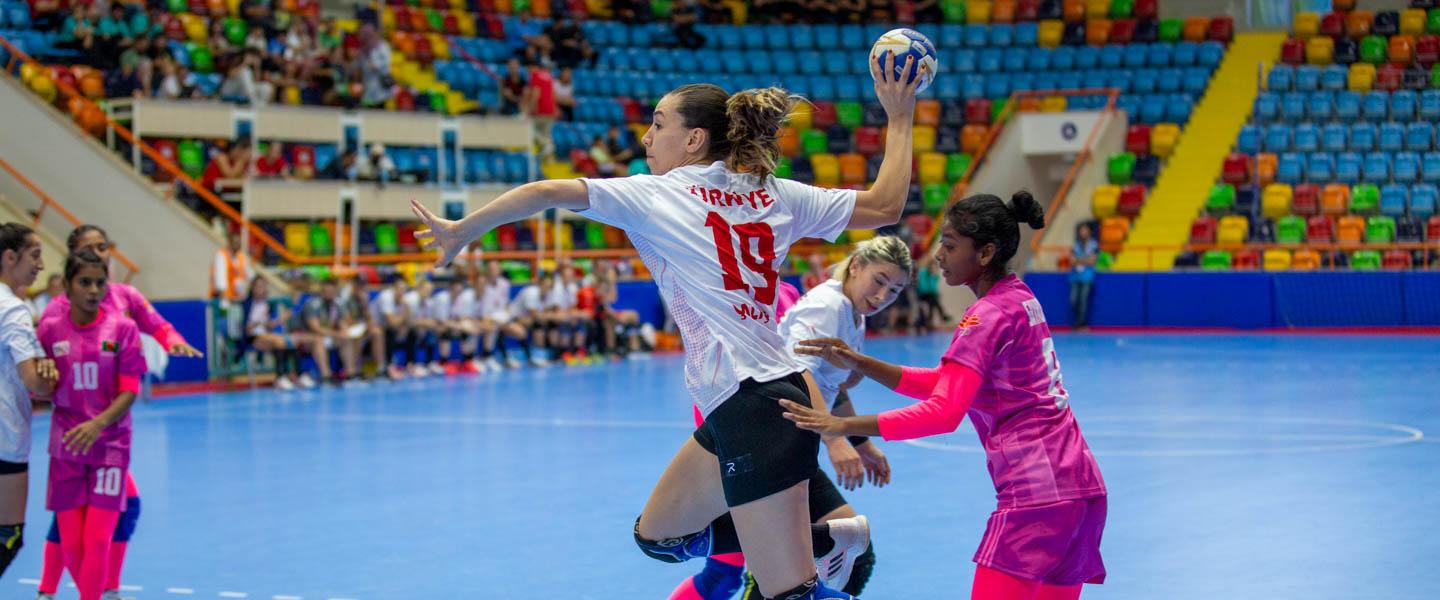 10 spots for the 2023 IHF Women's World Championship will be awarded this week in Europe, with the sides joining the other 19 sides which have already punched their tickets to Denmark/Norway/Sweden 2023, the first edition of the world handball flagship competition hosted by three countries.
20 teams are entering the fray, with 10 doubleheaders deciding the 10 European teams which will join the three co-hosts, plus Montenegro, France and the Netherlands, which have secured their places in the competition via the EHF EURO 2022, where they finished in the top six.
After the draw that took place on the final weekend of the EHF EURO 2022 in Ljubljana, Slovenia, teams have found out their opponents, with plenty of balanced games on display, while several others have big favourites to progress to the final tournament, which will take place between 29 November and 17 December.
Germany, which will co-host the tournament in 2025, are big favourites against Greece. A team that has never featured in a major international competition so far, with the only caveat being that the second leg will take place in Germany.
Slovenia, which are trying to secure their fourth berth at the IHF Women's World Championship in a row, are also favourites against Italy, with the second leg scheduled on their home court, as they look to take advantage of an excellent generation that finished on the eighth place at the EHF EURO 2022.
Poland are favoured against Kosovo rookies, while Romania try to extend their streak of participation at the World Championship to 26, the only side in history to play at every edition of the world handball flagship competition. Romania will play against Portugal, with the deciding leg closing the card in Portugal.
The most balanced clashes seem to be the ones putting together Switzerland and the Czech Republic, with the latter side trying to secure their eighth berth for the IHF Women's World Championship and the second in a row, with Jorge Duenas' side, Slovakia, also trying to exert some pressure on Croatia.
A free-flowing, attacking Austria side also meet Spain, who looked like they hit trouble in the last EHF EURO after finishing fourth at the 2021 IHF Women's World Championship, while Hungary look to be favourites against Iceland.
Last but not least, North Macedonia try to return to the IHF Women's World Championship for the first time since 2007, facing Ukraine, which have failed to qualify since China 2009. With the current situation in Ukraine, the second leg will be played on a neutral court in Hungary.
2023 IHF Women's World Championship – European qualification play-offs
First leg:
Thursday 6 April:
17:45 CEST: Poland vs Kosovo
Friday 7 April:
16:00 CEST: Türkiye vs Serbia
19:00 CEST: Slovakia vs Croatia
Saturday 8 April:
15:00 CEST: Switzerland vs Czech Republic
16:00 CEST: Romania vs Portugal
18:00 CEST: Iceland vs Hungary
18:00 CEST: Austria vs Spain
18:30 CEST: Italy vs Slovenia
19:00 CEST: North Macedonia vs Ukraine
Sunday 9 April:
17:15 CEST: Germany vs Greece
Second leg:
Tuesday 11 April:
17:00 CEST: Ukraine vs North Macedonia (in Hungary)
19:30 CEST: Czech Republic vs Switzerland
Wednesday 12 April:
17:00 CEST: Greece vs Germany
17:30 CEST: Slovenia vs Italy
18:00 CEST: Serbia vs Türkiye
18:00 CEST: Croatia vs Slovakia
18:15 CEST: Hungary vs Iceland
20:15 CEST: Kosovo vs Poland
20:30 CEST: Spain vs Austria
21:15 CEST: Portugal vs Romania
Photo: Turkish Handball Federation / Ekrem Öszoy