22 Jun. - 03 Jul.
Slovenia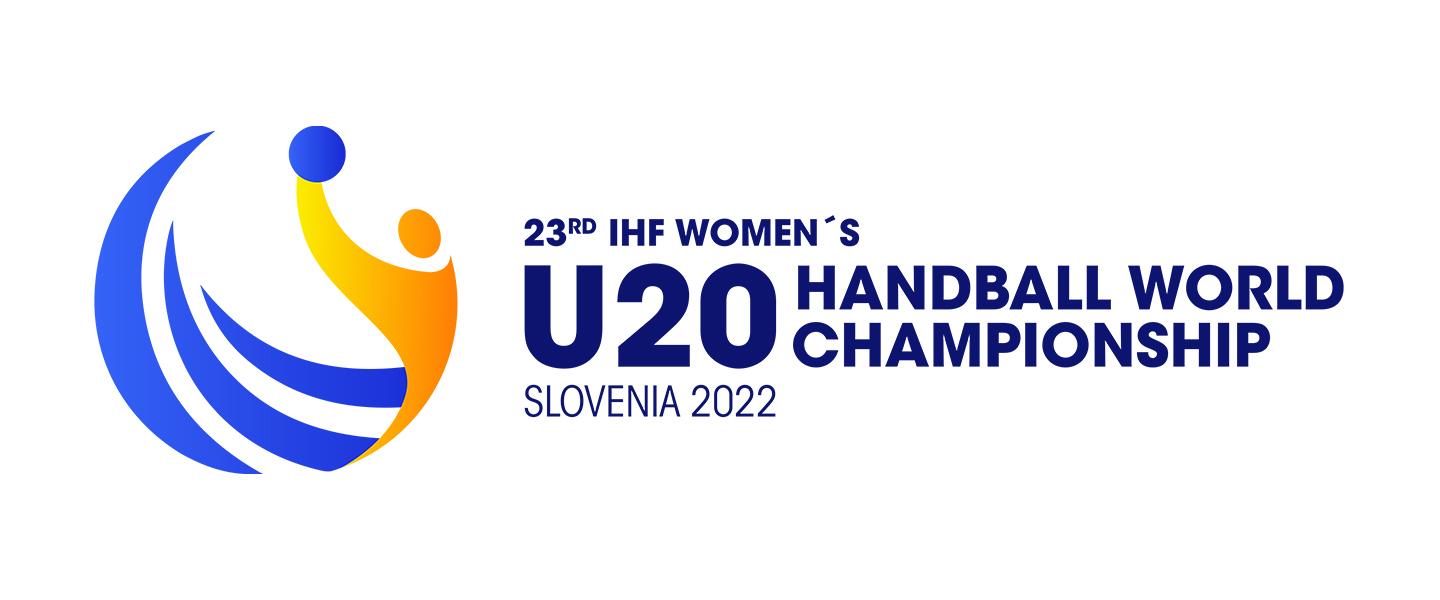 The 2022 IHF Women's Junior (U20) World Championship was held in Slovenia in the period from 22 June to 3 July.
QUALIFIED TEAMS
Hosts: Slovenia (SLO)
Africa: Angola (ANG), Egypt (EGY), Guinea (GUI), Tunisia (TUN)
Asia: India (IND), Islamic Republic of Iran (IRI), Japan (JPN) Kazakhstan (KAZ), Republic of Korea (KOR)
Europe: Austria (AUT), Croatia (CRO), Czech Republic (CZE), Denmark (DEN), Germany (GER), France (FRA), Hungary (HUN), Lithuania (LTU), Montenegro (MNE), Netherlands (NED), Norway (NOR), Poland (POL), Romania (ROU), Russia (RUS), Slovakia (SVK), Sweden (SWE), Switzerland (SUI)
North America and the Caribbean: Mexico (MEX), United States of America (USA)
South and Central America: Argentina (ARG), Brazil (BRA), Chile (CHI)
Wild Card: Italy (ITA)
VENUES
The event was hosted in four venues, spread across the cities of Celje, Laško and Velenje. 
Dvorana Golovec Celje
Arena Zlatorog Celje
Dvorana Tri Lilije Laško
Rdeča Dvorana Velenje

DRAW
The draw took place in Celje on 13 April 2022. 
Pot 1: HUN, FRA, IND, SWE, ROU, DEN, CRO, GER
Pot 2: NOR, CZE, ARG, SUI, SVK, SLO, IRI, POL
Pot 3: NED, MNE, ANG, BRA, KAZ, CHI, EGY, TUN
Pot 4: KOR, JPN, PAR (Update: as Paraguay have withdrawn their participation, a substitute nation was determined - LTU), GUI, MEX, USA, AUT, ITA
Draw procedure
1. Teams in pot 4 are drawn to groups A – H in row 4.
2. Teams in pot 3 are drawn to groups A – H in row 3.
3. Teams in pot 1 are drawn to groups A – H in row 1.
4. Organisers SLO have the prerogative to assign themselves to a group of their choice.
5. Remaining teams in pot 2 are drawn to groups A – H in row 2.
Draw result
Group A: IND, SVK, NED, JPN
Group B: SWE, IRI, TUN, GUI
Group C: DEN, ARG, MNE, ITA
Group D: FRA, NOR, BRA, KOR
Group E: ROU, CZE, ANG, LTU
Group F: GER, SLO, CHI, MEX
Group G: CRO, SUI, KAZ, AUT
Group H: HUN, POL, EGY, USA
FINAL RANKING
1. Norway
2. Hungary
3. Netherlands
4. Sweden, 5. Denmark, 6. Angola, 7. Germany, 8. Switzerland, 9. Japan, 10. Montenegro, 11. Czech Republic, 12. Croatia, 13. France, 14. Slovenia, 15. Egypt, 16. Tunisia, 17. Poland, 18. Romania, 19. Republic of Korea, 20. Slovakia, 21. Lithuania, 22. Brazil, 23. Guinea, 24. Austria, 25. Argentina, 26. India, 27. Chile, 28. Kazakhstan, 29. Italy, 30. Islamic Republic of Iran, 31. United States, 32. Mexico
For more information on the event, visit the competition mini-site.