The Best: 2020 CAHB Men's African Championship
03 Feb. 2020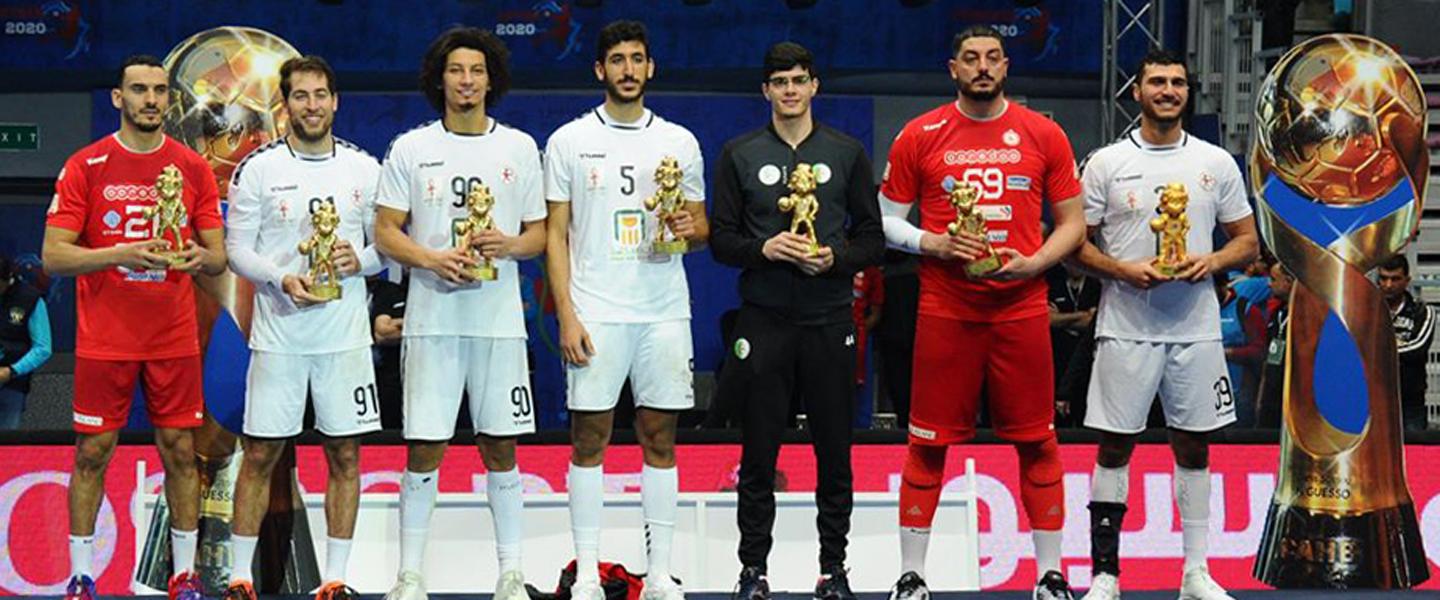 After Egypt beat the hosts in the final of the 2020 CAHB Men's African Championship in Tunisia last weekend, the All-star Team was announced, with eight players receiving their awards on court.
Egypt's Mohammad Sanad, who plays his club handball for USAM Nimes Gard in France, was named best right wing, while teammate Ali Zein, who plays for Sharjah, was named best left back. Telekom Veszprem's Yahia Omar made it three players in the best seven for the title winners as he was voted in as the best right back.
That was not the end of the awards for Egypt though as Zamalek's Yehia El Deraa was voted in as overall best player of the championship, with the left back taking the MVP award.
Espérance Sportive de Tunis' left wing Oussam Boughanmi was voted in to the team, ensuring the host nation Tunisia had representation, alongside his teammate Jihed Jaballah, with the IFK Kristianstad player picking up the best line player award.
Algeria and Angola were also represented in the best team as well, with Besiktas Aygaz's Moustafa Hadj Sadok picking up the best centre back award for the bronze medallists Algeria. Angola's captain, Giovany Muachissengue, won the best goalkeeper award.
ALL-STAR TEAM: 2020 CAHB Men's African Championship
Goalkeeper: Giovany Muachissengue (Angola)
Left Back: Ali Zein (Egypt)
Right Back: Yahia Omar (Egypt)
Line Player: Jihed Jaballah (Tunisia)
Centre Back: Moustafa Hadj Sadok (Algeria)
Left Wing: Oussama Boughanmi (Tunisia)
Right Wing: Mohammad Sanad (Egypt)
Most Valuable Player (MVP): Yehia El Deraa (Egypt)
PHOTO: CONFÉDÉRATION AFRICAINE DE HANDBALL