A festival of handball on and off court in Tunisia as 2020 shaping up well for CAHB
25 Jan. 2020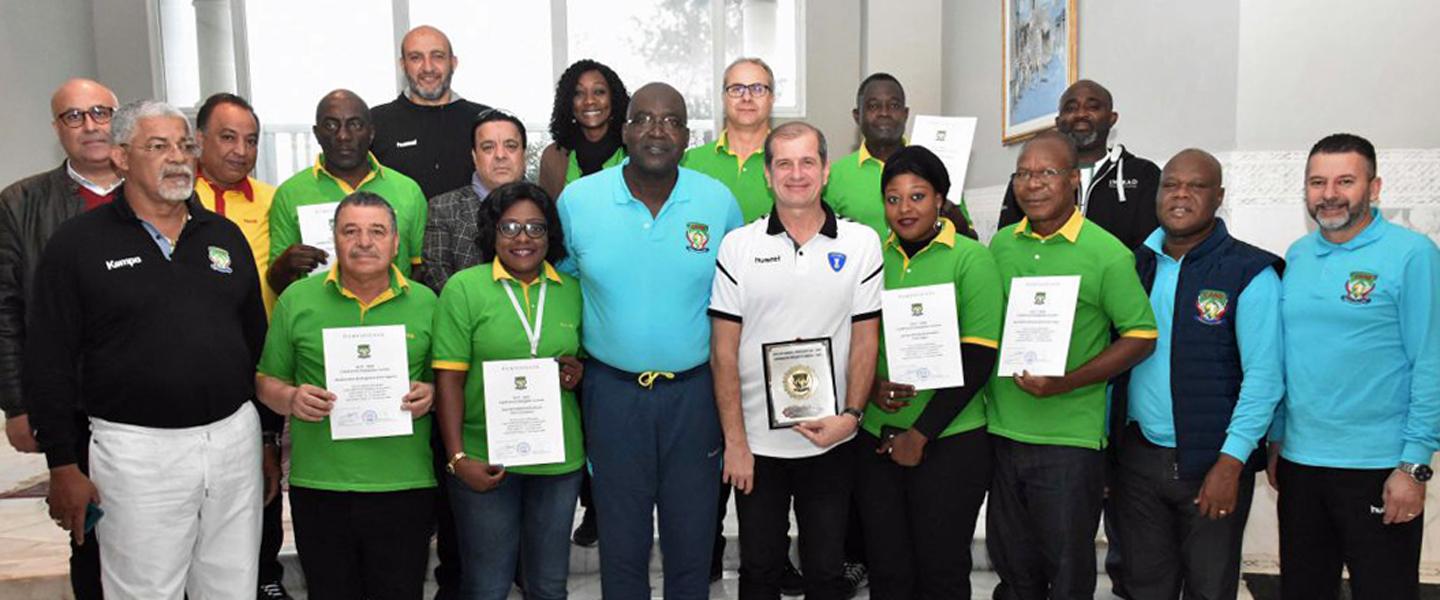 Today (Saturday 25 January) saw the penultimate day of matches at the 2020 Confederation of African Handball (CAHB) Men's African Championship in Tunisia with Congo beating Guinea 25:23 to win the first-ever CAHB President's Cup and Cape Verde defeating Morocco 32:30 to claim their first-ever place at a senior IHF Men's World Championship – this coming in their first-ever CAHB Men's African Championship.
And as Egypt and Tunisia prepare to go face-to-face for the title tomorrow, and Algeria and Angola for bronze, the festival of handball in the North African country will draw to a close.
Off court however, a number of special events, meetings and workshops have taken place in Tunisia throughout the championship.
As usual, all the referees and technical delegates met for a technical session ahead of the tournament (15 January), as well as site inspection of the Sports Hall in Rades, with Dietrich Spate, Chairman – IHF Commission of Coaching and Methods (CCM), in attendance in his role as IHF Representative at the event due to it being a qualification event for a senior IHF World Championship.
The following day (16 January) saw Spate and other VIPs address the media at the opening media conference before the crucial technical meeting.
The first rest day (18 January) saw a medical symposium take place at the team hotel where a number of experts, joined by members of team coaching and medical staff, discussed shoulder pain in athletes with the aim of providing to those responsible for medical management new scientific data in terms of pathologies and their management.
The rest day also saw a coaching and technical aspect knowledge and exchange workshop between representatives of the CAHB, IHF and team coaches from the 16 participating teams.
The second rest day (Tuesday 21 January) saw the CAHB Executive Committee Meeting held in Hammamet. Led by CAHB President Mansourou Aremou, it was an opportunity to review the achievements of the 2019 (training of observers, official opening of the African Handball Academy, training course for Coaches at the Academy, training of Event Delegates, training of referees) and to look ahead to the activities this year.
The final rest day (Thursday 23 January) saw a workshop where CAHB and IHF representatives discussed with all coaches at Tunisia 2020 the new competition system which comes into force in 2021.
 
President Aremou told those present about the need for African handball to reach new levels and how it is doing this through reforming the CAHB Men's African Championship from 10 teams to the current 16, and with the CAHB requiring all national team head coaches to have a minimum coaching qualification. 
He added that "African handball is at a crossroads and a fundamental change is needed," before concluding the workshop. There was also a CAHB Executive Council meeting yesterday (Friday 24 January).
 
On the eve of the championship, IHF Event Delegate Marek Goralczyk finished his trio of 'CAHB Certification for Event Delegates' training courses, which started back in Oujda, Morocco in April 2019 at the 35th CAHB Men's and Women's African Club Cup Winners Championship, before moving to Tunis, Tunisia, and then concluding this month in Hammamet, Tunisia.
The first-ever 'CAHB Certification for Event Delegates' is a milestone for the federation, with seven CAHB ambassadors graduating from the course which has a mission of improving the organisation and management of major handball events on a continental scale.
"I want to say congratulations to everyone who received their certificate," said Goralczyk. "I told them to do their best to develop handball in Africa and to bring the organisation of CAHB events to the highest possible level.
"I also told them, do not forget - build the structures and chains, work with the people and work with a smile."
The Tunisian Handball Federation and local organising committee also arranged a training session and workshop for all types of media on the new handball rules and regulations ahead of the championship.
Earlier this month, the CAHB confirmed their calendar for 2020, with a number of stand-out events including the 36th CAHB Men's and Women's African Club Cup Winners Championship and 27th CAHB Super Cup from 30 March – 9 April in Algeria and the CAHB Men's African Junior Championship (3-13 September) and Youth edition (15-25 September), both in Morocco.
The 42nd CAHB African Championship of Champion Clubs – also known as the African Champions League – will be in Tunisia from 8-17 October, and the 2020 CAHB Coaches Symposium will be held in Cameroon from 2-6 December, at the beginning of the 2020 CAHB Women's African Championship, which runs from 2-12 December.

For more information about the CAHB, visit their website at www.cahbonline.info.