Last four in Africa known as Tokyo 2020 and Egypt 2021 races heat up
24 Jan. 2020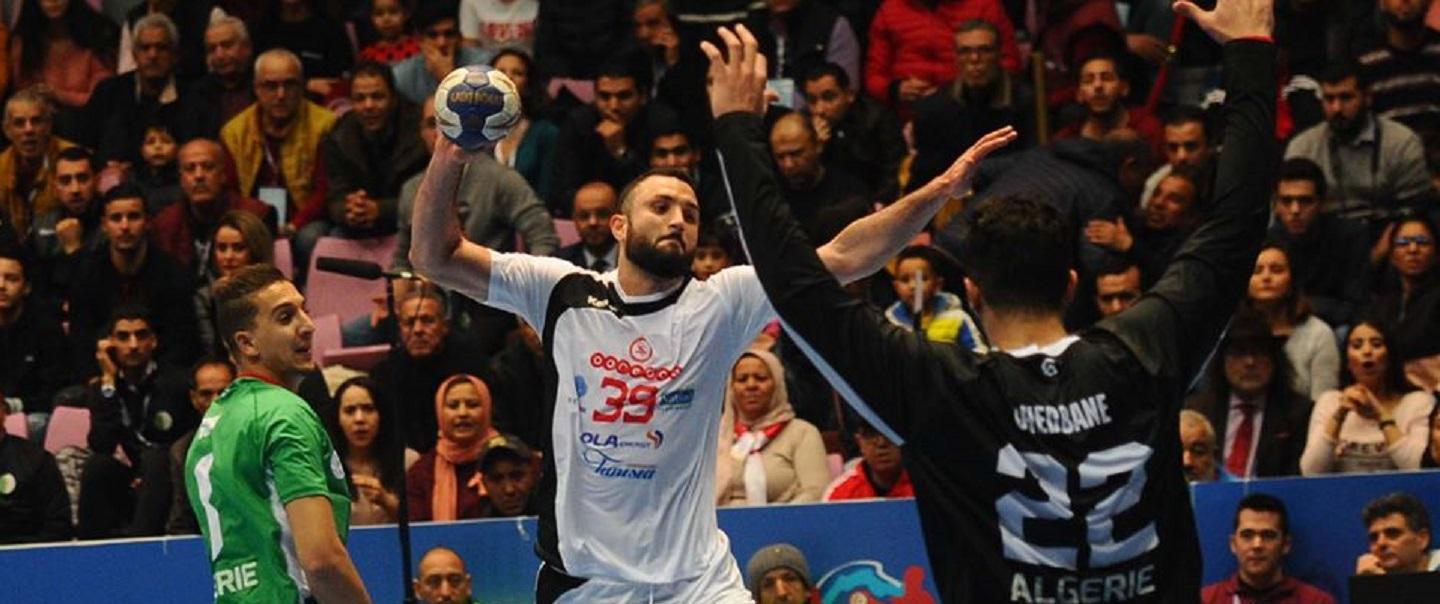 The cities of Rades, Hammamet and Nabeul in the North African nation of Tunisia have been hosting the 2020 CAHB Men's African Championship, also known as the 'African Cup of Nations' (CAN), since Thursday 16 January with 16 nations competing across 52 games in total.
With the preliminary and main rounds completed, today (Friday 24 January) marks the semi-finals and beginning of the placement matches in Tunisia. 
The championship started with an inspiring opening ceremony which included a number of VIP speeches and a spectacular Tunisian cultural show which included traditional and modern dance as well as the parade of flags from the competing nations.
The preliminary round featuring four groups of four teams each saw North Africa emerge strongest of the teams in the continent with Egypt, Algeria and hosts Tunisia all winning their respective groups, as well as Angola, all with a 100% record.
Egypt topped group A with three wins from three, scoring 111 times with a goal difference of +51, Angola also won all three of their games, in group B, scoring 81 times and conceding 69, to end with a goal difference of +12. 
In group C host nation Tunisia scored the most goals out of all 16 teams, registering 122 strikes and conceding just 66, to end on a +56 goal difference, while Algeria ended with a 100% record too, in group D, winning three out of three, scoring 98 goals and ending on a +34 goal difference.
The top two in each preliminary group then went through to the main round with Egypt winning both their games (vs Gabon 36:17 and Angola 33:26) and Tunisia too (vs Morocco 31:24 and Algeria, 26:22). Angola and Algeria both recorded one win and one loss each.
With Egypt and Tunisia winning their respective main round groups and Algeria and Angola finishing second, the semi-finals are now set for today with the host nation Tunisia facing Angola at 18:00 and Egypt taking on Algeria at 15:30.
However, special attention today is on the 5-8 placement matches because a total of six places are allocated from Tunisia 2020 for the 2021 IHF Men's World Championship in Egypt. However, with Egypt as hosts and having advanced to the semi-finals at Tunisia 2020, the remaining three semi-finalists, both teams in the 5/6 placement match and the team that places seventh will book their ticket to Egypt 2021.
Morocco play Gabon at 13:00 and DR Congo face Cape Verde at 18:00.
Furthermore, the winner of the championship will book their place directly to the Tokyo 2020 Olympic Games, with the second and third-placed teams qualifying through to the 2020 Olympic Qualification Tournaments in April.
Tunisia are the current title-holders, having won the 2018 edition, held in Gabon, defeating Egypt 26:24 in the final. They are also the record title-holders, having won the competition 10 times.
Zambia are making their debut in the competition, while Kenya are appearing for just the third time.
For further information on the 2020 CAHB Men's African Championship please visit the official website. You can also follow the competition through the Tunisian Handball Federation social media channels:
Facebook
Twitter
Instagram
YouTube
PHOTO: CONFÉDÉRATION AFRICAINE DE HANDBALL
(all times local)