Pauletta FOPPA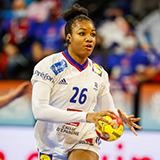 The youngest of the five nominees, Foppa has been steadily improving and has become one of the most dominant forces in handball. Snapped up by Brest Bretagne Handball in 2018, the 21-year-old line player has improved on a year-by-year basis, both in the France national team and at club level, where her team Brest Bretagne Handball made it to the DELO EHF Champions League final last year.
In fact, she truly showed her colours while playing for France, claiming gold at the Olympic Games Tokyo 2020, the first in history for 'Les Bleues', and silver at the IHF Women's World Championship in December. At both events, she made the All-star Team, after scoring 34 goals from 42 shots at Tokyo 2020 and 29 goals at Spain 2021.
An aggressive defender, great at creating spaces in attack and a calm and collected finisher, Foppa looks set to be one of the best line players in women's handball for the next decade, having already played more than 50 games and scored more than 100 goals for 'Les Bleues'.