Kari BRATTSET DALE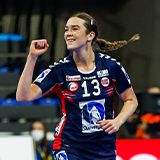 The importance of the line players in modern handball cannot be understated, with Dale being an integral part of Norway's success in the last major tournaments. The 31-year-old line player made her debut in Norway's national team only in 2016 but became crucial both in attack and in defence for the Scandinavian side, capping 2021 off with an astonishing performance at the IHF Women's World Championship in Spain.
Scoring 38 goals from 46 shots, a superb 83% shooting efficiency, the Norwegian line player was her team's second top scorer in the competition. But her importance was duly underlined in defence, where Brattset Dale was the key ingredient in Norway's first world title since 2015.
Moreover, Brattset Dale, who has now played 100 games for the Norway women's national team and secured two medals in 2021, adding a bronze medal at the Olympic Games Tokyo 2020, became the first line player to secure the Most Valuable Player award in IHF Women's World Championship history.