Stine BREDAL OFTEDAL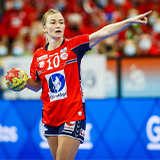 It is impossible to understate Oftedal's penchant for creating chances and developing her team's attacks, both at club level and for the national team. In 2021, Oftedal has added to her impressive medal collection, securing gold at Spain 2021 and bronze at the Olympic Games Tokyo 2020, improving the overall tally to 11 in major tournaments.
At Spain 2021, Oftedal has scored 24 times and dished 42 assists, close to her performance at Tokyo 2020, where she scored 23 times and had 39 assists. Now 30 years old, Oftedal is in her prime and is likely to be one of the most decorated players in the history of handball.
Only two players in history, Hungary's Bojana Radulovic – two times – and Romanian left back Cristina Neagu – four times – have clinched multiple IHF Female Player of the Year awards. Only Neagu has retained the award in consecutive years, but now, Norway's centre back Stine Bredal Oftedal can become only the second player to secure the prestigious distinction in back-to-back editions after clinching the trophy in 2019.