Estavana Polman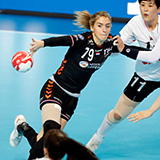 As the Most Valuable Player of the 2019 IHF Women's World Championship, Estavana Polman played a critical role in the Netherlands' trophy-winning success. Polman ranked among the top scorers at Japan 2019, with 58 goals, and was fourth in assists, with 43. Along with her MVP award, Polman was named All-star Team centre back at the World Championship.
With her club, Team Esbjerg, Polman had a great year in 2019. The 2019 season ended with Esbjerg claiming their second Danish championship trophy in history, as well as reaching the final of Europe's second-tier international competition, the EHF Cup. For the 2019/20 season, Esbjerg moved up to the premier club competition, the Champions League.
Polman was instrumental in all club competitions for Esbjerg. She finished as the fourth top scorer overall in the EHF Cup 2018/19 and also ranking among the top scorers in the Champions League in the first half of the 2019/20 season.