Gabor Danyi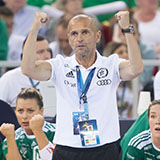 Gabor Danyi had the tough task of filling Ambros Martin's shoes when the Spaniard departed Györ, but Martin's former assistant coach proved he was up to the task when he led the side to their third straight title in his first season as head coach.
With Danyi's guidance, Györ extended an incredible unbeaten run in the Champions League, which saw them undefeated since January 2018. Recording only wins in the group phase and main round, Györ effortlessly qualified for the quarter-finals. Györ took a decisive quarter-final win to reach the FINAL4, beat Vipers Kristiansand in the semi-final, and won the final versus Rostov by one goal.
Danyi also led Györ to Hungary's domestic championship title in 2019.
Photo: EHF/Aniko Kovacs