Ambrosio Jose Martin Cedres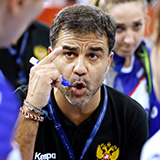 After many years leading top Champions League club Györ, Ambros Martin moved to Rostov-Don before the 2018/19 season and led the team to the final of the Champions League in his first year with the side. Rostov lost just two matches in the regular season, both to Metz Handball.
At the EHF FINAL4, Rostov finally defeated Metz, 27:25 in the semi-final, and reached the trophy game. Martin's Rostov lost the final to Györ by just one goal. However, Rostov did celebrate victory in the Russian championship.
Later in the year, Martin led Russia at the 2019 IHF Women's World Championship – his first event with the team after replacing Evgeny Trefilov in August 2019. Russia had a perfect record of only wins in the preliminary and main round. They made it to the World Championship semi-finals for the first time since 2009, but lost the semi-final to the Netherlands. Russia clinched the bronze medal with a 33:28 win against Norway.