Carlos Viver Arza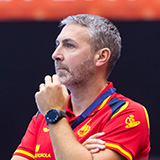 Carlos Viver was Mayonnade's opponent in the 2019 IHF Women's World Championship final. His side, Spain, lost the final narrowly, but their semi-final performance was one of the most memorable at Japan 2019.
Spain reached the semi-finals after topping their preliminary group thanks to five straight wins – versus Romania, Hungary, Senegal, Kazakhstan and Montenegro. In the main round, Spain drew with Sweden, defeated Japan and lost to Russia, ranking second and booking a semi-final place.
In the semi-final, Spain produced an exceptional defensive game and always appeared to have the upper hand over Norway despite a level score line at half-time. The 'Guerreras' (warriors) proved worthy of their nickname in the semi-final and again in the final, but were ultimately defeated by one goal in the trophy match.
Nevertheless, it was the first time Spain reached the Women's World Championship final and hopes are high for Carlos Viver's squad at the next edition on home ground.