Emmanuel Mayonnade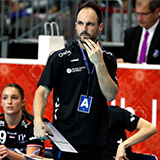 2019 was an exceptional year for Emmanuel Mayonnade. In the first half of the year, he led Metz Handball to the semi-finals in the Champions League – a first for any French club.
Metz had an outstanding season, recording just two losses in the preliminary and main rounds. At the DELO WOMEN'S EHF FINAL4, Metz lost narrowly to Russian club Rostov-Don in the semi-final, then were defeated by Vipers Kristiansand in the bronze-medal play-off. Nevertheless, it was an historic qualification for the event and Metz were established as a top powerhouse in Europe with their results. Mayonnade also won the French championship with Metz in 2019.
Mayonnade took the post of Netherlands head coach in January 2019. In December 2019, he led the side at his first major championship as a national team coach – and made it all the way to the podium to celebrate the Netherlands first ever world title.
The Netherlands had four wins and one loss in the preliminary round, then one victory and two defeats in the main round, but it was enough to qualify for the semi-finals. There, Mayonnade led the team to defeat Olympic champions Russia, before they overthrew Spain to take the trophy.