Alex DUJSHEBAEV DOVICHEBAEVA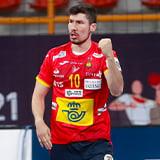 The 29-year-old Spanish star is reaching the prime of his career and has been nothing short of sensational, especially in clutch time, when he basically took over Spain's attack during the 2021 IHF Men's World Championship and at the Olympic Games Tokyo 2020.
18 of Dujshebaev's 29 goals at Tokyo 2020 were scored in the second halves he played for Spain, with the right back also chiming in with 34 goals at Egypt 2021. In both tournaments, 'Los Hispanos' won the bronze medal, as Dujshebaev added to his increasing collection after three EHF EURO medals.
At club level, the Spanish back won the Polish national league title with Lomza Vive Kielce and scored 93 goals in the EHF Champions League Men.